OOH is ubiquitous and larger than life, making it ideal for brand launches and broad reach in just about any market. For those who haven't forayed into the wild and wonderful world of outdoor advertising recently, you'd be forgiven for thinking that one size fits all.  But how do the outdoor advertising specialists — working OOH media strategies every day — approach media buying in different markets?
Right Coast, Left Coast
The micromarketing now possible with out of home through sharpened research tools and new venues means that replicating strategies across markets will leave you shortchanged.  All business is local and the beauty of OOH is that it can be perfectly tailored to both demographics and geography.
Case in point is the top two revenue markets as measured by Kantar Media: New York & Los Angeles.  While media spending is nearly identical, the way outdoor advertising is used and consumed varies greatly, and the wise money considers this in the OOH planning and buying equation.
New York, New York
New York is a vertical city with thousands of pedestrians streaming through the streets and within the dense and sophisticated public transportation system.  Diversity reigns, both in the demographics as well as the media choices available to you – from the spectacular drama of Times Square to the many small neighborhoods with strong ethnic flavors.  A variety of street level media—like subway, rail, transit shelters, urban panels and buses—can be ideal to reach busy New Yorkers.
But New Yorkers are also famously advertising-jaded and tough to reach, that's why tactics like street teams can be one of the best ways to break out and break through the frenzy.  For example, when a major cold and flu brand wanted to be front and center with virus-adverse New Yorkers, we devised a street-level strategy using segway advertising to raise awareness and distribute product samples. Standing tall on their branded chariots, our brand ambassadors were able to engage pedestrians right on the sidewalks and quickly move to busy transit entrances and exits during cold and flu season.
Of course, there is nothing like the theater of Times Square to make a BIG entrance and that's what we did for Lane Bryant when they were opening their flagship Manhattan store, using dramatically stacked, digital billboards to let the world know they had arrived.
California Dreamin'
By contrast, Los Angeles is a city of drivers with billboards dominating the landscape and lots of wide-open space to work with.  The key here is standing out, whether through an ingenious execution or an interesting use of the media.
When restaurant chain Corner Bakery wanted to increase awareness across the Los Angeles market, we designed a campaign of mobile billboard advertising that would provide high visibility as well as geographic and demographic flexibility.  Mobile billboards can hone in on target audiences throughout their day. In this case, to reach business professionals, we parked at transit hubs in the morning and at business parks during lunchtime, greeting prospects rather than waiting for them to notice us. We even targeted competitor locations.
Another potent OOH choice in the LA market is mobile projection, enabling the creation of larger than life brand platforms that can't help but get noticed.  This interruptive concept also incorporates the power of full motion digital video to create dynamic and engaging displays that make you look, shown here in an execution for AT&T.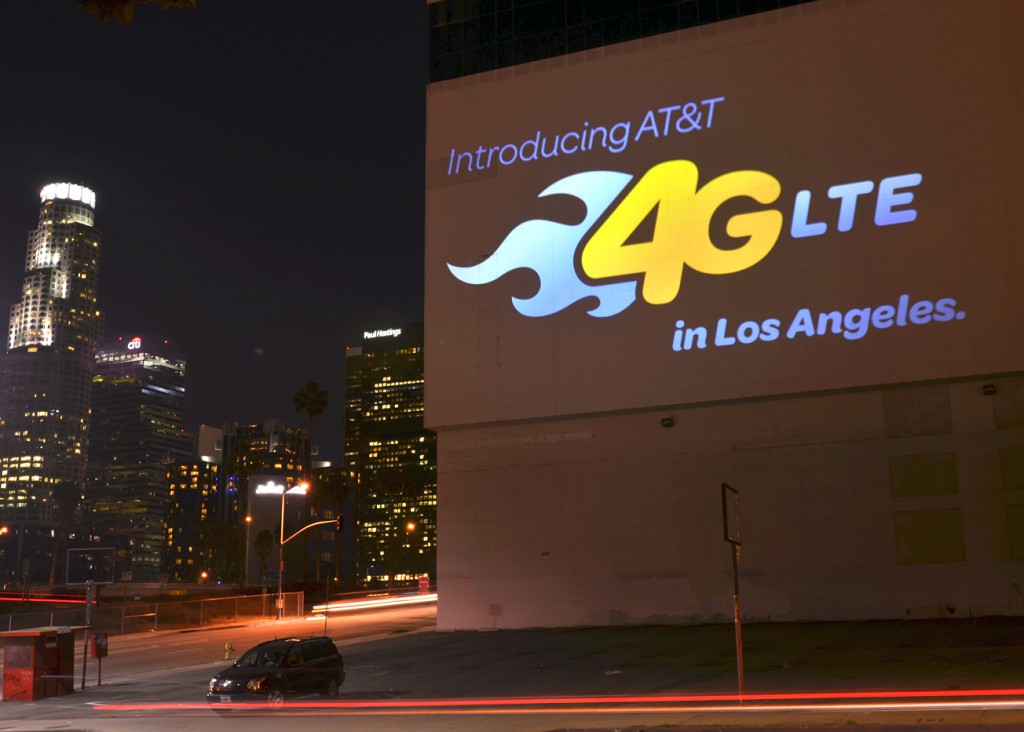 Whether you want to shout from the rooftops or get up close and personal, there is a perfect OOH advertising venue for your brand, in your target market.  Just take a look. Even better: allow us to show you how!