For decades, our team of marketing and media experts have been crafting smart strategies and creative plans for our clients. From helping launch new brands to elevating awareness for legacy companies, we've cut our teeth in markets across the country and around the world.
We've spent nearly 30 years integrating out of home, experiential, trade show and digital strategies that make an impact and create an impression. Then, roughly a year ago, we decided to develop a structure around our methods. It was the launch of Account LAB—the cementing of our deeply consultative and collaborative process.
After a year of implementing and refining Account LAB, we wanted to take a moment to ask a few questions of the team who developed the framework.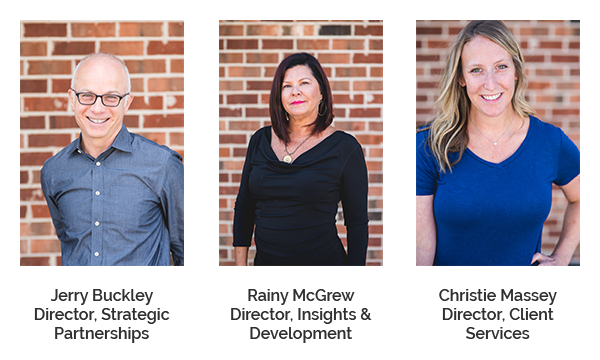 Account LAB sessions are designed to be a collaborative and creative, though, I imagine a client isn't always ready to share their challenges. How do you get them to open up and talk about what's not working?
Christie: We try to uncover the root of the problems our clients are trying to solve. Those issues are sometimes coming out in our Account LAB sessions for the first time, where they are brought to the surface by a unique set of questions that our team asks. Trust is imperative and transparency, from both sides, is critical to the success of the session. It comes down to a comfort level thing, something we nurture with the brands and agencies we work with.
Rainy: Christie's exactly right. Trust and transparency are key to the process. We feel the LAB allows transparency; it's a place to feel comfortable while discussing the elephant in the room. Our knowledge of and experience in the business brings that feeling of trust to the conversation. Account LAB gives our clients a place at the proverbial "family table," which can be a very colorful place to sit!
Jerry: I'll add, the most dynamic sessions and conversations happen when clients bring a diverse team of individuals into the LAB, who each bring their own perspective. Often, we'll have an account director, account manager, brand manager, strategist, creative director, even some executives in the room. This diverse set of voices expressing goals and campaign landscape always uncovers challenges and obstacles, in addition to goals, KPIs, and history. It's often a very organic conversation with degrees of input from everyone, which may reveal what a client team was not articulating outside of their individual silos prior to the Account LAB session. The LAB allows for teams to open up with us and each other in a way that they might not within their organization.
How do you work with a client to define their goals and get them to articulate what success looks like?
JB: For any Account LAB session, there is a structure which we have developed that helps tease these aspects out. We enter into a dialogue by using a set of questions or prompts, then we come at these questions from a few different angles. This feedback loop with the client team begins to build a more complete picture while editing away what's not a priority. With careful facilitation of this process, we get a truer sense of the over-arching themes and can clearly define goals and success. This collaborative articulation is a major part of our team's reason for being at the table, and it's the reason clients are asking us to come to the table in the first place.
How do you evaluate a client's current marketing strategies and understand how they mesh with what Account LAB is trying to accomplish?
CM: Preparation for a session often begins with the brief the client supplies to us—it's what we call the "fetch form" (get it?). Once we have that, we will go out and experience the brand for ourselves, then also with those client-provided insights.
JB: In the same way that we supply a robust session team, we have a robust research process. Some of this includes competitive landscaping to see what is happening around a client's marketing strategy. With those inputs, we can connect in an integrated way with our client's marketing strategies. Part of our job is to help clients understand how our recommendation fits with their other marketing efforts. For example, if a client has a high degree of focus on social or digital, we will outline how the experiential activations we are recommending will create content and drive online activity.
How do you work to steer brands toward the best tactics or plans?
CM: This is a common theme in the conversation we are having in our Account LAB sessions. We keep the conversation focused around KPIs and what the brand is hoping to accomplish with the campaign. As long as the discussion of strategies and tactics for the program is centered around these goals, we are all speaking the same language. Often, this does mean a change in some way from an idea originally brought to the table, but in the Account LAB journey we arrive there together. When we present findings or ideas, they are backed by data, measurement methods and our expertise, so it's easy for brands to make that shift.
JB: Christie's correct, we are in a collaborative environment where everyone in a session is influenced by and navigating towards the best plan and outcome. I guess you could say, various people steer at different times between the LAB and client teams. When we are navigating the client towards an unexpected area, any pivot being felt is typically a welcomed one because it is often the result of an "a-ha" moment or breakthrough they've been looking for. Our value to the collaboration is often a new insight that reinforces their desired outcome in a way they did not anticipate but can adopt.
RM: Coming to the LAB prepared is key. By understanding the client's position—audience, KPIs, previous campaigns, spend levels, pain points—we gain insights that allow us to make and defend the efficacy of our recommendations, plans and tactics.
Often times, brands want to do something amazing, extraordinary, groundbreaking, that has never been done before. How do you work to ground a client in realistic expectations, without quashing their enthusiasm or creativity?
RM: This is pretty much an everyday occurrence for our team—we have a good understanding on how much outside-the-box ideas can run. We also have an experienced logistics team that can supply best estimated media space and permitting fees—two things that typically drive the conversation around cost. Simply knowing the market is a necessary first step. Knowing a 10-by-20 space anywhere in New York City starts at $50k tends to set expectations immediately. We never go in with a "no-way-no-how" mentality; we always approach ideas as possibilities until we know that they aren't. And, when budgets dictate, we strive to have alternatives strategies in place. For example, we may explore co-branding prospects as a way to cut costs without sacrificing a concept.
JB: Sometimes a client's idea needs to be expressed in a "here's my BIG idea!" way. One that allows them to completely ignore budget and other restrictions. Our sessions often have creative directors in the mix who bring a vision of the desired campaign and are very comfortable in that "limitless budget" space. It's important for our Account LAB team to see their vision first before stepping into logistical and budgetary frameworks that can shutter enthusiasm. From that collaborative mindset and acknowledgement of what they want—what they see—the enthusiasm is now shared, and it is easier to start to frame-in budget and logistics. Once a CD understands how quickly budgets can get eaten up, scaled budgets and logistics that still capture the essence and desired outcome of a campaign will more easily fall into place. It sounds simple, but any big and amazing idea will still need to be delivered in a real marketplace with a real budget.
CM: I really have to mimic Rainy's and Jerry's thoughts here. Whether it's an out of home or event "dream big" idea, our first Account LAB session with a new brand or a longtime partner, our 25+ years of experience in the field allows us to evaluate almost immediately whether or not an idea is realistic and able to be executed. If not, we're completely comfortable pivoting to a similar concept, scaled in a different way to align better with program parameters.
As Account LAB moves into its second year, what's the one thing you've learned that will help you engage with and guide clients at a higher level?
JB: It's been a great year. Strategic collaboration across companies is such a fun and interesting space to work in, but we have learned that it's not all that common in the creative marketing landscape. We now know that these spaces need to be intentionally created, and continually evolving, to keep pace. As year two starts, we can't sit still. There's a lot coming at our clients! And, if clients accept our Account LAB invitation of collaboration, we need to come to the table as a proactive and always-learning partner in their space—their A-game collaborator.
RM: I've learned how open true solution-seeking marketers can be. We feel privileged to have some of the access into their history and brand insights while looking for growth, ideas and solutions. More now than ever before do I appreciate the value of collaboration with our clients, something based on transparency and trust.
CM: Piggybacking off from what Jerry and Rainy have said, we're looking forward to developing more tools to achieve the analysis and results our clients want. As these come about, we'll continue to become better collaborators and add a higher value to the conversation by providing more actionable data.
Questions about Account LAB? Click here to learn more. Better yet, connect with our team via email or using the form below!
Jerry Buckley
Director, Strategic Partnerships
jerry@emcoutdoor.com
Rainy McGrew
Director of Insights
rdm@emcoutdoor.com
Christie Massey
Director, Client Services
cmm@emcoutdoor.com