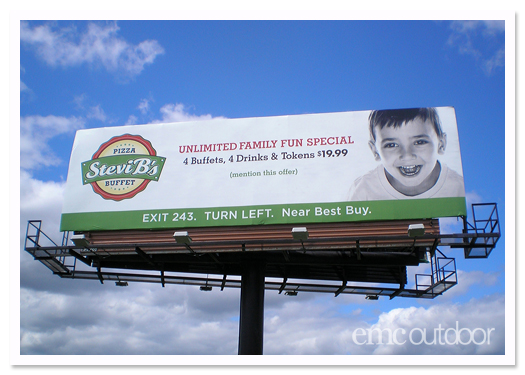 Want to engage local consumers in a fun and exciting way, get some great branding & PR buzz, and give something back to the local communities at the same time?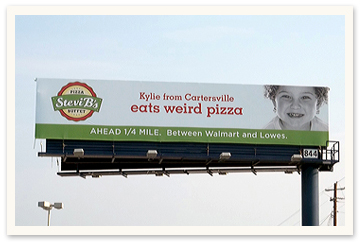 That's just what Stevi B's did with their recent billboard campaign in the Atlanta area. We were proud to be a part of this out of home advertising campaign.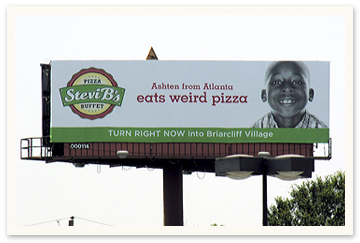 Each billboard featured a local kid who likes "weird" pizza. Kids from areas near the restaurants were selected to be on this fun billboard creative through a contest on Stevi B's Facebook page — a nice social media tie-in. Smart too, as the Facebook contest provided local buzz about the local billboards to come.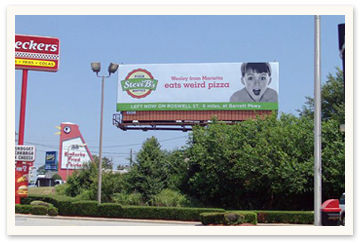 When these cute faces finally decorated the highways, not only did the billboards drive more customers to Stevi B's restaurants, they also supported a local charity.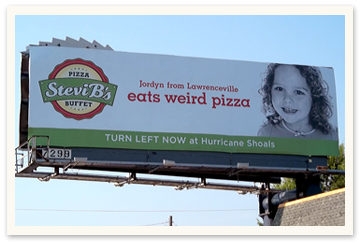 A portion of the proceeds collected between June 27th & July 1st at twenty-two Atlanta area Stevi B's restaurants were donated to the Kids in Need Foundation operated by the Atlanta Community Food Bank.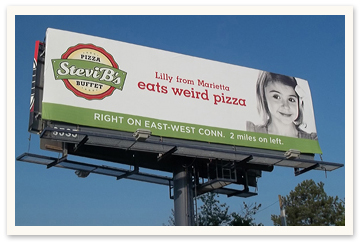 This campaign is a great example of how OOH can work in tandem with other media, and how it can be used to deliver more than just "impressions" by giving back to the local community.
To find out more about how billboards and social media strategies can be used in tandem give us a shout. No question is too "weird"!