How do you ensure your marketing plans are reaching busy working adults looking to return to school?
With over 7,000 higher education institutions in this county, the market is saturated and competition is at an all-time high (https://nces.ed.gov/, U.S. Department of Education, National Center for Education Statistics. 2016). Marketing to prospective students in an effort to increase application and enrollment numbers comes with its set of challenges, but those challenges are heightened within this prospective student category.
The adult student looking to go back to school not only has distractions at their job and family life, but is bombarded with messaging in the digital space. The average working adult is no longer working just a 40-hour week, it's now 47 hours on average, giving them less time to work through the clutter.
61% of adults returning to complete their degree are between the ages of 30-49 (Higher Ed Insight, 2015).  As a working parent in my thirties, I understand the time restraints and the distractions a marketer must fight through to speak to this audience.  I am accessing most of my needed information from my phone and need it to be delivered in clear and concise messages. I have no extra time to give.  In this context, how do you ensure your message is getting delivered, standing out and making an impact?
Are traditional media channels enough for this demographic?
Online and mobile are two of the top trending media strategies for higher education. While both are highly effective in reaching this demographic, the issue remains that the message is getting delivered alongside numerous competing institutions. With the distracted adult education audience, OOH should be considered in your marketing plans to drive more online activity. A Nielsen study conducted in March of 2017 concluded that OOH continues to drive almost 4 times more online activations per dollar spent than television, radio and print.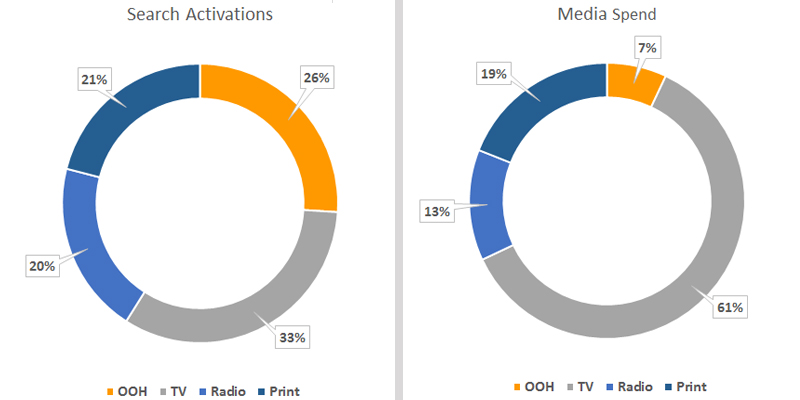 Make the adult student take a second look.  Think about where this prospective student lives. How far do they commute to work, what modes of transportation do they use, where are they spending their time outside of their job and with their families?  Out of home is an organic fit in this dynamic. Taking into consideration the tight geographic perimeter and demographic parameters most institutions pull from, as a hyper geotargeted medium OOH formats will increase your local reach and targeted message delivery.
You only have one chance to make a first impression. Make it loud!
Understanding the behavior of the adult student to leverage OOH placement: Using mobile data and targeted OOH impressions, we now have the ability to select units that index high for reaching this audience based on their behavior in the market. A cookie cutter plan will no longer make the cut. Close to the workplace, close to the home, the gym, the soccer field, it will vary based on market landscape.
The impression build with OOH is not only adding reach and frequency to mobile and online campaigns, it's increasing the share of voice and securing a front of mind position for the institution.
Increase actions that lead to website views, campus visits and enrollment: 24% of consumers who have viewed a billboard in the past month have used an online search engine to look up info on that advertiser. (Source: Nielson 2016) Driving website views will increase interest in the school that can be linked to campus visits and applications. Maximizing reach to the prospective adult student with OOH will strengthen applicant conversion rates.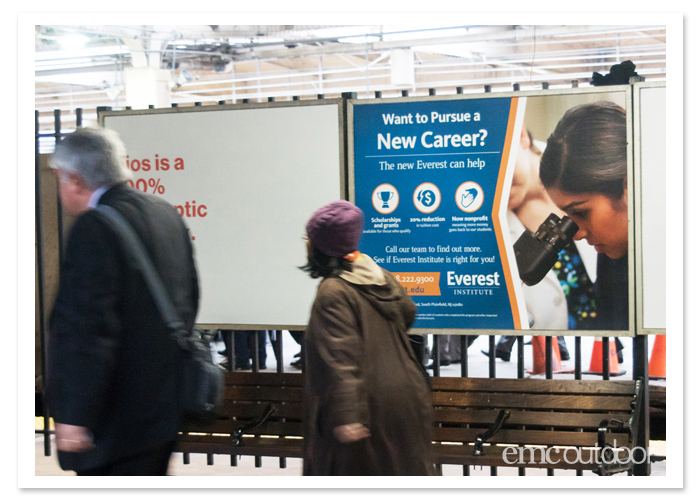 Pair Mobile with OOH: There are numerous mobile strategies that pair well with OOH formats and allow for consumer interaction, hyper geo and demo targeting, as well as provide data for retargeting with mobile and further defined coverage areas for OOH spaces.  Consumers are 48 % more likely to click on a mobile ad after being exposed to the brand on OOH (Ocean, Beyond OOH, Neuroinsight, 2015).
Close the loop:  Maximize the potential of your marketing plans to the adult student by geofencing the OOH spaces that have already indexed high in reaching this audience.  We know OOH is driving online activations.  Additionally, the collected mobile data from the geofencing campaign is collected to be used in a retargeting campaign.  OOH – Mobile – Online, a powerful trifecta.
Effective creative and targeted placements have elevated OOH into a competitive ROI playing field with traditional media.  Industry studies have shown lift in targeted reach and impressions when out of Home is layered in traditional media plans. In the higher education marketing game, stand out from the crowd using targeted OOH. Your move! Make it a smart one.
Contact us to learn more about how we can help you add a whole new media channel to your plan, and increase your ability to reach returning students.
Or send us a quick note below:
[contact-form to='info@emcoutdoor.com' subject='Request for more information: EMC Outdoor Blog'][contact-field label='Name' type='name' required='1'/][contact-field label='Email' type='email' required='1'/][contact-field label='Company Name' type='text'/][contact-field label='Comment' type='textarea' required='1'/][/contact-form]