As tradeshows and conferences are beginning to come back we thought it would be a good time to take another look at how exhibitors can reach event attendees with Out of Home media.
Out of Home is often overlooked as a tradeshow marketing tactic, and this is unfortunate because the channel brings several unique benefits to exhibitors marketing plans that the more commonly used tactics – like lanyards, digital placements, etc – simply can't provide.
Tradeshows and conferences are often an exhibitor's biggest and most important marketing opportunity of the year, and one of the biggest lead and revenue generators for a business. Knowing that it's imperative that exhibitors look at any and all means to help drive that critical booth traffic.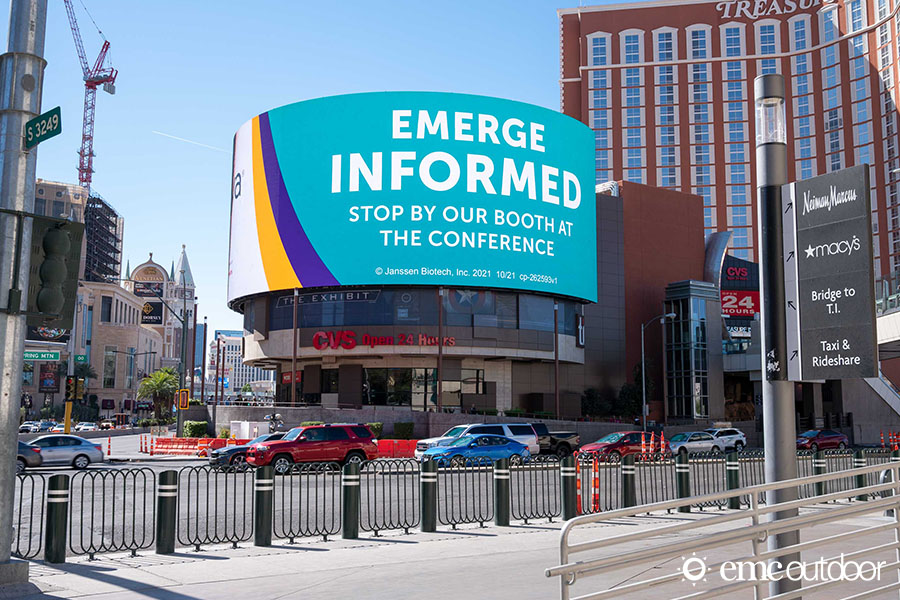 Tradeshows and conferences provide highly concentrated audiences:
For many B2B advertisers, their target audience can be spread out across the region, the country, or even the world. But, for a few short days, a major event will bring thousands or tens of thousands of them together into one place. And attendees are ready to get back a recent study showed that "72% of existing visitors said they plan to attend trade shows with the same or increased frequency in the future".
That means that exhibitors can reach event attendees with Out of Home media by targeting a large portion of their audience all concentrated in one place at one time. At the very least this makes their ad spend exponentially more efficient – rather than trying to reach an audience that is physically dispersed over a huge geographic area you can reach them all at once.
The audiences at trade shows are also highly valuable. Research has shown that large portions of the attendees have buying authority. This means that exhibitors get directly to the person with their hands on the purse strings. And, while we have seen smaller audiences as a result of COVID, what we are seeing is that it is typically junior-level employees who are staying behind, with senior executives still in attendance. For exhibitors, this also means they can spend more time with each prospect and move them farther down the path to purchase.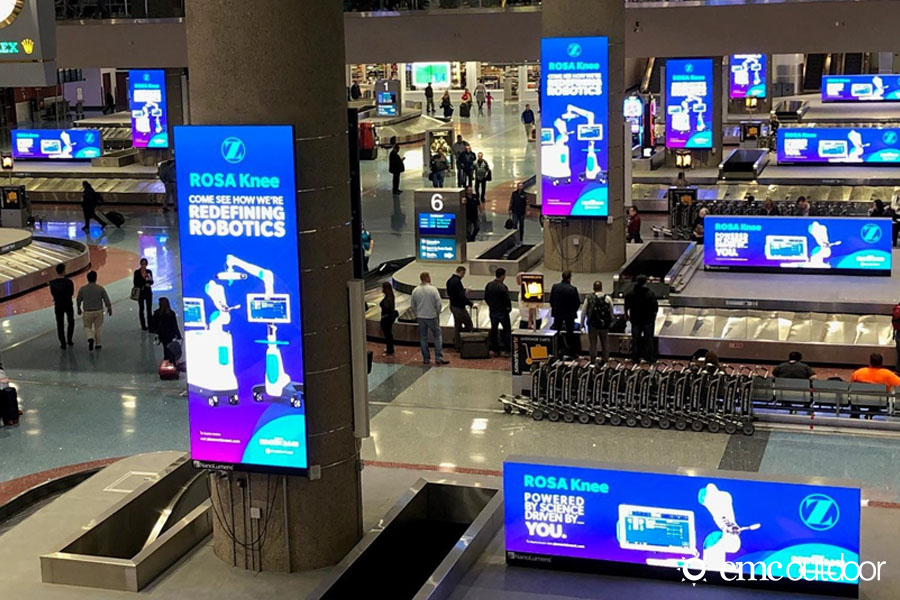 Reach event attendees with Out of Home Media to make a big first impression :
There is a principle in psychology called Primacy and Latency, in short, it means that given a series of things – say ads for example – people will remember the beginning and the end better than they will the middle. And in common parlance, we all know the importance of making a "good first impression". Using Out of Home media to reach event attendees allows exhibitors to do just that.
For most events the vast majority of attendees will be arriving from out of town – that means coming in through the airport or train station, maybe taking a taxi along the highway to their hotel downtown. Exhibitors can reach event attendees with Out of Home media at all these locations and make them touchpoints for advertisers to be the first brand that attendees see. Airport media, rail stations, taxi tops, highway bulletins are all available to be that first point of contact. And some of these spaces can be quiet spectacular, making that first impression a big one.
This allows exhibitors to make sure they are top of mind before attendees ever set foot in the convention center. How much of a head start do you have if you can deliver 3-5 messages before attendees even set foot in their hotel, and how much will this increase the likelihood that they visit your booth?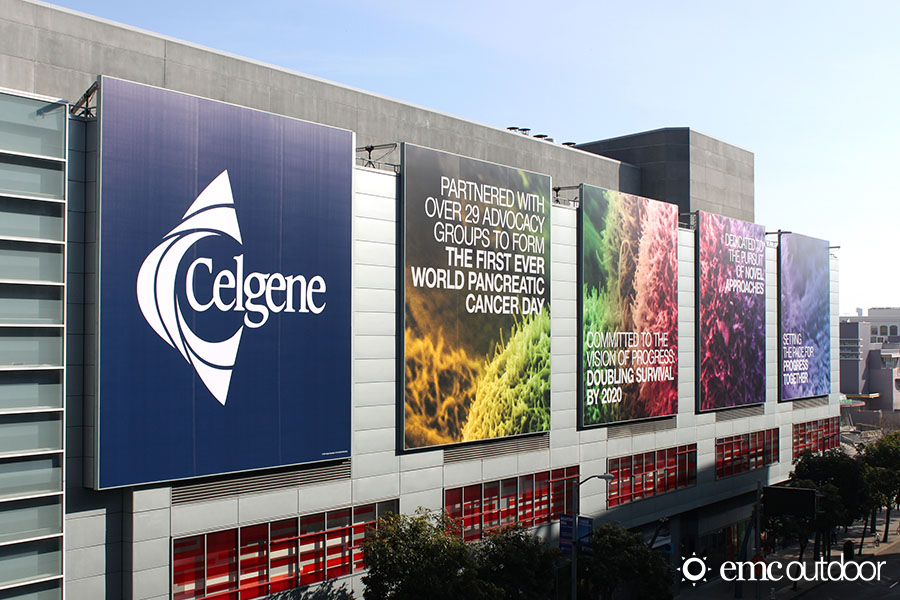 Out of Home media reaches event attendees outside the convention center:
While event attendees do spend a lot of time inside the convention center they spend quite a bit outside of it as well. Exhibitors can reach event attendees with Out of Home media as they are going back and forth to their hotels or restaurants or offsite events, getting out on the town to visit local attractions. These all offer additional opportunities to connect with your audience.
The main benefit of course is that you are reaching them in a less cluttered environment. The trade show floor can be quite overwhelming when it comes to brand messaging, and the swag bags fill up fast letting individual advertisers get lost among the clutter. Outside the convention center, however, there is much less noise and less competition for the attendee's attention. This allows advertisers to achieve a much higher share of voice outside. And with the relatively low cost of Out of Home, it means they can achieve that share of voice very cost-effectively, particularly when compared to the cost of some other parts of their trade show plan.
Also, by placing media outside the convention center it will naturally draw their attention. We tend to notice things more that are somewhat unexpected. Attendees expect to see brand messaging in the convention center and on their phones, when they encounter it in the outside world walking to their hotel it is more likely to be noticed because it is unexpected.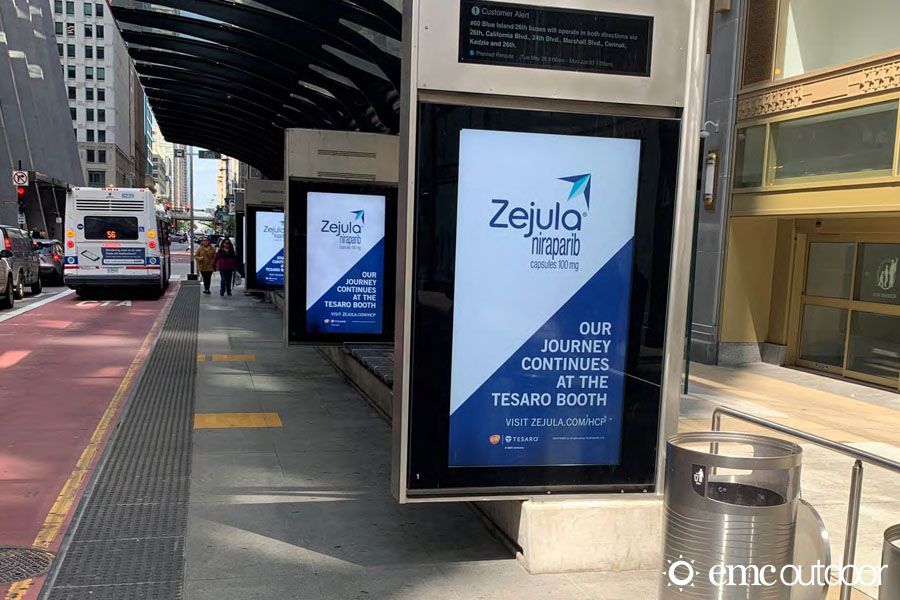 Out of Home media provides flexibility to exhibitors:
For exhibitors who want to reach event attendees with Out of Home media, OOH can offer a wide range of existing media options, and the flexibility to create new ones. Each market has a different character based on the media that is available there. For exhibitors who attend a show that moves to different markets each year, as many do, this means that they can change up their media plan to keep things interesting.
While each market has its media profile it will typically include a range from large premier spectacular spaces down to street level and local transit media. These media spaces can be combined with mobile or guerilla media — like mobile billboards, pedi-cabs, projections, wrapped vehicles, and more — that can supplement more traditional media creating more variety and creative flexibility.
And for exhibitors who want to go all out, media spaces can often be created from scratch. Many markets have prominent building facades or large walls that can be wrapped or used as sites for larger-scale projections. Or sites can be selected to set up temporary media like giant mobile wallscapes or custom pop-up mini-events.
When exhibitors start to combine these elements – traditional and non-traditional media and custom activations – it is possible to create a dominating presence in the market and ensure that attendees will see your messaging wherever they go in the areas surrounding the convention center and key hotels.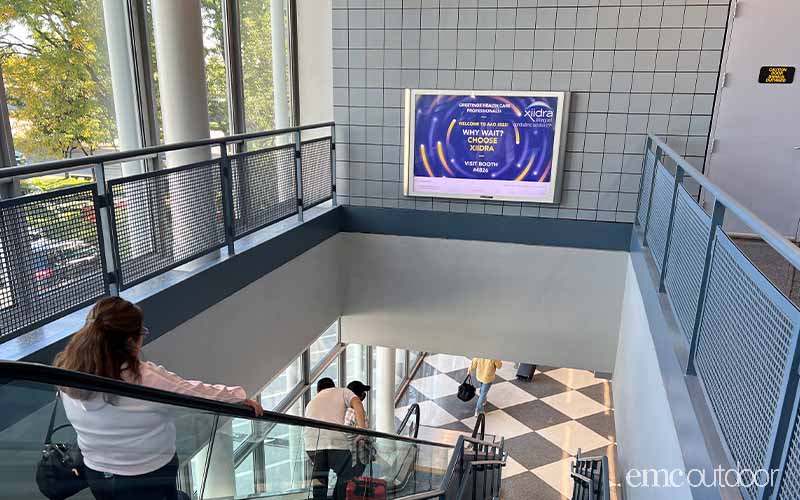 Out of Home connects with attendees by making memories:
Lanyards and notepads, digital ads in the show app, logo placement after a speaker presentation – these are all effective parts of a tradeshow marketing plan but may not be that memorable in the long run. They must fight with a host of other advertisers in the same space and are pieces of media that attendees are accustomed to seeing.
By stepping outside the convention center and taking advantage of the blank canvas the Out of Home media can provide, exhibitors have the opportunity to create truly memorable experiences. These experiences can take almost any shape and are only limited by the imagination of the advertiser. Create unique – and photo-worthy – experiences with 3D chalk art or set up an artist with giant canvases to create pieces of art based on your brand live while attendees watch. Provide snacks and coffee to attendees on their way to the show in the morning. The possibilities are almost endless.
The added bonus of the unique activations is that while they will certainly help to drive booth traffic during the show, they will also create memories that attendees will take home with them helping you create lasting brand awareness with your audience. Exhibitors can reach event attendees with Out of Home media by taking advantage of the blank canvas that OOH can provide to bring creative ideas to life.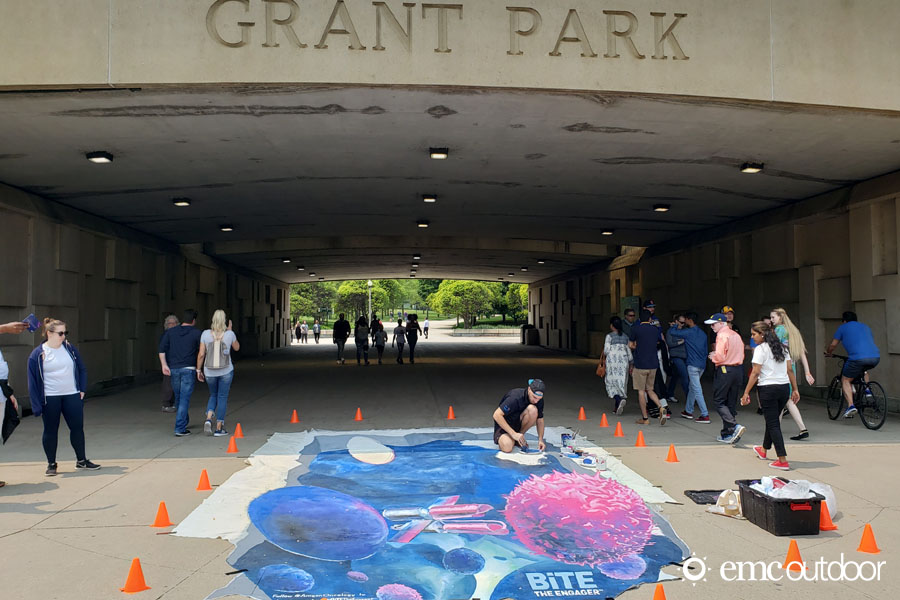 How will you reach event attendees at your next major tradeshow?
Trade shows, conventions and conferences are often one of the most important events on a B2B marketers calendar. The new relationships established, existing ones solidified, the new business leads and the revenue associated with them mean that exhibitors should look at every available means to maximize their investment.
By tapping into the strengths and cost effectiveness of Out of Home, exhibitors can help establish themselves as a leader in their field, stay front of mind with attendees for the duration of their stay, drive booth traffic, and create memories that will last long past the flight home. Contact us to learn more about how EMC can help you take advantage of all that Out of Home has to offer.