Over the course of our 25+ years, our agency has earned a solid reputation among show organizers, corporate brand managers and B2B agencies. Clients rely on EMC as a single source for planning and executing short term, deadline driven B2B campaigns.
Conventions and trade shows present extraordinary messaging opportunities for marketers. Capitalize on the times when your target audience converges on one location. EMC Events serves as a single point of contact to plan and fulfill outdoor and indoor media, as well as promotional branding and activations.
Since 1991 and with over 1000 trade show campaigns executed, we have been sought out as a strategic marketing partner collaborating with associations, industry members and agencies in the planning and execution of short term, deadline driven trade show campaigns.
Our single focus has always been impactful media for branding primarily outside of the convention center or hotels. We do not specialize in Print or Hotel Programs; instead we are experts in the full palette of outdoor, indoor, mobile and engagement media.
Consultation is provided on a variety of media in high demand by corporate exhibitors to meet marketing needs and goals.
Serving Event Organizations & Corporate Exhibitors
Create valuable new sponsorship opportunities for your exhibitors, and new revenue streams for your organization.
Add them through a simplified process, working with a single source with over 25+ years of experience in trade show marketing.
We got our start helping corporate exhibitors drive booth traffic and create brand awareness around their key events.
We have been developing and refining the use of outdoor and indoor media to reach trade show attendees, and help exhibitors stand out from the noise on the trad show floor.
Thousands of Trade Show Marketing Campaigns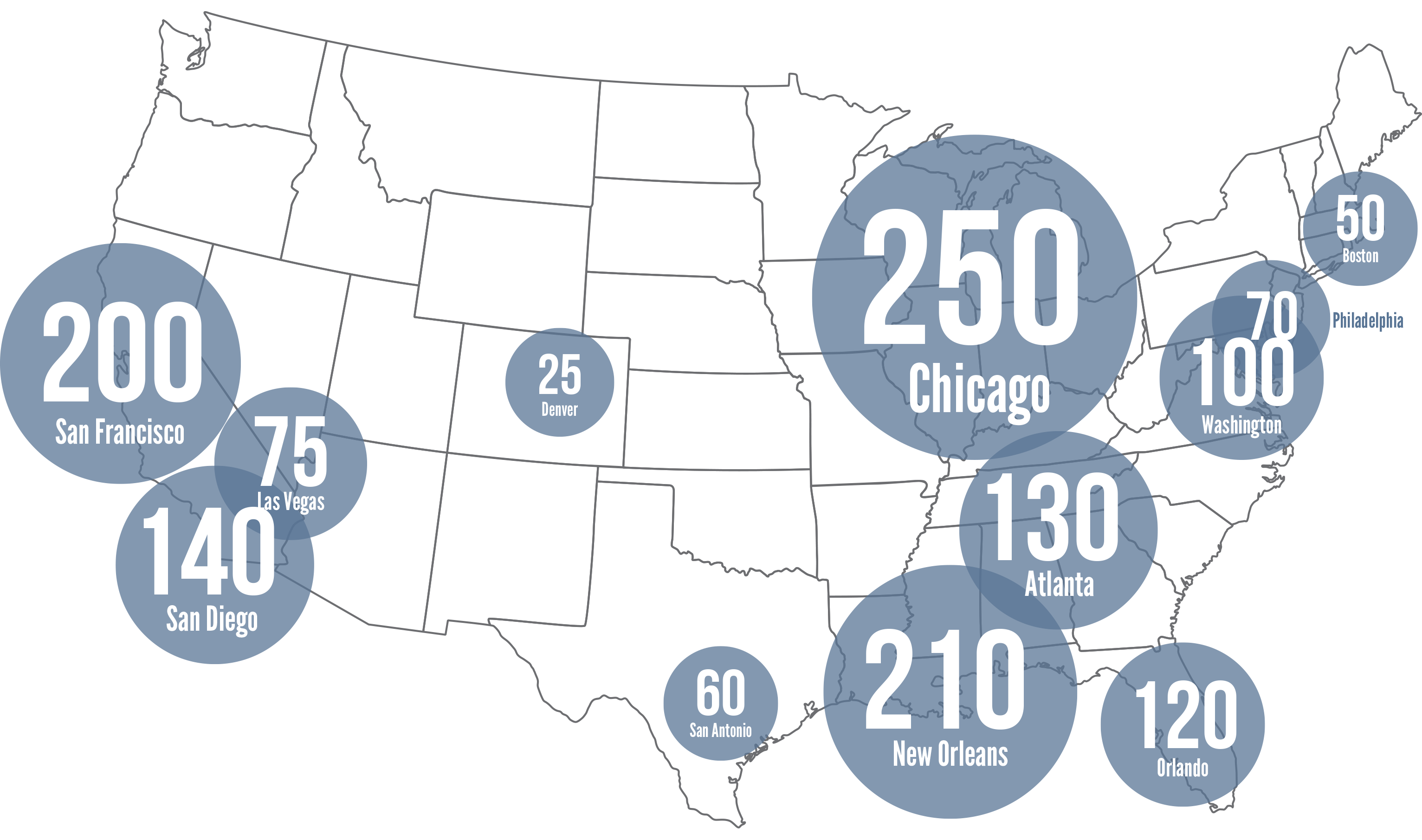 We've run thousands of trade show marketing campaigns for our clients: exhibitors, agencies, and event organizations. Over the years we've executed numerous campaigns in every major convention market, and even developed new media opportunities in some markets.
Wherever your next convention or trade show is being held, chances are we've worked there. Contact us to find out what we can provide for your next event.
Connect the Dots
Follow the path of event attendees as they move through the host city. From arrival to transportation, to hotels, daily circulation and nightlife, each market provides multiple touchpoints to intersect their path.
We've spent over a year on the ground in major convention markets, observing attendee behaviors and traffic pattern. This has given us unique insight into how to position media to reach attendees in each market.



What our clients are saying:
"At Alcon, we often achieve success through close collaboration with partners who share a common vision and complementary strengths. A key Alcon priority is to build winning collaborations that help us meet our mission: to provide innovative products that enhance quality of life by helping people see better. Our partnership with EMC Outdoor helps us achieve this mission."
—Alcon Laboratories
© 2005-2017 emc outdoor, llc all rights reserved