The latest Global Ad Trends report from the World Advertising Research Center (WARC) states, "successful brands allocate an average 13% of their media budget to out of home." Since reading the report, I have been interested in understanding more about these successful brands. Who are they and why do they buck the 6% average adspend in Out of Home?  How do they use OOH to strategically position their products and services? Most importantly, why should we pay attention to the trend?
Top Brands in OOH
The top 20 brands employing Out of Home advertising in 2017 were McDonalds, Apple, Geico, American Express, Google, Amazon, Coca-Cola, HBO, Verizon, Chevrolet, Netflix, Warner Bros Pictures, Sprint, State Farm, AT&T, Metro PCS, Samsung, Disney, Toyota, and Comcast. Over time, each one of these brands has carefully crafted an integrated advertising strategy utilizing OOH along with other media channels. These brand leaders have each invested $12M-$76M in both traditional formats and experiential programs for 1:1 engagement at the individual level. Through it all, OOH media has proven to be the strategic component that drives brand perception.
Undoubtedly, these top brands have seen the benefits in consumer engagement and ROI that we in the industry consistently tout. Traditionally, OOH has a very low CPM compared to other media formats, and brands recognize that they can get maximum reach and frequency from OOH advertising. Studies show that Out of Home disproportionately increases the reach of other media: search by 40% and print by 14%. Moreover, we see that ROI in OOH steadily increases when budgets are increased, as opposed to the high diminishing returns we see with other media. (OAAA, 2018 OOH ROI & Media Mix Optimization)
OOH ROI and Optimization in the Media Mix

Successful brands have found ways to maximize the various methods of OOH to support their message and goals. Whether promoting the release of a new product or trying to target a new audience, they've implemented creative that creates an emotional response with audiences. The lasting results have been recognizable brands and memorable messages.
Coca-Cola's Sensory Experience
Coca-Cola had its first sign in Times Square nearly a century ago and today is one of the most recognized, symbolic brands around the world. Their investment in outdoor media has been purposeful, from Times Square and Picadilly Circus to King's Cross in Sydney and beyond. In 2017, Coke launched a 3D robotic billboard in Times Square, a masterful technological achievement for its design. The Guinness World Record-winning sign features high resolution, moving LED cubes that change to showcase each of their brands.
During the launch, they tied-in an experiential marketing component with the Times Square Museum by providing beverage samples and spraying audiences with a cool, refreshing mist, providing a 360-degree sensory experience. They created magic and made history, appealing to a broad and diverse audience with a Coke in hand. Participants connected the experience with the happiness and delight that Coke consistently evokes—highlighting one of the reasons experiential marketing is so powerful—and they went viral. Still today, it is a must-see sign and stands out among all others in the OOH mecca.
This slideshow requires JavaScript.
WB's Integrated Box Office Hits
Warner Bros Pictures was the 2017 OBIE Hall of Fame winner, awarded by the Outdoor Association of America (OAAA). Their winning creative featured a batman logo punched through a billboard heralding the Dark Knight Rises launch; it was immediately recognizable. In 2016, WB had a teaser campaign with a transit shelter and peephole for the launch of The Conjuring 2. The concept was created to lure transit riders to view a movie trailer that was sure to scare and, more importantly, drive interest! These innovative executions were the cake topper—the "aha!" moment—in wider campaigns and part of integrated media strategies which they consistently use to attract audiences to the box office.
This slideshow requires JavaScript.
Classic and Contemporary Cracker Barrel
Another OBIE Hall of Fame brand, Cracker Barrel, has built its 40-year reputation in both iconic home-style cooking and directional signage. This mainstay brand has restaurants fanned out across the nation—one likely just off a highway exit ramp near you. The first restaurant opened in 1969 in Tennessee and today there are over 650 in 45 states. Out of home has fueled their success along the way proving that billboards have been good for business!
Cracker Barrel solidified a spot in history by developing an aggregating technology in the early days of OOH. They created the service to support their singular strategy of securing the billboards in closest proximity to their stores, and it has since grown into a full operational agency. From a creative standpoint, Cracker Barrel is legendary for signs that make you crave a bite to eat and stretch your legs as you hit the road for business or pleasure. A perfect mix of the classic functionality and contemporary promotion.
This slideshow requires JavaScript.
Apple's Memorable Creative
Apple has used OOH media creatively by developing an advertising theme showcasing how the iPhone allows users to show their creative chops. The "Shot on an iPhone" campaign, running for three years now, features images by amateur photographers worldwide using their iPhones. They've shown their skill by conveying a key product attribute without saying a word. The images excel at humanizing our connection to the devices and emphasizing the importance in owning their device to capture those personal and memorable moments.
This slideshow requires JavaScript.
OOH Triple Threat
So why do the most successful brands in the world allocate a larger percentage of their adspend on OOH, and why should we be paying attention? The simple answer: it works!
First, these brands have consistently used OOH media as a core part of their marketing efforts. It serves their fundamental need to connect with their consumers. Out of home media can accurately target and engage audiences because it lives among us. It intersects with our daily journeys, regardless of demographics, interests or buying behaviors. Some of the most recognizable digital brands who have lead the charge into the digital and online age have recognized the value of OOH advertising. This includes Spotify, winner of the 2018 Gold International, Craft Copywriting and Platinum OBIE Awards.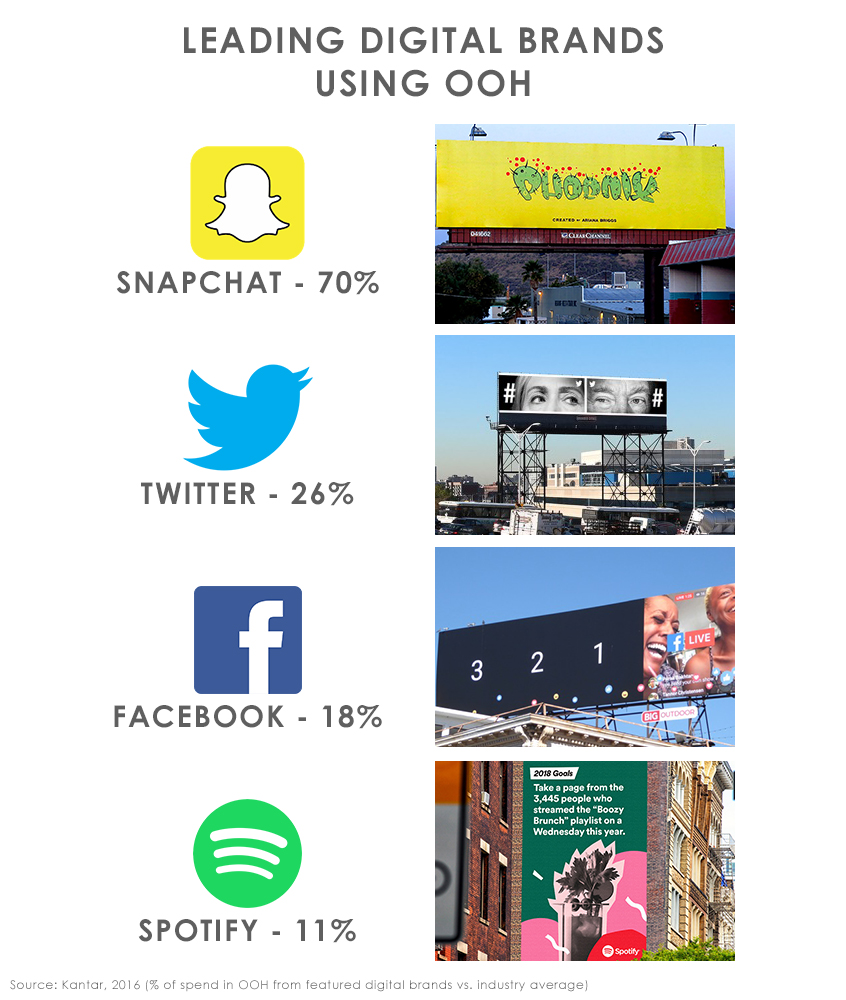 Secondly, out of home advertising can serve as a strong support medium by amplifying and reinforcing cross-channel messaging. The result is a greater impact of the messaging on the viewer and a higher recall. OOH creates tangible messages where other mediums may have fallen short. Consumers are growing immune to online banner ads, but a billboard or transit poster cannot be ad-blocked. When contextually placed and creatively designed, OOH can underscore the essential element of a campaign by connecting with the audience.
Thirdly, OOH is one of the most cost-effective mediums when compared to TV, radio, online, and print. It continues to offer detailed measurement of impressions, demographics and mobile data layering, while remaining insusceptible to the high costs that affect its more techno-centric media counterparts. It's also the only medium that continues to show increased ROI as spending increases, where the others show diminishing returns at higher adspends.
My team of strategic planners and buyers are eager to work with you to elevate your brand strategy with creative, contextually relevant and measurable results. Connect with us by sending a message in the form below.