At this point saying "COVID has really changed everything" is sort of like saying "the sun came up this morning". But now that we have been in this situation for a while, we can begin to see new patterns evolving – travel patterns, spending, media consumption and more. It's important for us as marketers to start to take stock of these changes and keep a close eye on how media trends are evolving in order to give our clients the best counsel. With regard to Out of Home, the COVID pandemic has made Out of Home more relevant than ever.
It's no secret that Out of Home media struggled during the early stages of lockdown due to the reduction in traffic. But, what has become clear in the longer term is that, while consumers adapt to new work, travel and shopping scenarios Out of Home media has become even more important and valuable as a result of the pandemic. The OAAA recently published the results of a survey conducted with the Harris poll to find out how consumers behavior, and their relationship with Out of Home media, has changed over the last few months.
Out of Home is becoming more relevant because of COVID lockdowns:
One important result of lockdown measure has been that consumers are much more appreciative of the time they do spend outside the home. As with almost anything, when we have our access reduced we come to appreciate it more. Because we're spending less time outside, it leads people to be more aware of the experience, more cognizant of their surroundings, and more conscious of taking it all in. It has also resulted in some digital fatigue as we are spending more time on our devices.
45% are noticing billboards and other OOH media more now than before the pandemic began.
69% have an increased appreciation for their outdoor surroundings
68% feel they spend to much time on screens and are tuning out online ads.
Consumers travel patterns have shifted to more localized trips:
While much of consumer traffic has returned to the roadways, the patterns have shifted. Many people are working from home, either part or all of the time. This has resulted in a shift toward more localized travel patterns, with consumers staying closer to home, and planning their trips for shopping and recreation more carefully. That said, they are also feeling the effects of being at home and trying to maximize the potential of the time they spend out.
65% are trying to get out of the home as often as possible – even if it's only for a drive or a walk around town. 40% are walking more, 29% are driving more and 27% are scootering/biking more
Travel has become more localized with 25% electing to stay within a 50-mile radius of their home.
With the holidays approaching travel still looks important for consumers with 67% planning to travel for the holidays, with 56% planning to travel by car.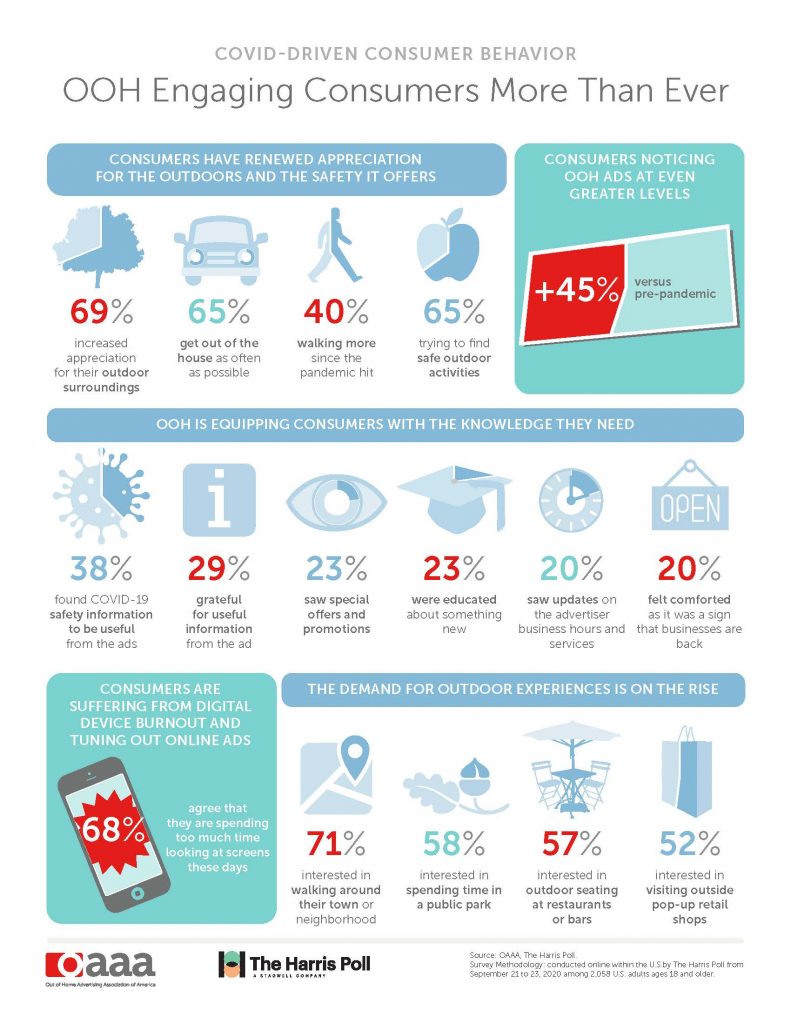 COVID effects on consumer spending patterns:
COVID has also had a significant effect on consumer spending patterns. Consumers are engaging in less casual shopping, and more planned trips to stock up on essential household items. Despite this, and the current economic conditions a majority plan to spend as much or more on holiday gifts this year. A key point to note is how Out of Home affects consumers confidence in brands. Seeing a brand on Out of Home help consumers feel more confident about the brand and being back in business.
OOH is helping drive consumer confidence with 20% felt comforted as a sign that businesses were back.
43% making fewer trips but buying more to stock up on essentials.
43% are using a mix of established and new brands and 12% say they will continue to use those new brands. This offers an opportunity for new, up and coming brands to establish more market share and gain loyalty of new customers.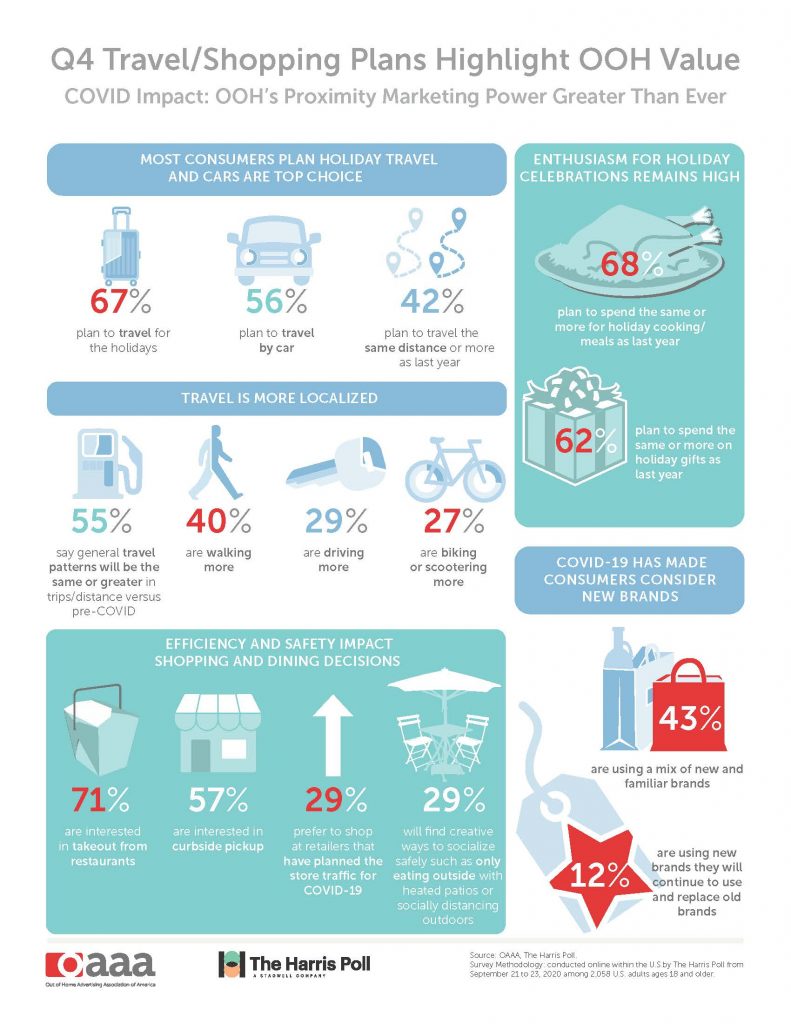 OAAA CEO, Ana Bager summarized some of these findings saying:
"Couple these holiday travel findings with the dramatic increase in people noticing and appreciating OOH — and it's clear that brands have a strong opportunity to reach consumers on-the-road, at the airport, or at the checkout line when buying what's needed for the festivities. Moreover, the shifts in the supply chain have opened doors for new brands to find a way into shopping carts and gift boxes this holiday season."
As society and consumers navigate the waters of the "new normal" while we work toward recovery one thing is clear – the COVID pandemic has made Out of Home media more relevant than ever. With its ability to reach hyper-local audiences, deliver critical messages, and drive consumer behavior OOH should be a key piece in any brands media mix. Whether its driving local store traffic, or driving online traffic, Out of Home is a diverse and flexible media channel that can provide a powerful way to reach your audience.