As we approach the unwelcome milestone of a year of dealing with the COVID pandemic, and as the promise of vaccine rollouts allows us to begin to see a light at the end of the tunnel, we thought it would be a good time to stop and take stock of things. Dealing with COVID mobility and Out of Home has been a bumpy road for everyone involved in the industry, from media owners to agencies and advertisers. So where are we now? How did we get here and where are we going? Let's take some time to look at COVID's effect on Out of Home media.
Before we jump in, a quick word about Out of Home measurement. As an Out of Home specialist agency, we rely primarily on data supplied by Geopath to help understand the media. Geopath is the commonly accepted currency used across the Out of Home industry to provide data on OOH media impressions. As an OOH specialist having independent, 3rd party data available across the OOH landscape is essential in evaluating the media, the audiences that see that media, how they travel, and the impressions generated by that media. While we may look at data from other sources to provide additional color or insight, we always look to Geopath data as our primary source. Since the onset of the pandemic Geopath has done an incredible job providing new tools and data to help understand what is happening in the world of Out of Home impressions as a result of COVID.
COVID's Initial Effect On Out of Home Media
It's no secret that Out of Home media took a huge hit when the pandemic struck. COVID's effect on Out of Home media was swift and dramatic. As lockdown and shelter in place orders went into effect across the country consumer traffic on the roads and public transit plummeted. Advertisers, understandably concerned, quickly pulled much of their advertising away from Out of Home.
Because many advertisers (and even agencies) are not necessarily tapped into the minutiae of Out of Home it was difficult for them to understand when, how and where traffic was coming back. Many relied on anecdotal evidence limited to their own experience in their local area. Without a deeper understanding of OOH measurement many where unaware of the availability of additional information to help with their decision making. Consequently, out of an abundance of caution, a lack of information, and in many cases the loss of key subject matter experts, advertisers were left to assume that traffic was still reduced so much that Out of Home was not a feasible channel.
What the data showed however was that while there was a large initial shock, that traffic began to bounce back fairly quickly. Not completely, and not evenly to be sure but by July overall miles travelled was back to 95% of pre-shutdown levels after hitting lows in late March /early April.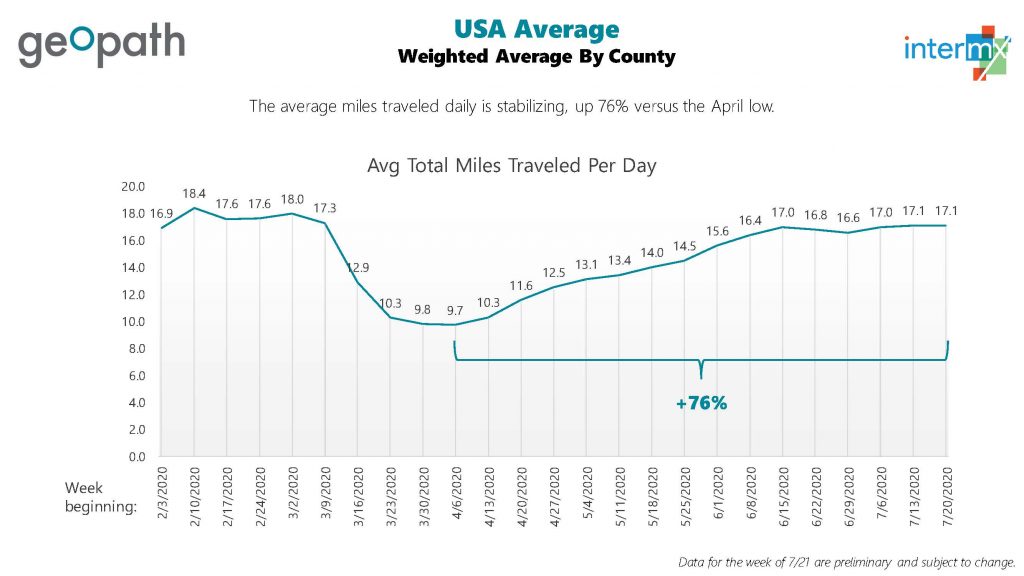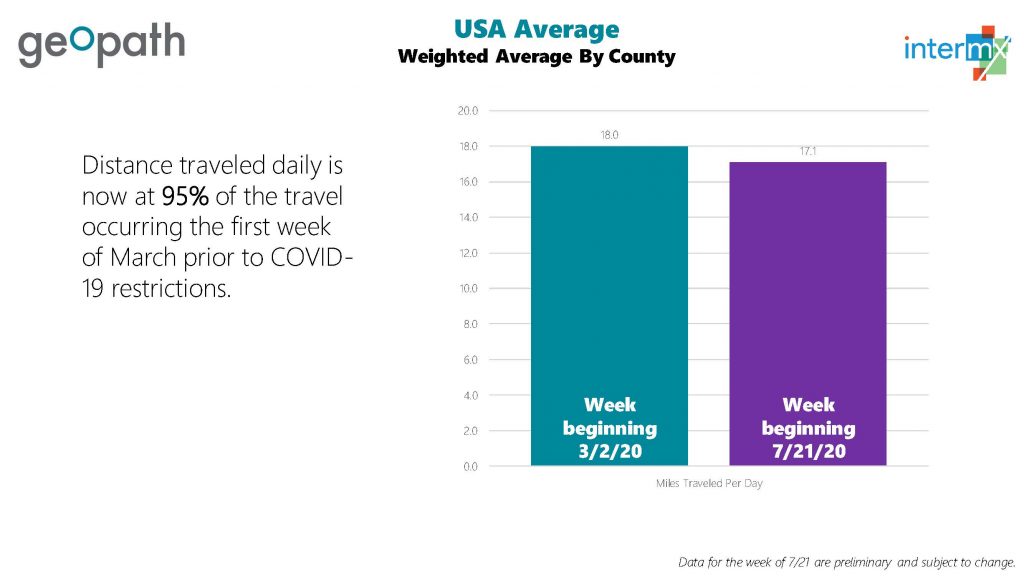 There were shifts however – while traffic was down around central urban areas it was up around essential businesses like groceries and pharmacies. During the warmer months there were large increases in travel around parks and outdoor spaces as the population adapted to find safe ways to enjoy some recreation. Google mobility reports showed over a 50% spike in traffic to parks across the summer months.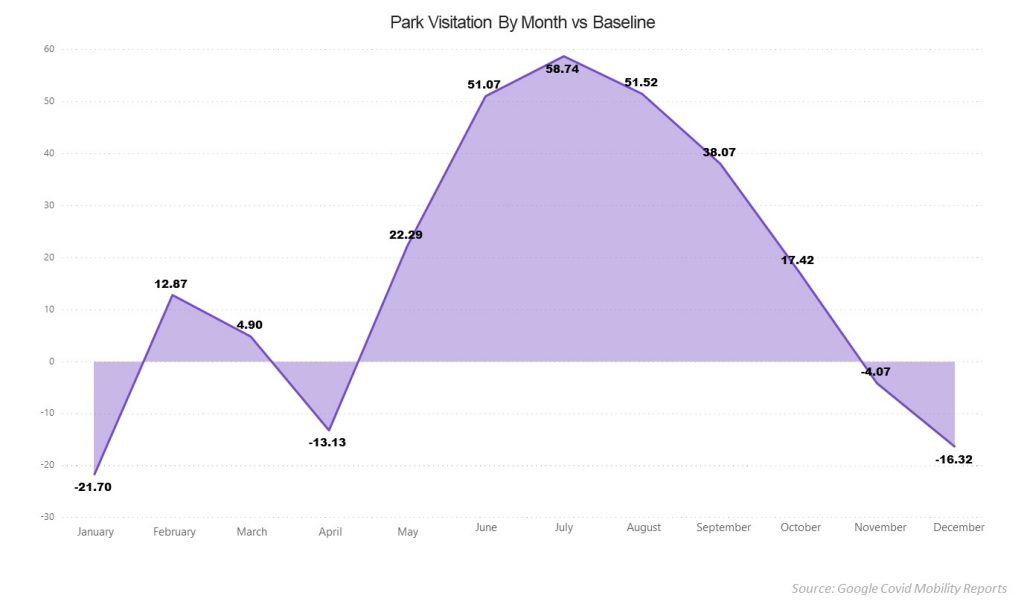 The Current State Out of Home Media and COVID:
COVID's effect on Out of Home media has waned significantly since the initial changes and has stabilized for the last several months, albeit at lower levels. As of the most recent mobility reports general US traffic is around 90-95% compared to expected baselines for the time period. 75% of people are taking a trip every day, and are traveling an average of 16.4 miles a day . America is moving around. Now this recovery is certainly not the same everywhere. There is a clear correlation between smaller and more rural areas seeing a more rapid recovery than more densely populated urban areas.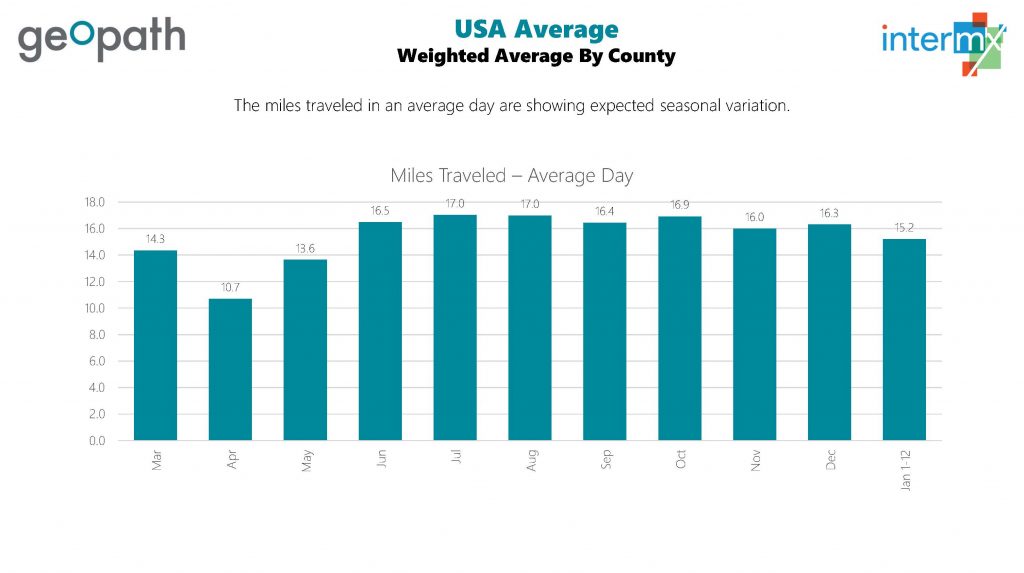 Traffic patterns have shifted. With many people still working from home commuter traffic is still low, particularly around urban centers, while traffic around more residential areas have grown.
In addition, more people are choosing to travel by car because of the safety aspects. This is causing a shift toward automobile traffic from public transportation. A recent study from McKinsey shows that safety has jumped to the most important factor that people are considering for their transportation choice.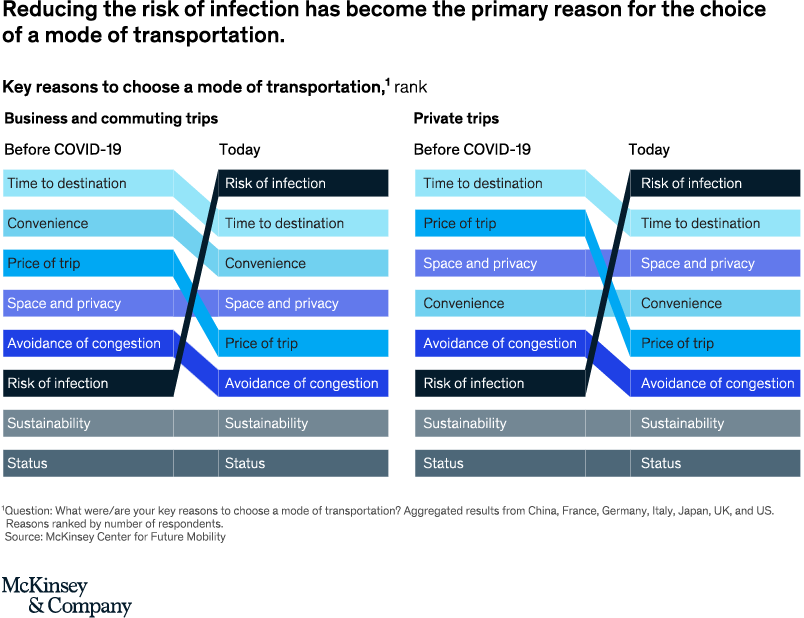 So what does this mean for advertisers considering Out of Home media for their plans? Simply put, there is no compelling reason not to include OOH in your media plan. People are moving around outside the home. Most people are leaving their home every day, and they are traveling almost as much as they did prior to COVID. While COVID's effect on Out of Home means that levels may be slightly lower than before that is no reason not to include the channel. As with any other media these days consideration should be given to which markets are recovering faster, and where consumers are traveling in those markets. Public transit and airports are certainly lagging behind pedestrian and vehicular traffic, but with some consideration for circumstances and media it is clearly feasible to put together a powerful and effective Out of Home media plan.
The Future for Out of Home:
The biggest factor in diminishing COVID's effect on Out of Home media will certainly be the rollout and effectiveness of vaccines. As more of the population is vaccinated this will lead to more traffic, and a return to something closer to pre-COVID conditions. Most models suggest vaccination efforts to start to pay off over the spring and summer. With that in mind we can see Out of Home hopefully back to it's good old self some time in the early fall. Keeping in mind that traffic numbers have already bounced back considerably and don't have that far to go to get back to pre-COVID levels. But while traffic will be coming back it will most likely not look the same as it did before the pandemic. Here are a few ways that it may be different in this new normal.
Return to work, or stay at home? What Will Commuter Traffic Look Like?
A recent Gallup poll showed that of those surveyed 33% of U.S. workers are always working remotely. Freelancer website Upwork puts that number higher saying "41.8% of the American workforce continues to work remotely. Although an estimated 26.7% will still be working from home through 2021, 36.2 million Americans (22% of the workforce) will be working remotely by 2025. This is a staggering 87% increase from the number of remote workers prior to the pandemic!"  Whichever is the case the fact remains that the work from home paradigm is here to stay in a much larger way than ever before.
For the purposes of Out of Home media this means a couple things. First, the standard commuter rush hour peaks will change. This is already borne out by initial data from transportation data service Streetlight which shows that the typical morning and evening peaks have flattened out to a more steady rise across the day. For OOH advertisers – particularly those who use digital OOH and daypart against those patterns – it will require a reevaluation of that strategy and perhaps a shift to wider time ranges.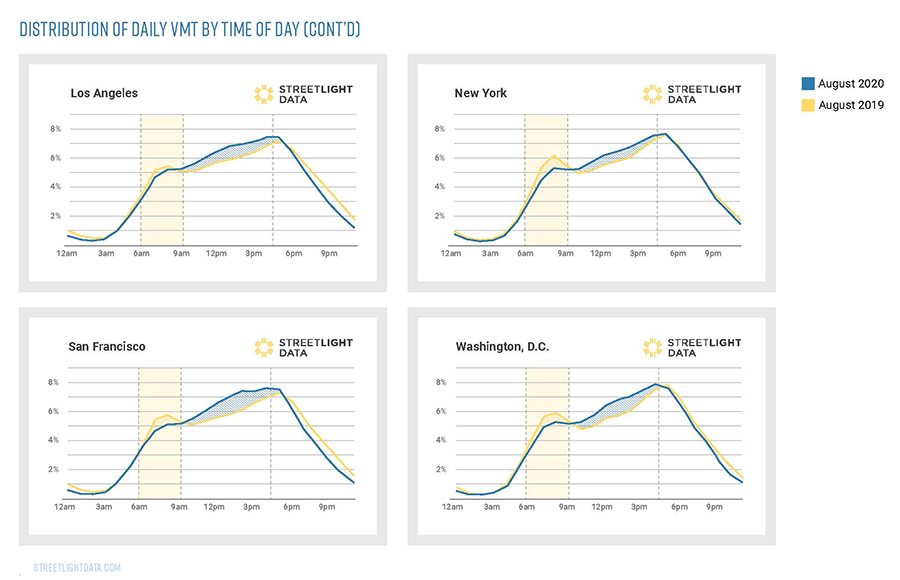 It will also mean an increase in travel around residential areas, and more specifically to retail around those areas. For workers who are not commuting every day their shopping patterns will shift. Where once the grocery store of choice was the one on the way home, now that may shift to the one that is closest to home and convenient for a quick midday trip. Advertisers should be prepared for increased traffic around local shopping centers, as well as a similar shift in peak shopping times.
What will a resurgence in retail shopping look like?
A recent McKinsey report on the effect of COVID suggest that one pattern for the future will be a surge in spending as consumers gain confidence, and vaccines allow the freedom to indulge:
"As consumer confidence returns, so will spending, with "revenge shopping" sweeping through sectors as pent-up demand is unleashed. That has been the experience of all previous economic downturns. One difference, however, is that services have been particularly hard hit this time. The bounce back will therefore likely emphasize those businesses, particularly the ones that have a communal element, such as restaurants and entertainment venues." 
However much of that shopping may remain online. Consumers have become more accustomed to online shopping or curbside pickup situations and may be reluctant to give up the convenience and time savings for the sake of in person shopping. McKinsey states that:
"Specifically, the shift to online retail is real, and much of it will stick. In the United States, the penetration of e-commerce was forecast in 2019 to reach 24 percent by 2024; by July 2020, it had hit 33 percent of total retail sales. To put it another way, the first half of 2020 saw an increase in e-commerce equivalent to that of the previous ten years."
Time will tell how exactly consumers will respond to their physical freedom once they have it, so businesses should be prepared with contingency plans for both situations or some sort of hybrid.
Summary:
Moving forward we will continue to monitor the OOH impression numbers from Geopath as they continue to respond to the changing situation. In developing predictive numbers for 2021 they "leveraged historical data, live activity data, and current models projecting the recovery." In addition their Impression Variation Dashboard will continue to allow Out of Home specialists to monitor impressions at the market level, but with a higher level of resolution – comparing observed data against monthly predictions.
A recent Harris Poll conducted for the OAAA showed that 45% are noticing billboards, outdoor video screens, posters, signage, and other OOH ads more now than before the pandemic began, and 65% try to get out of the house as often as they can, even if it's just for a drive or a walk around town. This means that, even though Out of Home impressions may not be completely back yet, they are having more impact on those that see them.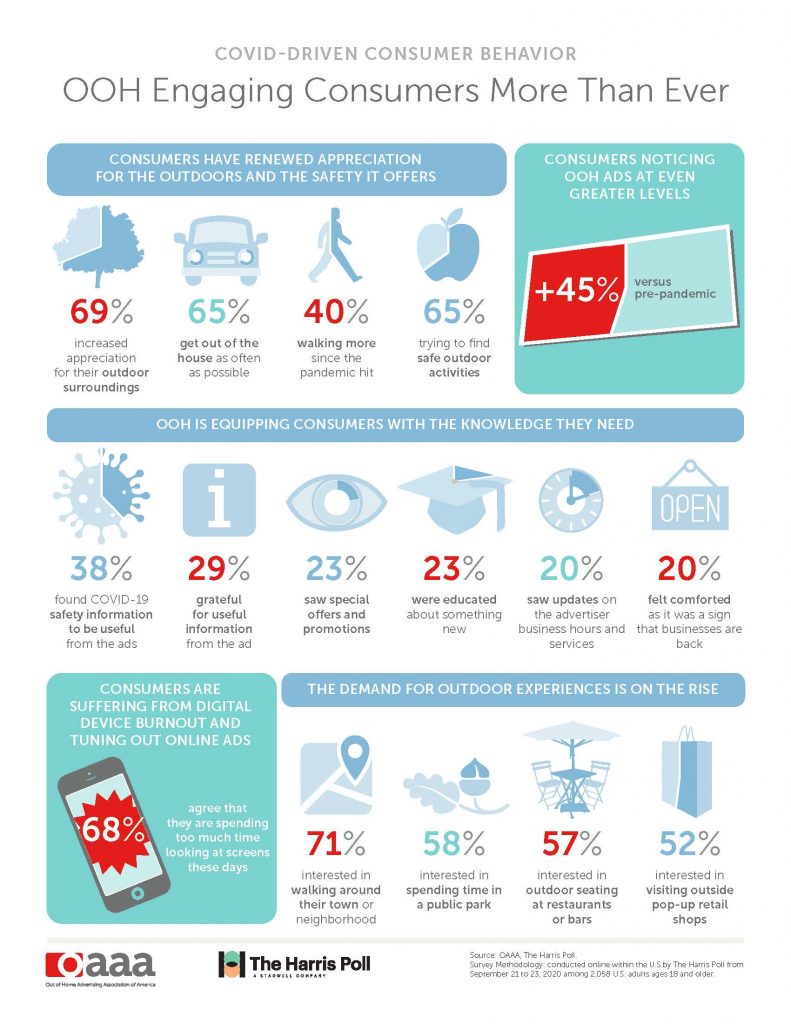 While the pandemic has been a difficult time for everyone, and there is certainly much to get through ahead of us advertisers should feel confident that Out of Home media is still a powerful media channel, and that as the recovery continues it will become even more so. Changes in travel patterns will offer advertisers new opportunities and new locations to intersect with audiences, and ultimately the changes will make the media stronger than ever. As COVID's effect on Out of Home media continues to relent over the coming year we should expect to see a major return to the channel as advertisers recognize the value that is there.