As human beings, we frequently accept certain assumptions as facts just because they are generally believed. This is certainly true of marketers as well, and one belief that has been commonly accepted is that Out of Home media may help drive brand awareness but doesn't really move the needle when it comes to sales. But now more and more evidence is becoming available that clearly shows how Out of Home media drives consumer activity in the real world and online.
Out of Home has long been regarded as a media that supports large-scale brand awareness, and that was about all. But the new evidence shows that OOH can help support other media channels and drive important business results along the entire sales funnel.
Out of Home media is back, and consumers are starting to spend again:
First let's dispel a couple of false assumptions, that the pandemic has rendered Out of Home a less effective channel, and that the current economic situation is keeping people from spending.
While it is true that OOH viewership was down at the beginning of the pandemic it never fell as far as people seemed to think. And, more importantly, it is now back. Not only is it back to normal, but it is also even exceeding pre-Covid levels in many areas. People have been in lockdown for so long now that they are jumping at the chance to get out and about. Which of course means higher than normal levels of audience for Out of Home media.
And now that they are out and feeling more confident about both health and economic recovery consumers are spending. According to Barrons Americans have stashed away an extra $2.4 trillion since the pandemic, and they mean to spend. The study shows that "total consumer spending is already about 5% higher than it was before the pandemic. Spending on durable goods such as cars, appliances, furniture, televisions, and exercise equipment remains nearly 40% above pre-pandemic levels."
Meanwhile, a report from McKinsey shows similar trends finding that 51% of consumers plan to "splurge or treat themselves". So how does Out of Home media help drive consumer activity?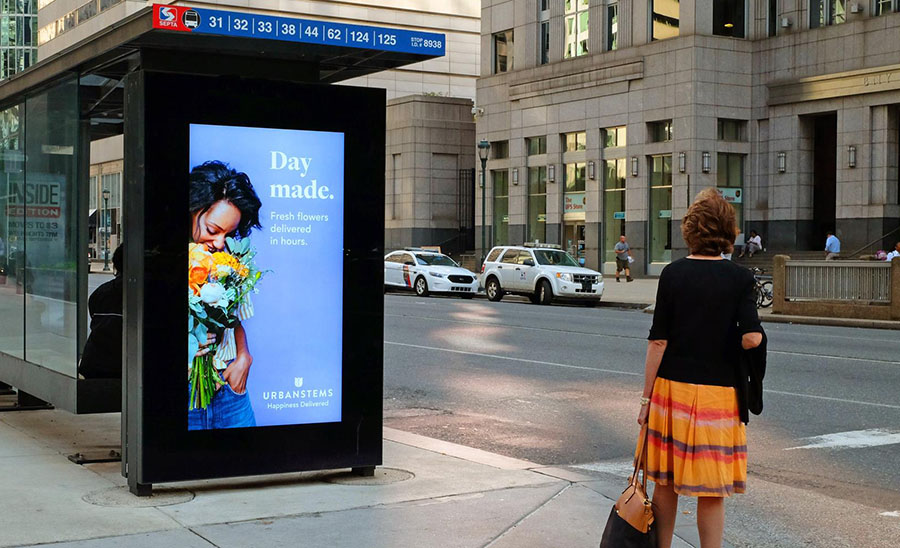 Out of Home Media Drives Consumer Activity In the Real World
As we've seen, consumers are excited to be out and about, and they mean to spend. With all that time in lockdown they are also looking to spend locally with 48% saying they intend to support local restaurants for example. (Harris Poll). People want to be able to browse again and buy something they see and feel.
As they are returning to more in-person shopping it's important to remember that OOH is not just for brand awareness and top-funnel metrics, it can also drive real-world activity. According to the Harris report, 27% say Out of Home Informed me of new businesses in my area and 20% say Out of Home influenced their decision to buy a product or service.
Additionally, a new report from WARC/Posterscope that analyzed campaigns over the 5 years from 2015-2020 showed how Out of Home has a major impact driving foot traffic and in-store sales. According to the study consumers who see Out of Home advertising are:
46% more likely to engage in an in-store visit.
28% more likely to make an in-store purchase.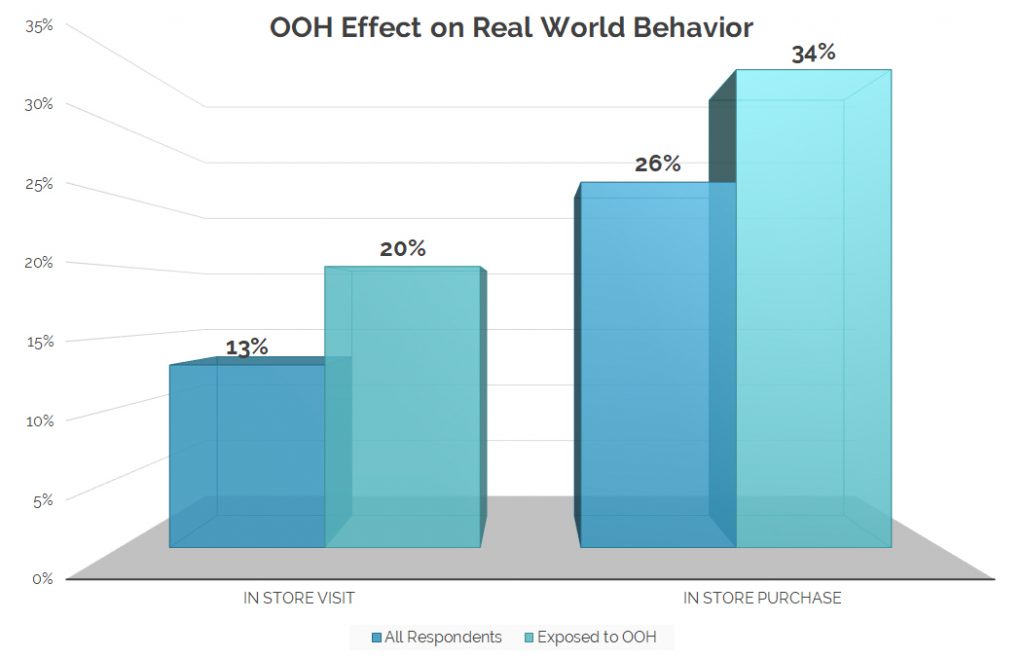 With its ability to target both businesses and audiences geographically, and with the enduring power of proximity, Out of Home media drives consumer activity in the real world with great effect. But its power doesn't stop there.
Out of Home Media Drives Consumer Activity Online
But what about online? We all know that the pandemic has (probably forever) changed certain shopping patterns. The necessity of ordering everything from bread flour to toilet paper online has driven more people to online shopping and greatly accelerated its adoption. Brands all over the web were scrambling to keep up with the huge increase in online shopping, maintaining inventory, and scaling up their logistics. Since so much shopping is now being done on the web, how Out of Home media drives consumer activity online is very important.
It turns out that Out of Home media also works extremely well as a partner with other media channels, enhancing their impact and providing highly targeted, yet still scalable and cost-effective impact. OOH works particularly well as a primer for digital media, by enhancing the effectiveness of digital channels, and driving online activity. The same study from WARC/Posterscope showed that consumers who see Out of Home (OOH) advertising are…
53% more likely to search for a brand online.
56 % more likely to make an online purchase.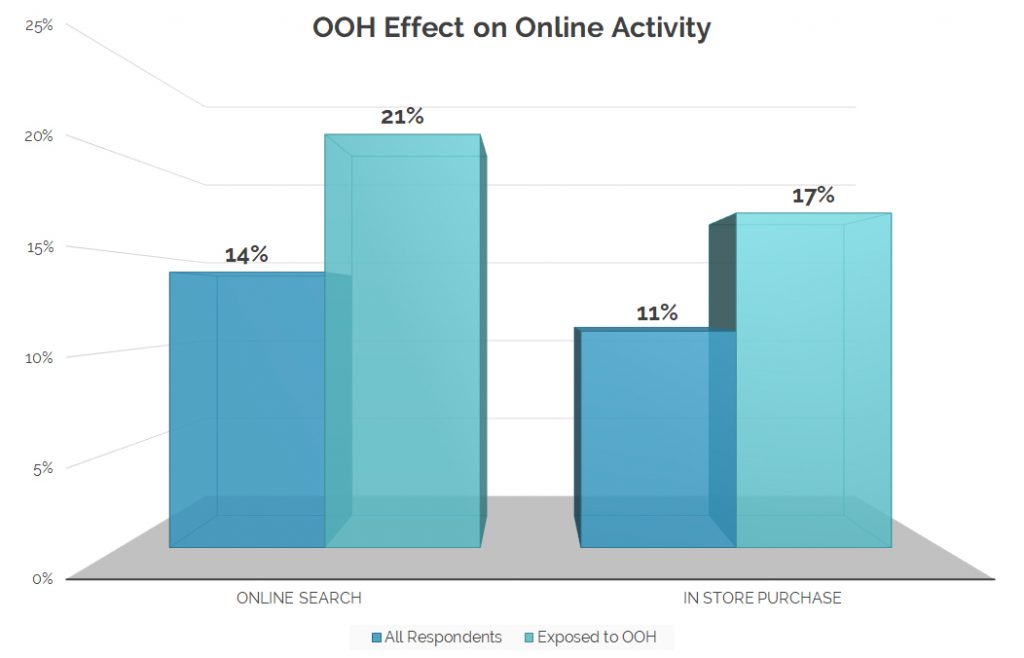 This is in line with previous studies that showed Out of Home outpaced other media channels in driving online activations by nearly 4 to 1. It is also corroborated by a study done by Facebook in 2019 on the effectiveness of combining OOH with Facebook ads. Their results showed that using both Facebook and OOH ads worked best—with the combined impact proving to be 13% more efficient than expected.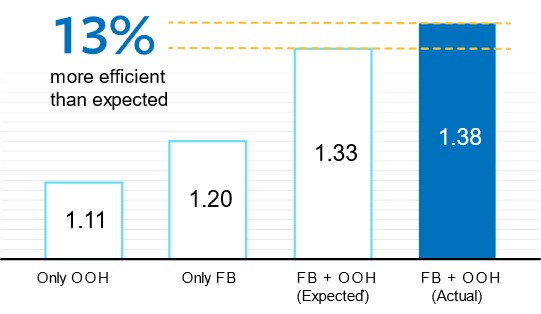 How will your brand use Out of Home Media to drive consumer behavior?
As consumers are continuing to move back into the market, for shopping or entertainment, or travel it provides an opportunity for advertisers to recapture their attention with Out of Home media. After their long seclusion people are more keenly aware of what is going on around them when they are outside the home. The Harris poll showed that 41% of consumers are noticing Out of Home media more than they did before to Covid.
Now is the time for advertisers to understand and take advantage of the fact that Out of Home media drives consumer behavior in the real world and online. The evidence is there to support it, the audience is back out to see the media, and Out of Home is ready to work with other media to help businesses recover in these crucial months ahead.
Contact us to learn more about how Out of Home can reach your audience in a variety of ways to help drive activity both online and in the real world.