Welcome to the next segment in our monthly series, where we dive deep into various markets, providing valuable insights and expert advice drawn from our wide-ranging 30-year experience in the Out of Home advertising industry. In this issue, we're focusing on the vibrant cityscape of Atlanta and the myriad OOH media options available to marketers.
Exploring the Atlanta Market:­
Known as the "City in a Forest," Atlanta is a dynamic metropolis nestled among the trees of Georgia. It's a bustling hub of culture, sports, and business, with a population of over 500,000 within the city limits and nearly six million in the wider metropolitan area. Atlanta offers a variety of attractions, such as the Georgia Aquarium, the World of Coca-Cola, and the Martin Luther King Jr. National Historic Site. It is also home to a thriving entertainment industry and several Fortune 500 companies.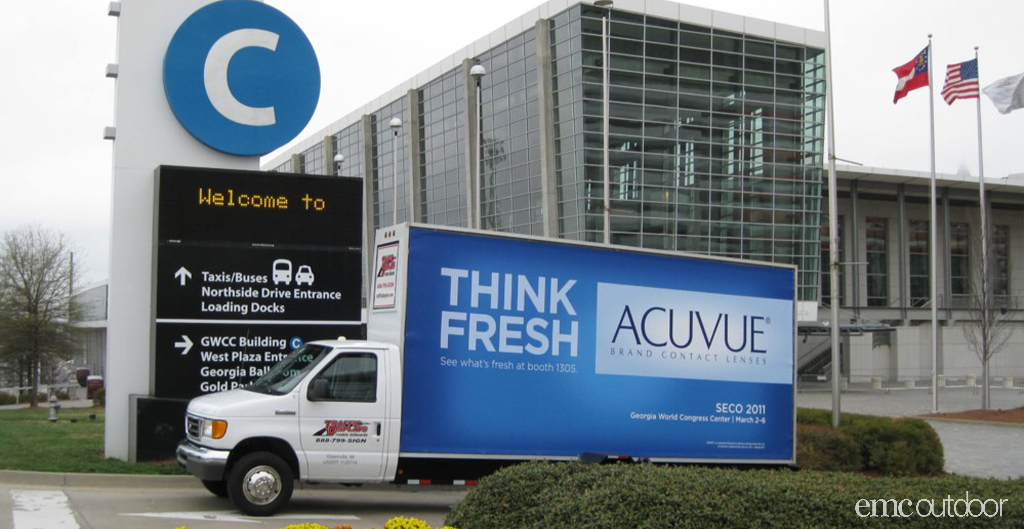 Market Demographics:
According to 2021 Statista demographics, Atlanta is the 9th largest media market in the U.S., boasting a diverse and dynamic population. The city's various universities and booming tech, film, and music industries draw in students, young professionals, creatives, and entrepreneurs, making Atlanta an attractive market for advertisers looking to connect with a broad audience.
According to the American Transportation Research Institute, Atlanta is the fourth most congested city in the U.S. To the everyday commuter, this might sound like a frustrating fact. However, it's a hidden gem for those in the Out of Home industry.
Now, why would traffic congestion be beneficial, you ask? It's all about dwell times – the time a potential customer is exposed to an advertisement. In cities like Atlanta, where traffic can slowly crawl, these dwell times can stretch longer than in less congested areas. This means your message can engage viewers for a potentially extended period instead of just fleeting seconds. It's like having your audience captive, allowing for more detailed and compelling storytelling through your advertisements.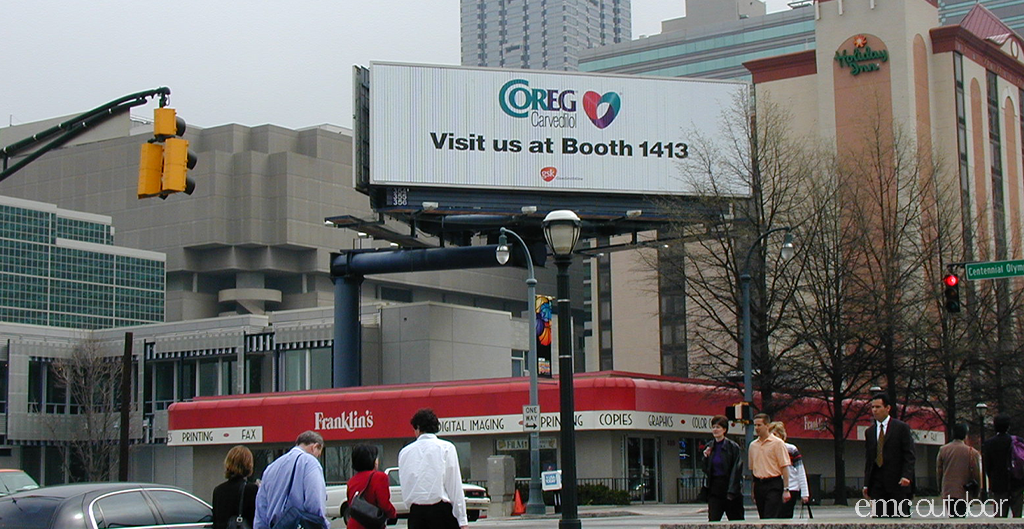 It may seem odd to see a traffic jam as a silver lining, but in the world of OOH advertising, the stage for your message is set for a longer show! With ample room for creative typography and captivating designs, Atlanta's traffic transforms from a commuter's headache to a marketer's paradise.
Transportation and Accessibility:
Atlanta boasts an array of transportation options, encompassing a comprehensive bus and rail system operated by the Metropolitan Atlanta Rapid Transit Authority (MARTA) and major highways such as I-75, I-85, and I-20. These avenues link the city to its suburbs and neighboring states and serve as prime locations for out-of-home advertising due to their high traffic volume.
A noteworthy mention in Atlanta's transportation landscape is the Hartsfield-Jackson Atlanta International Airport, the world's busiest airport. Providing non-stop flights to over 150 domestic and international destinations attracts an incredible volume of foot traffic. Typically, airports serve as strategic advertising platforms for tradeshow marketing; however, the exceptional footfall at Hartsfield-Jackson also positions it as a significant player for general market advertising. The unparalleled visibility offered by this airport presents an invaluable opportunity for advertisers to reach a diverse and high-volume audience.
OOH Media Formats:
Atlanta's vibrant media landscape offers a diverse array of advertising formats. Posters stand out as Atlanta's most dominant OOH medium, providing a visually impactful platform for engaging with local residents and city visitors. Additionally, traditional and digital billboards play a significant role, accounting for around 16% of the city's OOH market.
The city's transit system offers additional opportunities for visibility, with advertising spaces on bus shelters, bus wraps, and within rail systems ensuring your message reaches daily commuters. This dimension of the OOH offering is particularly valuable given Atlanta's high commuter population.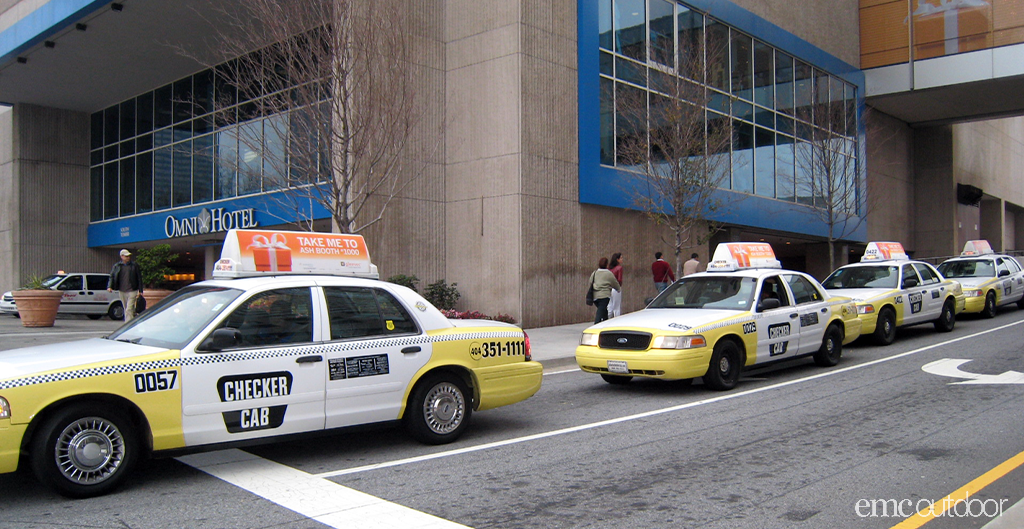 Beyond the city streets and transit systems, Atlanta's sports venues present unique advertising opportunities. Venues like the Mercedes-Benz Stadium and the Atlanta Motor Speedway are prime locations for OOH advertisements, offering high visibility to a captive and enthusiastic audience of sports fans and event attendees.
Rounding out Atlanta's comprehensive OOH media offering are specialized formats, such as airport advertising, mobile billboards, and digital taxi tops. These high-impact formats target specific demographics, such as business travelers, tourists, sports enthusiasts, and city explorers, making Atlanta's OOH media landscape one that truly offers something for every advertiser.
Trade Shows:
Atlanta hosts the renowned Georgia World Congress Center for hundreds of events annually, attracting thousands of attendees from various industries. Despite limited billboard options in the immediate area, unique formats like digital wallscapes, transit shelters, mobile billboards, and rideshare advertising effectively target conference attendees traversing Downtown or Midtown Atlanta. Various packages cater to these formats, ensuring maximum exposure.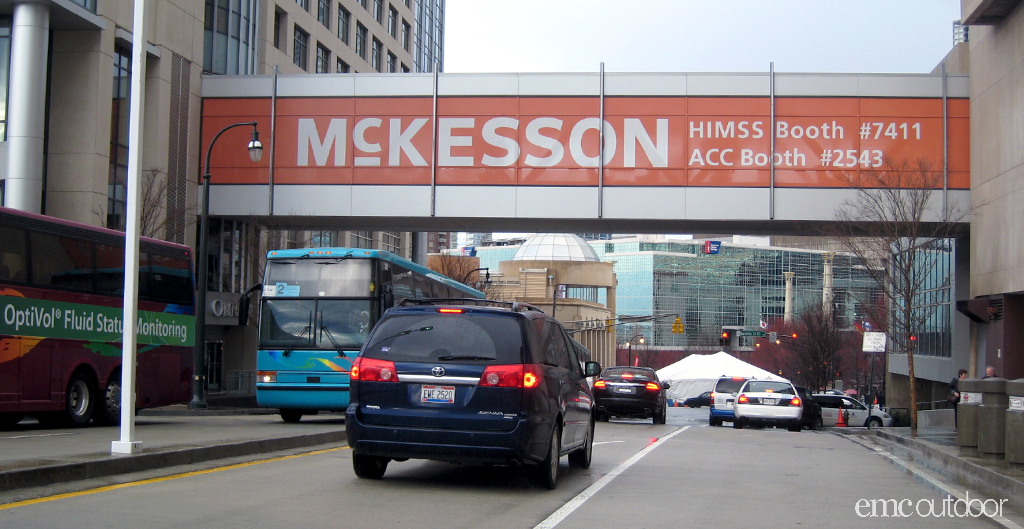 The demand for OOH inventory in Atlanta is high, and the costs reflect this demand, highlighting the need for advertisers to plan early to secure the best media options for their campaigns.
Atlanta presents many opportunities for advertisers looking to reach their target audience through OOH advertising effectively. From the ubiquity of posters to specialty formats like digital taxi tops and sports stadium signage, the city offers diverse media options that can be tailored to meet specific campaign goals. With its vibrant entertainment industry and growing tech sector, Atlanta is a market that should not be overlooked by advertisers looking to make a significant impact.
For more information, contact us today!