I like to cook. By no means am I a gourmet chef, but I get by. Chili is one of my favorite dishes to prepare for my family. There must be a million different recipes out there, but if nothing else, you gotta have some type of meat, beans and a sauce.
I like to kick mine up a lot, adding different veggies and spices to the mix. The more, the better. It enhances the final product. I think out of home performs the same function to any media plan – it kicks it up a notch. Think of the basic ingredients to any chili recipe and compare it to traditional media – T.V./meat, radio/beans, sauce/digital. But who wants just the basics when you can enhance it with OOH/spices?
EVERY MEDIA RECIPE NEEDS OOH
In fact, most agencies and brands have come to the realization that OOH media is a necessary – if not vital – part of any media plan. And there are plenty of recent statistics to back it up. When adding billboards, the bread and butter of OOH, to other traditional media plans, total reach can be potentially increased up to 300%.
The recipe is simple – OOH delivers the right message at the right time and place to the right audience.  With consumers spending on average 70% of their waking hours away from home, they are totally immersed in the OOH network. They are going about their daily lives constantly being exposed to a variety of OOH formats. Therefore, OOH can no longer be an afterthought; it must be considered early in the planning process. OOH is a core media buy – it is contextually relevant and a powerful media amplifier. It can't be blocked, skipped or viewed by bots. And, it's not intrusive as it doesn't disrupt consumers' daily activities.
OOH can bring the basic media recipe to life. Why just use television advertising alone, when adding a pinch of OOH allows you to reinforce television messages to viewers when they are away from home going about their daily lives?
Why not blend in some OOH with a radio buy, especially since most radio listeners are in their cars and are constantly exposed to billboards and other OOH?  It gives visual bite to audio ads. Since listeners tend to channel surf throughout the day, OOH can provide a constant market presence for the brand when consumers hit the buttons.
Beef up your print advertising dish with some meaty OOH.  The internet has put a big dent in print advertising, which has seen regular declines in readership and revenue for nearly two decades now.  And with a short shelf life, adding in some OOH provides 24/7 market presence to keep the brand in front of audiences.  You can get hyper-local with OOH too, as it can be found in such local spots as convenience stores, grocery stores, health clubs and pharmacies.
Whipping up an internet campaign? Add in a few cups of OOH – it strengthens the internet message when consumers are away from their computers. And with the right creative, OOH can be very effective at driving audiences to websites.
THE SECRET INGREDIENT TO ANY MEDIA RECIPE
A recent USA TouchPoints, 2014.1 study highlights some very powerful statistics about OOH that can't be ignored when preparing that special media dish. A few key findings:
Ooh's weekly reach of 99% tops every other medium
Consumers spend 19.6 hours per week with ooh – higher than any medium other than tv
Ooh outperforms traditional media in reaching consumers in the same half-hour they consider purchases, decide on purchases, and make purchases
Ooh reaches consumers in the hour before 32% of all mobile search activity
OOH – A LOW COST ITEM IN YOUR GROCERY CART
Careful thought needs to be put into the planning process.  Room needs to be made for OOH to be included in the buy. The good news is OOH is not cost prohibitive. In fact, it's long been known that OOH offers one of the lowest CPM's in the media landscape.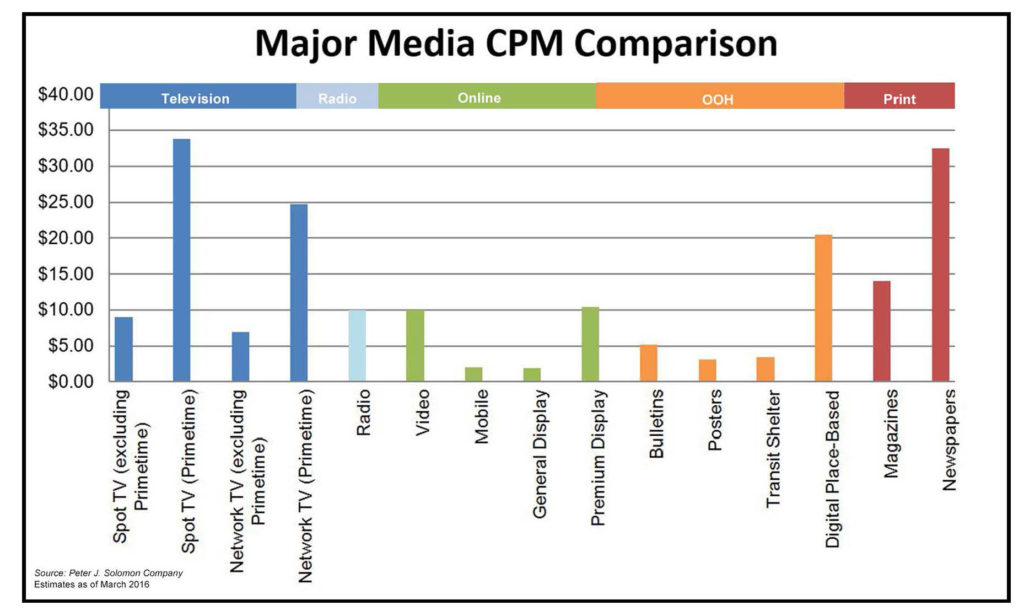 Need data to back up/support your decision to mix in OOH?  That's available too, more now than ever before. Many OOH media companies have developed sophisticated technology that not only tell you how many consumers see your OOH ads daily, but who sees it and when.
KICK UP THE HEAT WITH MOBILE
There's lots of supportive data out there that proves layering in OOH with a mobile/digital campaign significantly amplifies engagement. When considering that nearly 80% of Americans now own a smart phone (*ComScore, 2016) and consumers are 48% more likely to click on a mobile ad after being exposed to the brand with OOH (Ocean: Beyond OOH, Neuroinsight 2015), a strong case can be made to blend in OOH with a mobile/digital campaign.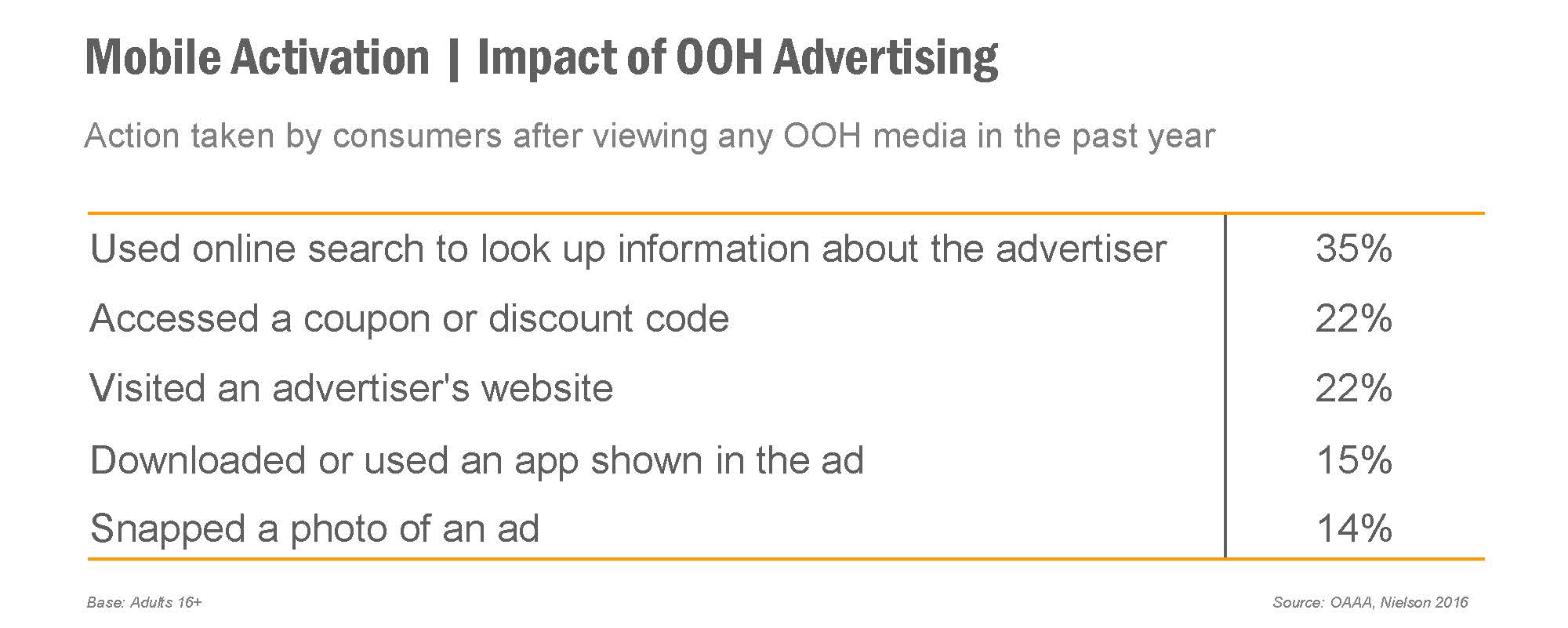 Don't forget – ads can be served to mobile devices from OOH assets in a geo-fenced location, or with technologies such as beacons, NFC's or QR codes.  Now that's a tasty dish!
So, next time you're cooking up a media meal, don't just settle for the basic meat and potatoes recipe.  Add in some OOH – the secret ingredient to a strong, impactful media mix. Oh, and don't forget the pecan pie.
[contact-form to='info@emcoutdoor.com' subject='Request for more information: EMC Outdoor Blog'][contact-field label='Name' type='name' required='1'/][contact-field label='Email' type='email' required='1'/][contact-field label='Company Name' type='text'/][contact-field label='Message' type='textarea' required='1'/][/contact-form]
Save