The New Year is fast approaching and, as we turn the corner from 2018 to 2019, I want to take a look at trends that are gaining ground in Out of Home.
As marketers and media planners know, staying up on the latest technologies and innovations means future-proofing your business and creating a sustainable operation built for success. This is precisely how the out of home industry has managed to grow at a time when screens and digitization dominates every corner of professional and personal lives.
Data and technology will continue to drive changes in OOH, just as it is with other media channels. Everything has gone digital—TV, radio, news, all delivered through our devices. I, for one, still love to read a newspaper when I have time. Otherwise, most of my intake now is online, accessible anytime and anywhere.
Similarly, digitized media assets propel the OOH industry to new heights. They don't suffer from issues like ad-blocking, and they remain firmly rooted in our daily lives. We're exposed to them as we go about working, commuting, shopping and attending events. Plus, with the availability of enhanced traffic and mobile data, our behaviors as consumers are becoming more trackable.
As we look ahead, we see opportunities to increase efficiency and connectivity while decreasing irrelevant creative and wasted impressions. Here are the five biggest trends I'm seeing in out of home.
1. Streamlining OOH Buying
OOH is projected to grow 3% in 2019, according to a report from Magna. Most of this growth will be a direct result of digital asset conversion as roughly 17% of OOH media assets are digitized. This means, as the media becomes more sophisticated, there's a lot of room for advancement. There's a potential for increases in reach and creative capabilities, leading toward a streamlining of the planning and buying.
Buyers and sellers are now creating data rich media plans with technology platforms that speed up the OOH buying process. The manual process of identifying, evaluating and recommending plans with spreadsheets is changing. It can now be effectively and efficiently managed through automated platforms, similar to programmatic buying. These platforms can mine audience intelligence with OOH media for greater precision in location-based targeting.
At the 2017 Adobe ThinkTank discussion, Phil Gaughran, U.S. chief integration officer at McGarryBowen, made this prediction:
"By 2022, he said, 80% of the advertising process will be automated, 'a threshold that will never be surpassed.' The remaining 20% will comprise such elements as brand value, storytelling, and other more experiential tactics that will always need a human driver."
Add to this the fact that mobile data is becoming more prevalent. When combined with DOOH, it creates audience-targeting opportunities that we've never seen before in OOH. As digitization continues to take over, we'll gain better abilities to compare, analyze and select in a fraction of the time the once manual system required. These tactical capabilities are supercharged with audience profiles, location data and vast inventory.
2. Optimization of OOH Creative
Relevancy of OOH creative has become more important than ever. Since DOOH offers new capabilities for more personalized messaging, based on mobile device data, delivering relevant content to specific demographics in real-time is becoming table stakes. For brands, they now have a choice whether to post a static, interactive or targeted message.
As Toby Havord, Experiential Account Director at Identity, stated at The Drum Future of Marketing conference:
"In the old days of mass sampling, you could only speak to people one on one, and you didn't know as much about the context and environment leading up to your event. Now, you have access to more data than ever, which can track the journey much further…"
Creative considerations with DOOH allows brands to move from broadcast to narrowcast. The reach to a well-defined audience profile, at the right time, is exponentially greater than any other medium. We are moving from the old strategy of asking "what is the broadest reach?" to a new one, where we ask, "what has the RIGHT reach with the least amount of waste?"
Understanding the context and environment of advertising are now markers for creative design that is flexible and interactive. Creative that seamlessly engages an audience, rather than advertising to them, is the new norm. It's becoming the most effective way to reach coveted audiences.
3. Digital Ad Spend as a Compliment to OOH
OOH is proven to lift viewer reach and recall when combined with other media channels, so the ad spend is gaining a larger stake in media plans. There is evidence that OOH and targeted mobile display ads are especially effective at driving consumer actions. As a result, brands are recognizing the powerful combination of integrating the two media channels to deliver hyperlocal, geotargeted ads. According to Nielsen's OOH Online Activation Survey, out of home media indexes nearly four times the amount that should be expected given it's relative (and small) percentage of budget.
The market is seeing an increase in digitally native companies, like Apple, Facebook and Spotify, among the biggest OOH spenders. They are using a balanced marketing mix to leverage their brand story in the right place, time and audience. Unsurprisingly, that means using OOH!
According to a report from Factual, 83% of marketers say location-based advertising and marketing produced higher response rates, and higher customer engagement. Location-based marketing strategies are allowing brands of all sizes and industries to combine front-end impressions, reach and frequency, with back-end, real-time audience delivery data.
Then, there's the recent application of the new Geopath system, which provides ratings-rich measurement of OOH media placements. They've introduced measurability and attribution confidence when adding OOH media as a larger share of the media plan.
4. Experiential Marketing
In markets like NYC or Las Vegas, advertisements are nearly indistinguishable from the city sights. The result is a surround sound effect, woven into the fabric of everyday life. Exposure to advertising has climbed to thousands of ads per day, as oppose to mere hundreds of ads decades ago. It comes as no surprise that experiential marketing is gaining popularity as a key component of media plans.
Experiential marketing promises 1:1, human-to-human engagement by bringing the message down to eye-level. It's tactile and, when done well, establishes an emotional connection. A finely tuned activation requires careful alignment of many factors. Attention to location, timing, interaction and novelty will craft an experience that resonates long after it is over.
The social engagement metrics behind these programs are now more easily trackable and provide proof of success and ROI. That smartphone in our hand not only becomes a beacon of influence through social media, it is a data point that can be repurposed for a future remarketing and outreach following an experiential activation. According to Splash's 2017 Millennial study, 81% of millennials report having shared a photo on social media as a result of attending a branded event, and 67% have followed the brand on social media.
We are all craving to break through the clutter and establish clear connections, as advertiser or individual. Our world is shrinking because of ubiquitous information overload. Feeling a message through experience counterbalances the noise and makes the brand story much more tangible.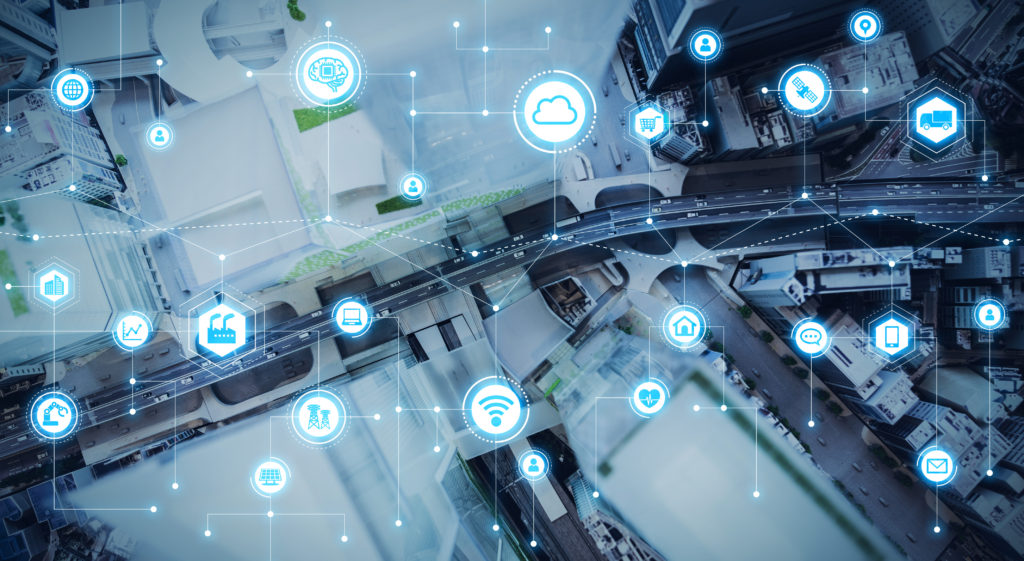 5. Smart Cities
The Smart Cities concept is coming to a town near you!
As we see technological developments in DOOH, we see it continue to provide media that embellishes some of the more practical information we require daily, such as weather and traffic. It pairs with functional services and infrastructure, like public transportation, street furniture, sign networks and architecture. It then provides insights for our traveling, commuting, shopping and other daily behaviors.
All this new media is becoming part of one large functional, interactive landscape that provides useful information on goods and services to the public. It benefits residents and tourists, alike, with connectivity, information and public service messaging. The reach can be on a mass scale or more tailored to specific audiences based on viewer behaviors and preferences.
These advancements to media also elevate advertising by creating positive brand perception opportunities through useful and memorable content. The media continually collects behavior data and serves audiences better, ever improving the experience and actionability.
Louise Stubbings, Creative Director at Clear Channel UK, recently commented on this shared responsibility between media owners and the community, saying:
"We are very focused on the role we play in the community we exist in. We are responsible for maintaining bus shelters, we have worked to replace unused phone boxes with trees and we are forming a plan to create edible playgrounds next year, all because we want to improve the landscape, and the community. Everything we do going forward, will have a use, or enhance the local area. If you have that as your standpoint from an outdoor perspective, it isn't just powerful advertising, but it's the right thing to do. It's improving the life of people around us which is essentially what smart cities is about."
Of course, the plethora of smart devices continue to feed the information loop, too. They constantly provide audience behavior analysis that filters through the smart infrastructure. In turn, it then provides more contextually relevant messaging to the viewer.
Get ready to dive head-first into these new trends! My team of strategists, planners and buyers can deliver the most versatile and creative media plan suited to your requirements.
Let us strategize, ideate, integrate and activate a powerful media plan for you in 2019!
[contact-form to="info@emcoutdoor.com" subject="RE: Request for Information"][contact-field label="Name" type="name" required="1″][contact-field label="Email" type="email" required="1″][contact-field label="Company" type="text"][contact-field label="How can we help?" type="textarea" required="1″][/contact-form]