In December 1903, in the sand dunes of Kill Devil Hills, North Carolina, the Wright Brothers made the worlds first powered aircraft flights. By 1923, we saw the first transcontinental flight; by 1933, the first solo flight around the world; 1939, the first jet plane; and in 1947, Chuck Yeager broke the sound barrier. In all, that's less than 50 years from a 12 second flight by a rickety wood and fabric contraption with a homemade engine to a man hurtling through the sky at 767 miles per hour.

So… what does this have to do with advertising?
A few years ago, I read an article about how Posterscope was testing a program in England in which they used aggregated, anonymized mobile data to create behavioral profiles for their target audience and use mobile location data to plot them in the real world. The data was then used to plan Out of Home media campaigns by selecting units that matched up with the data. The result was a 200% increase in traffic. At the time, I thought it was terribly clever. In retrospect, that was Out of Home's Wright Brothers moment.
The out of home industry is experiencing something of a renaissance largely driven by two important advancements. One is the rapid digitization of the media itself, leading to a host of improvements in activation and creative deployment. The other is its new-found, burgeoning ability to target more detailed audiences with a higher degree of accuracy. The net result is that location is rapidly becoming a key factor in building audiences and targeting advertising.
What's driving the growth in Out of Home measurement and location-based marketing?
The biggest change, of course, is the vast amount of data we generate, which some estimates put at 2.5 quintillion bytes a day, and most of which comes from our mobile devices. We've barely begun to scratch the surface of that information. It's already beginning to reveal patterns of information that we would otherwise never have been able to see. Mobile data allows us to develop a detailed behavioral picture of consumers. We can determine who they are (not literally, of course), what they like, what are their interests, where they eat, what they buy, etc. Just as importantly, it also allows us to translate that picture into the real world. To model those behaviors into location and movement, creating a "behavioral map."
In the past, location measurement was largely fueled by DOT traffic counts — and a lot of math. This was the best information available at the time, but it was updated infrequently and often had to use estimates. New information, like that powering Geopath's new Insights Suite, is independent, draws from multiple data sources, is updated frequently, and can provide specific information for everyday of the year, down to the individual hours.
The leap to 5G is only going to improve the situation, allowing for more bandwidth and higher degrees of precision and accuracy when it comes to location data. Kirk Mitchell, Head of Tech, Media and Telecommunications at HERE Technologies, says, "It will improve the precision of the mobile location by one or two orders of magnitude."
Moving from media measurement to audience measurement
An essential piece of this picture is understanding how our view of location is changing. In the past the Out of Home industry measured media. Traffic counts and DEC's were used to provide information about each individual piece of media. Our new view of location is to measure the audience, not the media. Once we have a solid picture of where the audience moves within a market, selecting the appropriate media becomes much easier.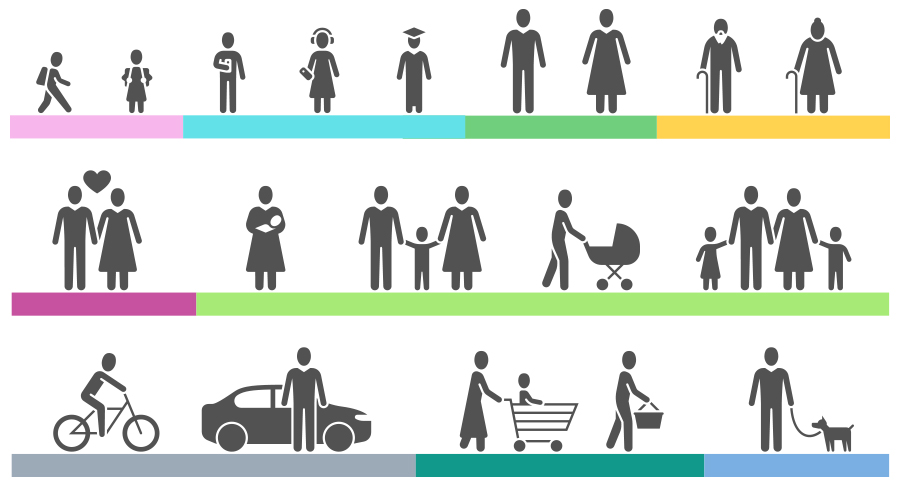 Audience location used to be gauged by proximity – "my store is here, so I want media nearby."  That logic may have worked in the past, but new location data paints a different picture. It's capturing how audiences move through a market, sometimes contrary to our intuition.
Behavioral data is creating much more specific, granular profiles of audiences. We can now identify audiences by age, income, ethnicity, if they like to eat at QSRs, and their interest level in Monster Trucks. Layered with the geolocation data, this doesn't just tell us where our audience might live but where they travel. Where did they come from? Where are they going? This allows us to look at the media through a new lens. To ask, which ones have the highest index for my audience? Commuting patterns, access to retail or public transportation can have major effects on population movement. In turn, they influence what media is best to reach a certain profile.
Proximity-based marketing still has a role to play
While behavioral location profiles may be creating a new layer of planning information, proximity can still be an important factor in the right situation. The idea of hyperlocal media can be a very useful tactic. This is important for brick and mortar establishments, such as restaurants or other local retailers. Proximity can signal intent. If you're spending time around local car dealers, you're probably shopping for a new car. Proximity can also be helpful for more timely buying decisions, like lunch.
In a recent campaign, McDonald's used a combination of geofenced OOH media combined with in-app ads in Waze to target drivers in close proximity to a restaurant location. The digital ad copy was aligned with the OOH media and provided directions to the nearest McDonald's. The campaigns resulted in 8,400 direct navigations.
Gary Sankary, Retail Industry Marketing Strategy Lead at Esri, said, "Marketers will gain short-term wins in segmentation and proximity marketing. In-depth behavioral insights from location data will help marketers build and validate segmentation strategies. They will use geo-enrichment to append geographic attributes to customer location data in order to make better assumptions about their behaviors."
Location data can help drive creative placement
The key components of any Out of Home campaign are right message, right place, right time. Within any given market area, an advertiser may have subset audiences that would benefit from different messaging or creative. Using audience location as our basis for a measurement system will also allow for better creative placement. In the future, it will allow us to move toward a more real-time, adaptive model of messaging.
In the past, most OOH campaigns would deploy the same creative with a "one size fits all" approach. Or, at most, they would place copy according to ethnic demographics. Even these would have been placed-based on home locations and neighborhoods, not that audience's movement through the market.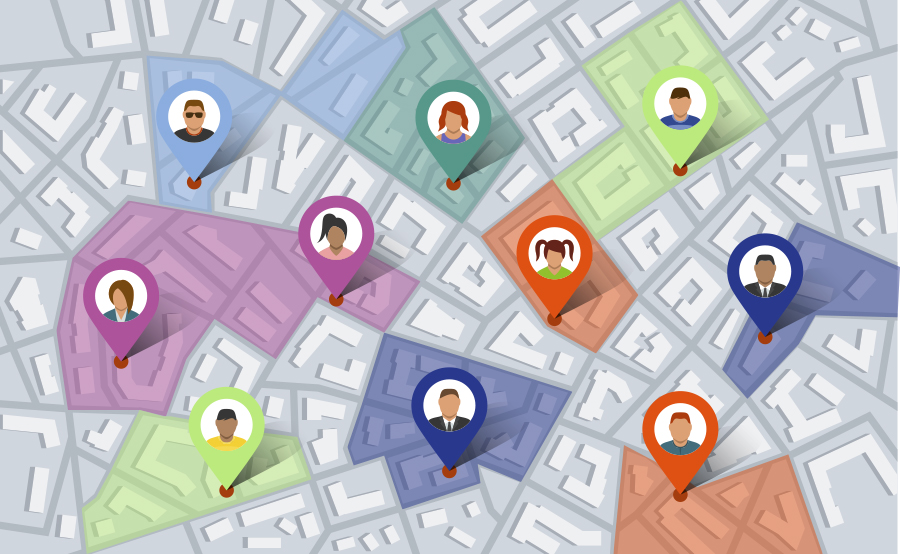 When campaigns employ digital Out of Home the effect is magnified because the creative can be dayparted. Remember that the new measurement systems can help us identify shifts in audience patterns. Shifts measured down to the hour allow for extremely detailed segmenting of creative deployment. There are systems coming online soon that will be able to analyze the mobile signature of an audience in real-time. They'll then deploy the most relevant creative for the makeup of the audience at that time.
Location can improve the performance of digital marketing channels
Another important piece of location-based marketing is less obvious: location information for targeting digital marketing. Using mobile geolocation data to plan your OOH creates a perfect target area to use for digital. Geofencing media to create digital audiences has several benefits.
First, studies have shown that audiences are 48% more likely to click on a mobile ad if they have already seen the brand on Out of Home. That means that you are improving the effectiveness of your digital ads by almost 50%, a significant impact to your bottom line.
Second, you are creating audiences for retargeting. These are groups that are already over-indexing for your target and have been exposed to your brand on OOH. This makes them very valuable to you.
David Fieldhouse, general manager UK & US at Adsquare put it this way:
"Re-targeting is now no longer confined to desktop and mobile activity. Using movement data combined with audience information means buyers can now retarget consumers who have been exposed to an OOH ad. This is an elegant way to combine the branding capabilities of OOH and the Direct Response elements of web-based campaigns."
Of course, this would all just be academic without the results to back it up. In a recent study from data powerhouse Factual, "more than 8 out of 10 marketers say location-based advertising and marketing produced growth in their customer base (85%), higher response rates (83%), and higher customer engagement (83%). Using location data also gave them deeper knowledge of their customers' needs and interests (77%), improved ROI for their marketing and ad campaigns (74%), and increased lift (70%)." (2018 Location-Based Marketing Report, Lawless Research, Factual)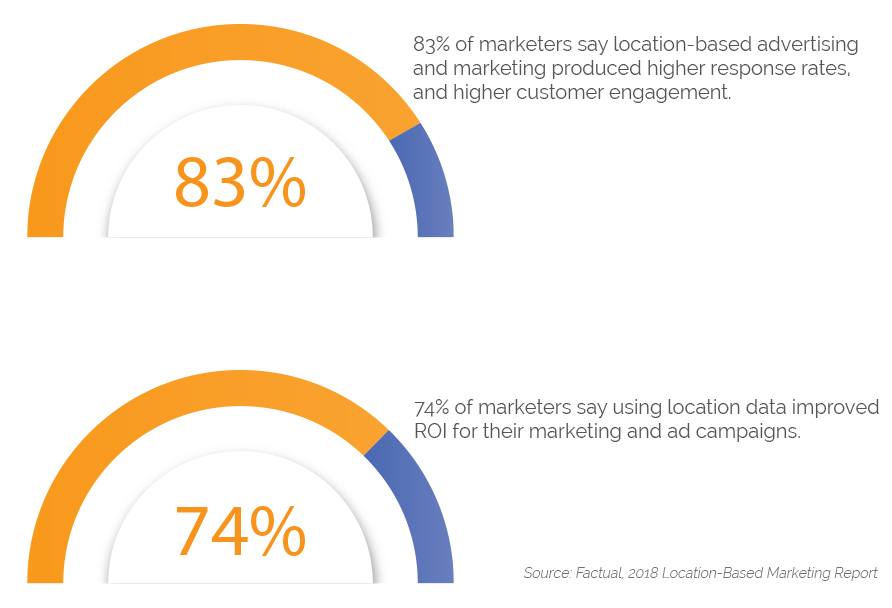 Where do we go from here?
A couple years ago Rishad Tobacawalla, Chief Growth Officer for Publicis, said, "Where you go is almost as important as who you are." I would take that a step farther and say, "Where you go is who you are". The fact is that we have only taken the first few steps down this new road. The paradigm for Out of Home and location-based marketing has completely changed. That said, we have a long way to go before we see where this road leads.
The basis for location-based planning has shifted far beyond traffic counts and estimated circulations. There's a new world where unimaginable amounts of consumer profile data will create complex, real-world models of behavior.
The next few years are likely to see big changes. We'll see how new measurements and platforms enhance and simplify the buying process for OOH and location-based digital. We'll want to see how these two formerly separate media channels can be integrated with each other. That will be a critical juncture to advertisers to discriminate between finely detailed audiences efficiently and at-scale.
For brick and mortar stores (yes, they still exist – although, with Amazon's announcement of same day prime delivery, who knows for how long?) the ability to measure footfall and assign attribution will be key: how can you measure the effectiveness of the campaign?
It's important to remember that despite all these changes OOH is not one-to-one. It's still a mass market, large reach media. It's critical that we change our idea of what "mass market" means.
After many years of walking, it feels like Out of Home has finally found its wings. The only question is, how quickly can the industry learn to fly? For the Wright Brothers, one twelve-second flight was enough to change the course of history.
Let us design a location-based strategy for your brand. Contact Us to learn more.