Experience is a word growing in popularity and frequency in today's marketing landscape. As traditional forms of media decline in reach, such as TV and radio, the rise of social media and new consumer generations has shifted the focus to the origins of marketing: personal, face-to-face interactions.
Research commissioned by Set Creative reveals that 73% of consumers are more likely to purchase a product after participating in a live brand event. With more and more research like this highlighting the importance of experiences, it's no wonder brands and agencies have started investing more resources in experiential marketing.
As a marketer, you don't want to get left behind. So, how can you determine if experiential is right for you? Here are some ways to identify if your brand is ready for experiential, plus some activation success stories.
1. Your product or service delivers higher value when experienced in-person.
Some products and services are better experienced firsthand than showcased through traditional ad mediums, such as TV or billboards. Unlike most marketing channels, experiential allows you to tap into consumers' senses to build brand affinity and loyalty. A study from EventTrack shows 65% of consumers say live events helped them have a better understanding of a product or service. Experiential marketing allows you to create a full-on sensory experience. It leverages sight, smell, taste, touch and hearing to provide value, generate interest and attract new customers.
Farmers Market, a premium quality all-natural dog food, needed to take this exact approach. We helped Farmer's Market develop a two-week pop-up experience at local pet food stores and dog parks around Chicago. The set-up included a branded tent, fall-themed decor and free samples for the dogs to try on the spot! This gave consumers a unique opportunity to find out about a new brand that was coming to market. It also allowed them to see their dogs react to the food in-person before making a purchase.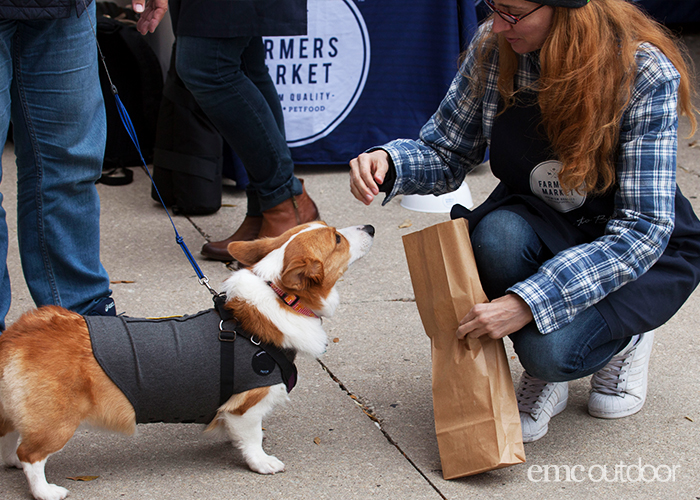 2. You need to build or restore a connection with your audience.
In our fast-paced world, brands are constantly innovating and trying to one-up their competition. We've seen plenty of examples of that competitive drive going sideways. From controversial ad campaigns and CEOs making questionable statements to defective products that with significant consequences to consumer well-being. Brands can sometimes find themselves in PR nightmares having to do damage control by restoring their corporate image and gain back consumer confidence.
Samsung found itself in this very situation back in the fall of 2016, when it released its brand-new Note 7. They quickly discovered an exploding battery issue, a major crisis that could do irreparable damage to their brand. After recalling the phone, Samsung had to find a way to win back consumer trust and confidence. Samsung worked with service providers to designate drop off locations, implement stringent new testing standards for new phones, and even have company representative at airports where Note 7 phones were confiscated by TSA to help process returns.
Samsung also took an increased interest in the customer service and getting back into the customers' good graces by launching Samsung Cares. The multimarket experiential marketing tour consisted of a custom fabricated truck pop-up staged at malls, festivals, and major events across the country. Samsung users were provided free customer service, cracked screen replacements, phone updates, and tips on how to optimize their phones for peak performance. Customers also had an opportunity to ask any questions regarding their phones and engage in a dialogue with brand ambassadors. By utilizing experiential as part of their PR approach, Samsung was able to ease its customers' worries in the wake of a potentially catastrophic situation.
3. You're a "David" brand going up against an industry "Goliath."
For new brands or brands in competitive industries, limited resources requires some creativity with marketing dollars. Experiential marketing is a channel that can seem small but packs a big punch. Industry Goliaths are big and strong—full of resources and able to take risks—while Davids need to rely on a smarter, more calculated approach with limited resources.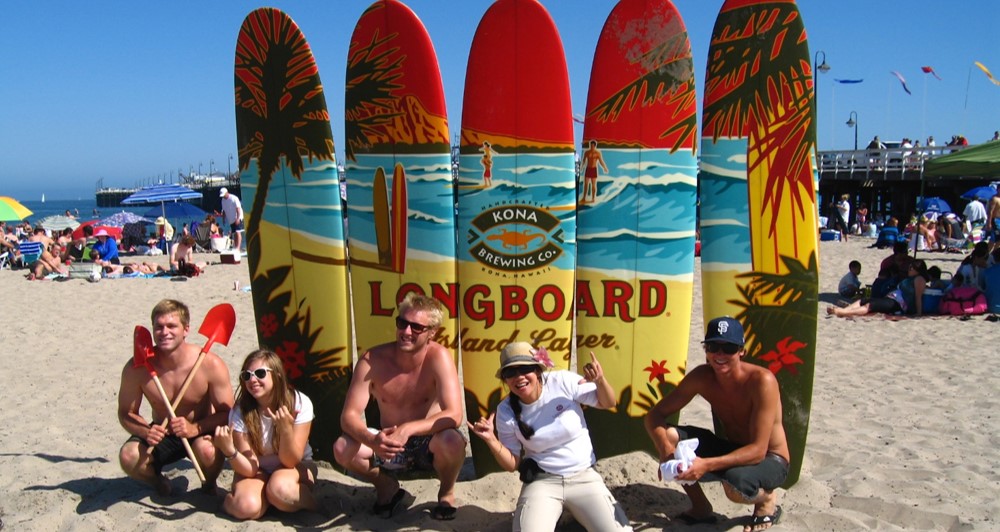 Kona Brewing Co., a Hawaiian-based craft beer brewer, wanted to raise brand awareness on the US mainland. They knew they would have to go up against the big brands to make it happen. We developed an activation for them, complete with branded custom surfboards, brand ambassadors, and branded frisbees and bottle openers. Branded surfboards and beach toys allowed the small brand to generate valuable consumer impressions where other brands had none. Crowds at the beaches loved the interaction with the brand ambassadors and the ability to take pictures with the surfboards to share on social media.
4. You need fresh content to make your marketing more relevant.
With social media now a prominent part of the marketing mix, the phrase "content is king" has never had a truer meaning. In the current marketing landscape, brands and their consumers are constantly creating and sharing content online through social and other channels. It's become an important way for the two groups to engage around shared activities, interests and culture, and helps brands remain relevant to consumers.
Millennials, a highly connected consumer group, are more likely to see a viral video than hear a radio ad. Online content is usually an organic experience that doesn't feel like an ad. The content, which is the brand, is perceived by those individuals as relevant and an expert in the category.
Last month, EMC Outdoor partnered with Intrinsic Wine Company to help support their experiential marketing at SXSW, in Austin, TX. Intrinsic looked to utilize guerilla marketing to tie their brand to Austin's street art history and showcase brand relevance at one of the largest art, music and cultural events in the country. We built custom mural panels painted with location-specific Intrinsic-branded works of art, by the street artist and label creator, Zimmer.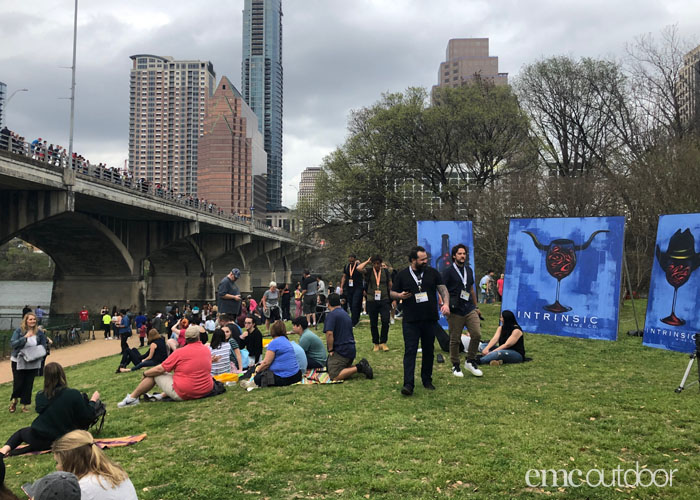 The whole painting process was photographed and recorded on time-lapse video to create an array of shareable content. Intrinsic captured and shared the imagery across their social media channels, helping them to generate thousands of additional impressions. The activation reached thousands in-person at SXSW. The impressions gained via social media extended the campaign reach and relevance with content that lived on after the activation.
Are You Ready?
Experiential marketing can deliver a unique element of surprise. It can provide a value proposition that your industry competitors lack or build trust and relevance that consumers crave today. Your audience seeks human-to-human interaction; a deeper, more thoughtful connection. Go beyond the typical marketing and create something that lasts longer and means more to your audience.
Have a good idea for a brand experience? Let us know what you have in mind!