Women in marketing have made remarkable contributions to the industry and also faced a host of challenges. As a WBENC organization, we thought it was important to observe Women's History Month, so we pulled together a group of seasoned executives to discuss their experiences as women in marketing. They got together for a roundtable discussion, and we wanted to share their thoughts. This is Part One of their conversation – we will share Part Two in a separate post.
Our guests included Jodi Senese, CMO of Outfront Media, Molly Watson CEO of Evolution Engine and long-time COO of Tierney, and Kate Zwizanski EVP, Media Center of Excellence at CMI. Rounding out the list from our own team were Betsy McLarney, CEO of EMC Outdoor, Song Heo, VP of Media Strategy and Client Partnerships, and Christie Massey, Director of Client Services at EMC, and the host for this discussion.
---
Christie Massey:
I just want to start by saying why we wanted to get this group together today. You may not know, but EMC is a women-owned business. We're also a WBENC certified organization. So, we wanted to observe Women's History Month, acknowledge women's contributions in our industry, and have a frank conversation about some of the challenges we face every day. What we faced coming up in the industry and what we're still dealing with today.
As a group of veterans, we're hoping that the insights and experiences we can share can help continue to create change and help the other women that are coming up through our industry now. I'm really excited and can't wait to hear what you all have to share.
I'd just like to start by going around and doing some introductions. I'm Christie Massey, director of Client Services at EMC Outdoor. I've been here at EMC this is my 17th year. And so, as long as I've been here, I've been in the Out of Home industry, which I fell in love with as soon as I started. So that's a little bit about me.
Song Heo:
I'll go next. So far, I've been with EMC for 22 years. I've seen EMC go through all of its ups and downs, lots of great ups, and of course, the most recent in terms of turning many things on its ear with COVID.
I am currently a senior VP of Media Strategy and Client Partnerships. The latter part of that is where I continue to take my path here at EMC and try to educate anyone who wants to learn more about Out of Home. I love that side of the business, really. Helping to educate people about Out of Home.
Betsy McLarney:
And I'll just round out the EMC team here. I'm the owner of EMC, so proud to have both these ladies by my side through all the ups and downs of the last 24 years that I've been the owner. We are a small advertising agency specializing in strategy, planning, and placement of Out of Home from all types of traditional media plans to event marketing strategies.
And so excited for today's discussion. Thank you, ladies, for joining us.
Jodi Senese:
Thank you for inviting us. So, to have me just to jump in, Christie.
I'm Jodi Senese. I'm the chief marketing officer for OUTFRONT Media. I'm going to guess that I may be the most senior woman in the industry in terms of longevity. I started in 1981, so I'm in my 41st year in Out of Home. I'm going to say with OUTFRONT because I started at some of the predecessor companies.
So, I kind of gave you the lineage. You could see how my original job function kind of morphed into the current. I think Christie said it; you just fall in love with this industry. I started at a company called New York Subway's advertising, and we just existed to sell the adverts in the New York City subway system.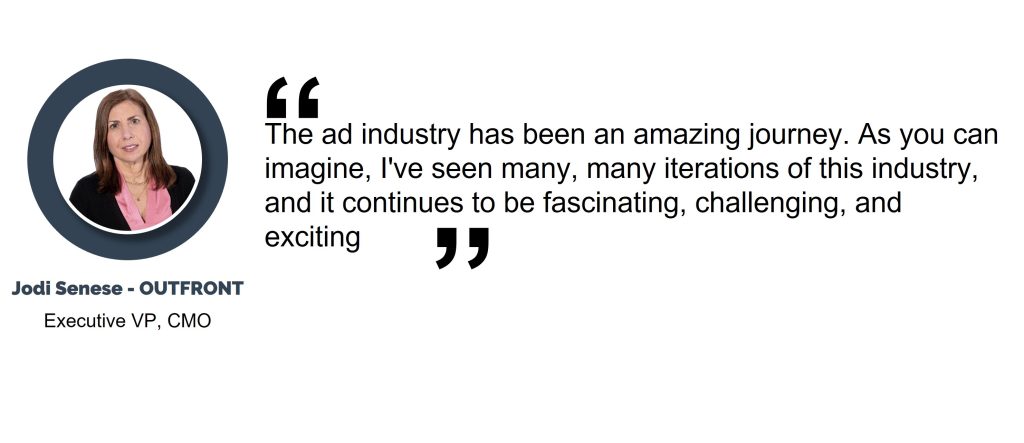 And back then, there was an ad for roach motels in the New York City subways, and the line was – and it was both in English and Spanish – they can enter, but they cannot leave. And I always thought that that was a great metaphor for how people perceived being in the ad industry. And that just always kind of stuck with me.
But it's been an amazing journey. And as you can imagine, I've seen many, many iterations of this industry, and it continues to be fascinating, challenging, and exciting.
Christie Massey:
Yes, it does. Thanks, Jodi. Kate, want to hop in next?
Kate Zwizanski:
I'm Kate Zwizanski. I work with CMI Media Group. I am in my 17th year. So, Christie, you and I share that lucky number 17, and CMI Media Group specializes in pharmaceutical advertising. I think I'm a little bit more kind of tangential to the Out of Home space, but it was always a channel that I really enjoyed as a media planner and buyer because it was just, you know, unconventional and fun and different and just so visible.
And in my last year, I've transitioned away from client-facing service and moved into more of a training and development role within the agency, which has been really fun but also really rewarding because it puts me in more of what, as a primary role, my side hustle used to be, which is coaching and mentoring.
And as I was reflecting on the questions that we're going to go through today, I was just so excited that I'm finally getting to live my dream and marry my two loves of teaching and media together. And it's been really rewarding so far.
Molly Watson:
It's so nice to meet the new faces and see my friends from EMC, and I'm just really honored to participate in this conversation today. I'm Molly Watson. I am a 30-year veteran in the advertising and communications business. Ten VMLYR in New York when it was Y&R on Madison Avenue back in the day. And the last 20 plus here in Philly. I spent a long time at Tierney Communications in multiple roles, the last of which was Chief Operating Officer for about a decade, and I had a great time running that integrated agency. And the culture and of course, the vast majority of our 150 person staff were women.
Almost five years ago, I switched careers and left the agency business, and I run my own consulting firm called Evolution Engine. And what I do is work with primarily small to midsize, well-funded startups on their growth plans and C-level roles. CEO, COO, Chief Growth Officer, Chief Marketing Officer, you name it, I'm working with those clients to help them get to the next level of growth. I'm really excited to have this discussion and learn from you guys.
Christie Massey:
Thanks, Molly. All right. Thank you, everybody, for giving us a bit of your background and where you are today. Appreciate it. So, I wanted to begin with a question to get us started. As women in marketing, what inspired you to pursue a career in this industry?
Jodi Senese:
I have a really, really lame answer for that. And the answer is, is that I went to Rutgers College, and the one major that did not require calculus was English. I graduated in 1981, So this was a decision I made in the late seventies. And I always was a good writer; I was a good presenter.
And back in the late seventies, Businessweek had a cover story, and it talked about having those two skills, and those allowing you to really do anything in business, in life. And I thought that made a lot of sense, and I didn't have to take calculus.
When I first got into the business, it wasn't marketing. I was the assistant or secretary to the director of sales promotion sitting at an electric typewriter. These were before computers. I was like an accidental marketing person. It was never a path or a journey that I understood or that I got on deliberately. A lot of it just happened organically. I decided to take this job as an entry-level job, and the path just continued.
So, you know, I can't say that I ever said that I want to be a marketer. It was not even a word I understood back then, frankly, and I will just add one thing because this is one something that I tell the young women on our teams – When I started in the industry, we were a lot closer to the Mad Men era than we are to our current digital era, and when I think back, I shudder at many of the things that happened.
Molly Watson:
I would agree, given that I started on Madison Avenue in 1986 and right out of college, I did not grow up thinking I wanted to be in advertising or anything like that. I didn't know anything about it until I got to college and was a theater major and then got spooked about having a reliable, well-paying job, which is kind of ironic.
I got into the advertising major at Indiana University. What really got me excited about the career, in general, were two female teachers who had both worked in the industry. One was still working in the industry, running an agency in Indianapolis, and she would drive down to Bloomington once a week to teach this class.
She owned this agency, and I just thought she was amazing. And then I convinced my parents to let me go to a conference in New York my senior year where you were going to be able to network for a job.
And, if I'm being honest, as a senior in college I was mostly excited about seeing friends in New York for the weekend, but I also went to the advertising conference. There was a young woman who worked at Young and Rubicam presenting what it was like to be in the Ad business., She was this gorgeous woman, very well-spoken and high energy in the way she talked about the business.
I thought to myself, "When I grow up, I want to be her." So, I had always targeted that I would go to New York after I graduated. By some miracle, I got a job in media planning and buying three months after I graduated. I only chose media because a friend of mine said, it was probably easy to get a job there.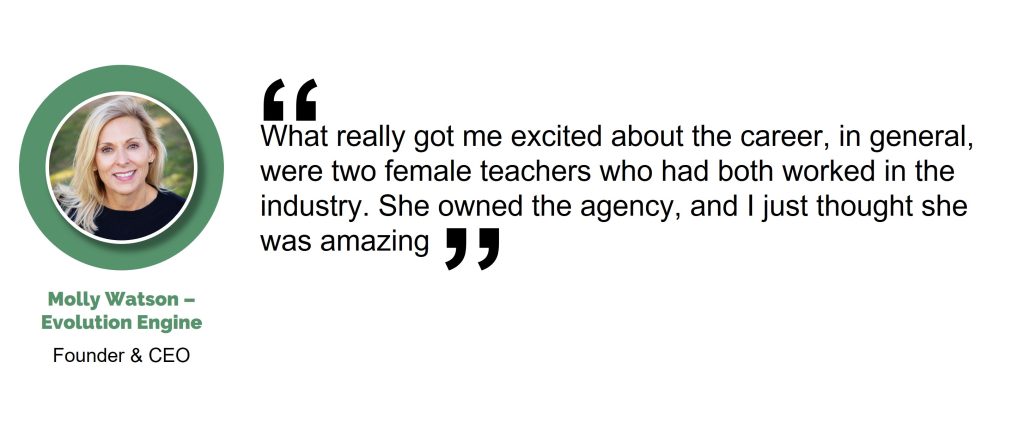 And I was dismayed to learn how much math I needed to do in that job. But I realized that was one small part of the job and my career took off from there. I would say it was those two female teachers that taught ad classes and then that gorgeous, stylish woman in New York really influenced me.
So, it was a great time back then. I will say that when I came home from New York and told my dad, I got a job and that it was $13,000 a year, he went white, like "what?".
Jodi Senese:
I started at $12,000.
Molly Watson:
I know we're probably scaring the young women on the phone.
Jodi Senese:
And I was happy to have it. I was bartending at night, though to supplement it.
Molly Watson:
Yeah, I was working catering jobs at night and on the weekends so I could, you know, pay for my tokens. Sorry, we won't do this; that's our version of "we walked a mile to school in the snow."
Kate Zwizanski:
I have a similar story to Molly, as I knew I wanted to major in business, but I wasn't sure which area of business. And it was my marketing professors that made me fall in love with it. And it's kind of funny that I ended up in pharma because it was a real full-circle moment when I landed my job at CMI, which was my first and only industry job that growing up, my mom worked for a psychiatrist.
So our house was literally papered. I'm sure everybody remembers those days when there were pads and pens, and we even had free bags of popcorn in our house with drug branding on them. So it's just funny that I ended up in the pharma industry because it was a real full-circle moment for me.
Even though they eventually did away with being allowed to brand every blessed thing in a household. But yeah, it was professors for me too, that kind of guided my path.
Christie Massey:
Yeah. I was sort of in line with you there, too, Kate, and I knew I always wanted to be in business also, but I didn't know that I was going to end up in marketing. I fell in love with marketing at the University of Delaware, and there were key women professors that really encouraged me to pursue my career in marketing and advertising.
It was an accident, but I'm a lifer now, hopefully just because it's just so creative and constantly changing and so exciting to be a part of. But I knew I wanted to be in business. I wanted to run a team to be part of a team more than I wanted to be involved in marketing.
And through the years, that team has changed, of course. But, you know, right now, it's a team full of women in marketing, and it's good to sit down and to reflect back on what I wanted to do and to sit here and have this incredible team and to be where I am in my career. You don't really pause too often to think about it, but it feels great. You know, I feel proud of how far we've come.
Song Heo:
To continue the conversation for me in terms of marketing, it was not something that I pursued specifically in any one or two influences specifically that I can recall. I always liked the idea of the psychology of influence and marketing, and I was a liberal arts major at Penn State. I did, in fact, like calculus and science and math, but I also loved the idea of the art and science of influence. I think marketing came by the way accidentally.
But my first job was with Johnson and Johnson. I was more interested in the international aspect because my opportunity was to be assigned for the Seoul office to help launch. I sold contact lenses for their eye care division. So, just ignorance in youth. I was like, Yeah, let's go. Not knowing what I was getting myself into, but ultimately, I was in sales and marketing there.
I love the idea of being able to have people lean in and listen and be able to share and be able to learn from each other. That part, I think, is really the key sort of throughline.
Betsy McLarney:
And my path was very different from all of yours because I was working as a portfolio manager for high-net-worth families with a couple of major banks. And that was my second career. When my father came calling, he offered me the opportunity to own a business, and he's always been a serial entrepreneur.
So, I knew I'd have a lot to learn about the industry. And it was very exciting. It was very challenging, and I felt I was prepared for it, having been in business already for 20 years and making my way up in the world of investment management.
Christie Massey:
Thanks, Betsy. The next question I wanted to put out to everyone was whether there were any women in marketing who were an inspiration to you or a mentor to you. I wanted to start with my answer to this question because two of my mentors are sitting on this call with me.
And I have to say, I came into a women-owned company that had women leaders, and from day one, I always felt inspired and mentored by the group of people. And I'm incredibly thankful for that. But I also feel like I have a strong network of friends and family, and colleagues who are working women and working mothers.
And not only am I inspired by them and learn from them daily, but we keep each other going. I think that this group of women is resilient. We're strong, and we're dedicated to both family and work, and that network that I had to build for myself is survival, you know? And I couldn't be more grateful for that group of people.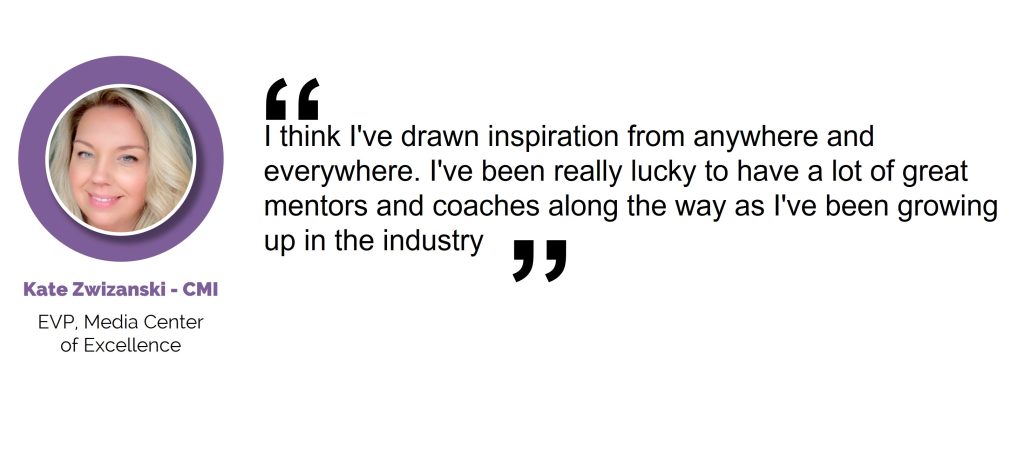 Molly Watson:
This question always stumps me because the truth is I never had a female mentor. When I was coming up, the people who really recognized and cultivated my talent were some guys who were my initial bosses. It wasn't that there weren't women in those roles, but that's just sort of the way it fell for me. I did have one female boss at Y&R who was really more of a cheerleader versus what we would call a mentor today.
Then moving on, there was never any one woman. I lost my mom three months before I moved to New York who had been that to me. And so, I agree with you, Christie, that especially the older I've gotten, it's important to find like-minded women who take care of each other and sort of fill in those gaps in what may be traditional.
I mean, I have some very traditional mentor-mentee roles with young women, and I have had amazing partnerships and women as bosses. But that definition of sort of bringing you along objectively wasn't there. I learned a ton from the people I worked with and even more so now those who are younger than me. You know, sort of in this reverse mentoring.
So, I feel like I missed a little bit of the trajectory of a woman mentor in a relationship. I always feel I literally ask myself this question all the time. I'm like, no, not in the way that you just talked about with Betsy and Song.
Jodi Senese:
So, the exact same experience when I came into the industry, there simply were no women. Or, wait, let me correct that. We were at secretarial desks, and there were bookkeepers in the finance department. They just didn't exist. So, I 100% did not have a female mentor at any point in my career.
In fact, I will tell you that I was part of the secretarial pool when I first started and when I first started breaking out from that, getting assistant roles, and moving away from the typewriter, they rejected me.
I had crossed the line, and there was, you know, cattiness in the secretarial pool that Jodi is no longer one of us. And I had to then have lunch with the young sales guys and be part of a different culture in the organization. And it really wasn't simple.
But to both your points, I think it became about having a network of like-minded females who were going on the same journey with me and on the same path.
And that happened slowly because, for many years, I was the only female woman who was an aspirational executive at some of those early companies. And it was hard, and it was lonely. But I had some really good male mentors, and I think that's what helped lift me up along the way.
And I think at to Molly's point, that I have some cohorts, some senior women in the industry who we kind of mentor one another at this point. I don't even know if it's mentoring. We keep each other going, I guess.
But reverse mentoring happens 100%. I have lots of women on my team at different levels of their careers. And I'm going to say I learned as much from them, I think, as they learn from me. The skill sets that they bring are things that I really need to learn about. So, there's kind of this virtuous circle of mentoring now, yeah.
Song Heo:
Jodi, you make a good point, regardless of role or her title or whatever that may be, the experience is being open to learning from everyone, male, female, otherwise.
But in terms of looking forward and the environments we see now, which are all very positive and supportive. I think as women in fields that we've been in for quite some time that we have seen those early years, for me being a salesperson in Korea, a very patriarchal society, having my business card crushed in his hand right in front of me to now, where we see a very inclusive, supportive, situation by and large.
But for me, I think it's about just being open to any kind of mentorship and learning and sharing. When I think of women in marketing, one specific industry woman I can think of was Nancy Fletcher at OAAA; Betsy, maybe I've taken stole your thunder there. I happened to meet her and bump into her at one of the OAAA meetings, this is years back, in the restroom. And she was always so just lovely in terms of her magnanimous, open, and generous sort of personality. Having a woman lead the industry was a great thing to see as a young person.
Betsy McLarney:
I was going to bring up Nancy Fletcher. You know, there were not very many role models when I first started in this business, but Nancy was there.
Jodi Senese:
She was. Actually, I think she started like in the mid-nineties with them. So, in the industry for a long number of years. She's awesome.
Betsy McLarney:
She is. And she really reshaped our arm from the industry perspective as the president of OAAA; she really reshaped it from a focus on selling inventory to helping the industry find a way to provide a value proposition that would serve marketers' needs with the breadth and scope of everything that the industry players can bring to bear with their offerings.
And it was an important lesson for me all through the years on how to pivot towards future opportunities, whether it was for the industry as a whole or, you know, anything I could apply in our work as an agency, a specialist in out-of-home.
Christie Massey:
Thanks, Betsy. Kate, did you want to share a mentor in your life?
Kate Zwizanski:
My answers are probably going to be pretty similar to the group. I think I've drawn inspiration from anywhere and everywhere. I've been really lucky to have a lot of great mentors and coaches along the way as I've been growing up in the industry.
And one thing I don't think we've touched on too much yet is client relationships, sometimes being on the other side of the equation and helping clients solve business problems over the years. But really admiring them so much for all the balls that they juggle in their role on top of life outside of work too, and making space for it all.
I can think of countless client partners that I've had over the years, where I'm like, "How are you doing this all?" So, you know, it's a high bar to want to emulate.
---
Our roundtable on Women in Marketing had a lot to say on the topic. You can read the rest of their discussion here.