We'll pick up with Part Two of our Women In Media roundtable discussion. If you missed part one you can read it here.
Christie Massey:
Kate, do you want to go right into a big challenge you faced working as a woman in our industry?
Kate Zwizanski:
Yeah, sure. This was a deeper question for me. I think I, to be totally candid, really struggled with self-confidence, but it kind of snuck in at different moments throughout my career, and every time seemed to catch me off guard in a little bit of a different way. I think that the first time was when I was coming up through the ranks and getting more and more responsibility.
And self-doubt started to creep in, like, am I good enough? Am I enough? Am I doing enough? Should I be doing more? And I just chose to overcome that by throwing myself at everything to the detriment of everything else. Like I think we sometimes do when we're trying to put our flag in the ground and conquer the world. Looking back, I do regret that I didn't have more balance like I have now, and I didn't compartmentalize my life better. But, I mean, live and learn, right?

And reflecting on a different point in my career, becoming a mom and going back to work was again, that self-confidence just like "Am I enough?" You know, it's so easy to go to that place of well, now I'm just doing twice the amount of things, but half as good.
To break that narrative for myself and say, nope, you are enough; you're doing enough, you're doing the best you can. And that is always going to be enough. I just think back to those times of going to work with next to no sleep and the compassion that I received from my peers, from my managers. I just had such a great support system.
And, you've all said it about how important it is to have a great network of people in your corner. That's really how I overcame it. But it's such a common thing. And now I'm trying to kind of flip it and help people, you know, first-time moms who are experiencing that feeling, like create a space for them to just air it on the table and talk about it and talk about those feelings and then push them aside because that's where they belong.
We can do it all. And, you know, that's been my biggest struggle.
Jodi Senese:
I have to say that for half my career, I didn't have kids, and in the second half of my career, I did. And being a female is one thing in an industry that's male-dominated. But becoming a mother is a totally different thing. It's game-changing. And you know that phrase that "you have to work like you don't have kids and you have to parent like you don't have a job" was just something that always resonated with me.
And at the point where right now I'm an empty nester. So, when people say, when are you going to retire? It's like, why would I retire now? I could work.
Molly Watson:
Right?
Jodi Senese:
And now COVID, where you could be remote. You don't have to commute. It's like I could do this forever, but you know, the thing that I think about a lot now is that I want to be on the right side of history when it comes to the whole art of conversation, especially with young mothers on the team, you know, who may be freaked out because they were just remote for two years.
And now there are some executives, very senior executives, their CEO who want everybody in the office because the visual optics of a lot of people sitting around them makes them feel really good about the work environment. And I am pushing back so hard on that because I see how productive people could be and that thinking about being purposeful and how we ask our people to spend their time is so important.
And I really do think that we will keep strong women in the workplace if we're not punitive about forcing them to commute and get live-in nannies and 24-hour care and all those bits and pieces, so I think this is a really important moment for us as senior women in kind of rewriting the narrative for the generations that are coming up behind us.
Molly Watson:
Yes, very well said. I would add that's the challenge again, aside from some of the stuff that you put up with that would not be tolerated in today's environment, you know, whether it's, sexist comments or, crazy, inappropriate things that men would do that that didn't even occur to them.
What I will say is the challenge of motherhood. I remember I was pregnant with my first child, and my boss, who ran the department, was leaving. And I was already running the department because he had been absentee for a year. But I was four months pregnant.
And I remember the CEO saying to me, "Do you think you're going to come back? Because you could probably have this job if you're going to come back." I remember coming home and saying to my husband, what the hell? But of course, I did intend to come back. The one thing, though, that I always say to young women is flexibility is not a right for anyone.
To your point, Jodi, the pandemic has blown up the model that it can't work. But I do think that you have to continue to earn it by giving the value. And I was the first person at Tierney to go part-time after my second child was born with multiple physical and mental disabilities.
But I will say that I went to that same CEO who gave me the title and gave me the responsibility to run an entire department, and I said, "I can't stay because I have a 5-month-old daughter who's in the ER every day." And then he said, "Okay, I understand that, but I don't want you to leave, what could you do to keep working with us? What's the minimal amount you can give right now?" I said, "Well, I don't know, like 10 hours a week." And he said, "Fine, we'll adjust." He could have let me go, but that was the moment where my career opportunities at Tierney changed because I went from being the head of media to going into business development.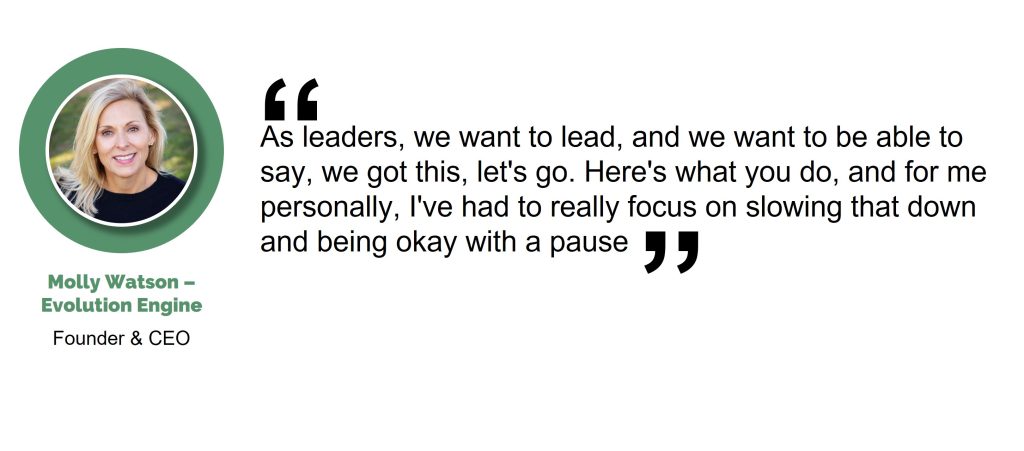 It was important for me that my team never felt any burden due to my part-time status. One time, I had been in the emergency room all night with my daughter, and we're not talking about just a breathing treatment. We're talking about intractable seizures and a lot of crazy stuff. And I went home and threw on some lipstick and a ponytail and went and pitched a $1,000,000 piece of business. And it wasn't like I walked in said, by the way, I've been in the E.R. all night. You know, back then, you hid it. We won the account.
I will say that now, as I've worked with and mentored, and guided so many women through that journey, I'm teaching them not to apologize for having to meet the needs of their personal life. If they have to leave a meeting early to get to their child's school play, then let folks know you are leaving and go. No apologies.
The pandemic blew up the majority of those old traditional ideas about flexibility and work-from-home. I am on the fence; I think working together with your team is critical to culture, productivity, and creativity. I just was in the office with a team that I'm working with the other day. And what was invaluable was just being able to, like, shout over our shoulder to the other person nearby to get a quick answer instead of filling their inbox..
But there's always the problem for the next generation. I think the ability to embrace a high-velocity career and be a mom was a struggle, and hiding it or running yourself into the ground, was tough.
And of course, the other thing I loved about the pandemic is it also blew up the truth about the inequities of child care, of women and men, even in like the greatest relationships. I always think about what came out of that is good for everybody and working women. But that was really hard to do that for 20 years.
Christie Massey:
We've talked about the challenges, but I want to hear a little bit about what tools and skills you were forced to develop to overcome those challenges throughout your career.
Song Heo:
Yeah, people were starting to touch upon these; how do you cope? How do you manage right through life while working? So whether it's COVID, whether it's gender driven or age-related, or any number of factors. I think for me personally and Kate, maybe a little bit of what you were talking about, am I good enough?
You know, those kinds of anxieties that I think all of us experience to one degree or another, imposter syndrome, and so forth. But I remember reading an article where it said, just "so what?".
Whatever questions I had about my being good enough, this act of just asking yourself: So what? So what if I do, or if I don't? What happens? What's the worst thing that could happen? You're not going to die. And, you know, think through what's the worst thing that could happen?
I think it's self-level-up here. How can I be better every day? Just a percentage or two better than the prior day? Just little by little.
Christie Massey:
And I wrote the same thing down. We can have it all. I challenge that status quo. I mean, we can have it all. I'm incredibly proud that my two girls see me going to work every day and doing what they see me do day in and day out. But for me, the tools that I use are an incredible amount of preparation and organization and call planning. And both in business and in my personal life, I feel so much more confident going into any situation, whether it's home life or work life.
Even if it's just 15 minutes, and it's hard for working women, working mothers to find. But for me, ok, well, I'll get up before everybody else and spend half an hour getting my day ready. And that half an hour time slot is invaluable, so I loved that you said Jodi, that because some days you feel like "I can't give 100% in two places". But we are good enough; we can give as much as we need to in both spaces.
Betsy McLarney:
Absolutely. And then it all starts with people and especially women. I'm always looking to surround myself with super smart, passionate women people in general. I mean, there are a lot of guys that qualify in that realm as well. And constantly be searching for some type of development for my team to help them think forward. Because I don't know about you, but it seems like the speed with which change is coming just seems to get faster and faster year by year.
Molly Watson:
You took the words out of my mouth; it's less about technology or stuff like that. But really, what I have learned, and you said it, Betsy, you like to surround yourself with people who are smarter than you, right? And not be intimidated by it.
That's a big thing that you could be intimidated but not threatened by different things. And I think the other thing is recognizing that we all suffer from imposter syndrome and how you talk yourself out of it. Because I have met these women who look like they would never have it, and they do. The other piece that I have learned is it's okay not to know the full answer, but as a leader, can you help your team focus on the next right thing to do? And then you're buying yourself time to see the vision.
I think as leaders, we want to lead, and we want to be able to say, we got this, let's go. Here's what you do, and for me personally, I've had to really focus on slowing that down and being okay with a pause, whether it's in a conversation or, like, let's talk about it tomorrow. You know, so those are tools, and I'm still using them every day and trying to teach my children, as well as anybody else that I mentor with.

Betsy McLarney:
And it truly is, in my mind, a vulnerability issue, like how vulnerable can you be with others if you're in a trusting environment and then you've created a team that you want to help and inspire them to help you get to the answer, you know, you have to show I don't have the answer, and I definitely have that mentality.
I always jump to, okay, what's the solution? You know, that's not always the best way to get the best result. So that's been something I've had to work on for years.
Jodi Senese:
I think the other thing is listening because sometimes the answer comes from the most unexpected person on the team. And if you let the young, you know, the newbies have a voice, sometimes, you'll be amazed at what you hear. I also want to just hearken back to something that Molly said because I started spending two days a week in the office and as awesome as teams zoom and all those other tools are, and to be able to get us together for an hour like this would have been impossible with Betsy on the West Coast.
You know, me out east, you guys either in New York or Philadelphia, wouldn't happen. So this is another miracle of COVID that this whole technology has accelerated. But there's nothing like being in the office. When I'm in the office two days a week, the impromptu, the ad hoc, the spontaneous, the meet you in the coffee room kind of collaboration that just doesn't happen.
You know, we can't say right now, hey, let me grab a person for this conversation because she'd be really additive. It just doesn't it doesn't happen. So I think the miracle, I call them COVID miracles, is the hybrid approach to having both the powers in the mix, being able to be in the office a couple of days having the real-life interaction, the lunches, the coffee breaks, that kind of thing, and then being able to engage in your life and live your life the way you need to with your families.
And cutting out the 3 hours of commuting, you know, two or three days a week. And I think that outcome is going to be something that we're all going to say, as bad as the two years were, that this is just really a great outcome. It would never have happened without a pandemic.
Molly Watson:
I totally agree.

Christie Massey:
We have a few minutes left, and I really would love to end with just going round-robin. What advice would you give to the young women entering into our field? Betsy, want to start?
Betsy McLarney:
I think I'm all about looking for solutions to challenging client needs or even team needs. And to do that, I think, as Jodi said, you have to ask probing questions, and then you have to actively listen. And out of that usually comes a number of different directions. And then it's a matter of deciding which is the best direction.
It's hard to find the right questions sometimes. But if you don't practice, you'll never get good at it. So, I can't say I'm great at it, but I try very hard.
Jodi Senese:
I have a really quick answer. If you're not passionate about what you're doing, find something else to do because it's a long journey.
Betsy McLarney:
Yeah, that's a good one.
Molly Watson:
I would say that what I always say to them is do your homework. For everything, so you can ask the right questions. Right? And don't be afraid to ask the same question five ways. I had to do that yesterday with a client. I was like, "No, no, let me try again". And then especially for the young women, you know, speak up and ask for what you need and please learn to be kind to yourself.
Christie Massey:
Love it. Kate?
Kate Zwizanski:
Yeah, I'll jump in. Mine is build yourself a circle. So it's not about seeking out a mentor and finding a formal mentor-mentee relationship. Although sometimes that works great, but you're going to need different advice from different people at different times. And so, look at the people in your life and figure out who your true confidantes are.
Like when you need tough love, who do you go to? When you need career advice? Who do you go to when you want to talk to someone who's in your shoes? Who do you go to? Build your trusted circle of people that know you, love you, and want you to win. Because no matter what you face in work or life, having those people in your corner is such a huge it's gold.
I mean, it's where you're going to find your strength.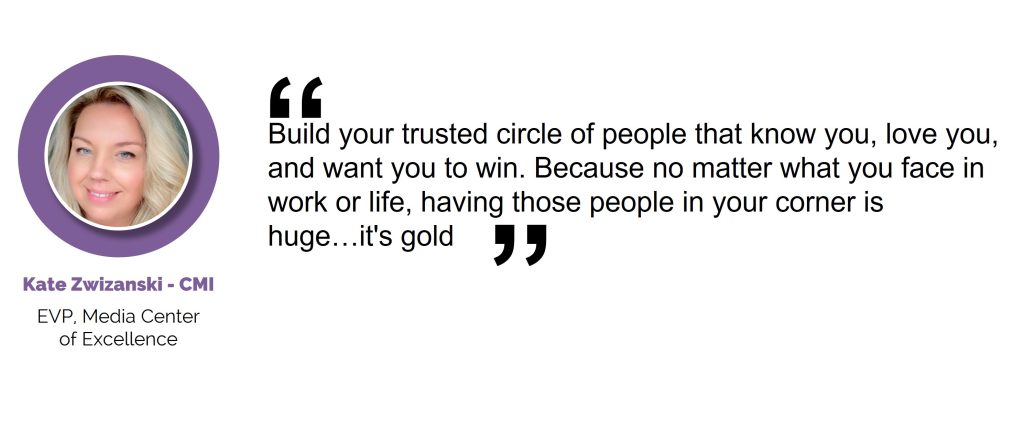 Song Heo:
Absolute ditto. I second everything that you say. And I think for sort of the inward inspiration it's, be fearless, just don't be afraid. Forge ahead, do it with humility and kindness. It's going to take you anywhere and everywhere you want to be.
Christie Massey:
I'm double ditto to all of that. Build your network ask for help and support when you need it. Find great mentors, lean on them and give yourself some grace, you know? Give yourself the grace you need.
Well, that was incredible. I am thrilled about this conversation. I feel inspired. I'm so thankful that you shared your experiences and your insights with us. It was just awesome.