Once upon a time, high school students would reach out to higher education institutions with a phone call or (gasp)… mail… to show their interest and request information. Then they would wait weeks for a large glossy booklet to show up and then compare that to the virtually identical large glossy booklet from the other schools on their list. Oh, and there were dinosaurs too. But colleges and universities were not reaching prospective students with Out of Home media
The recruitment funnel has changed for higher education. There are fewer traditional college-age students to go around, meaning more competition for each applicant. And the priorities of Gen Z have shifted significantly from those of the Millennials. They are looking for practical and relevant programs to help them launch a career and do it without incurring crushing debt.
This all means that colleges need to adapt their recruitment and marketing strategies as each new generation comes into focus. As the competition heats up for higher education institutions to recruit applicants, let's look at how they can optimize their marketing strategy to drive enrollment by reaching prospective students with Out of Home media.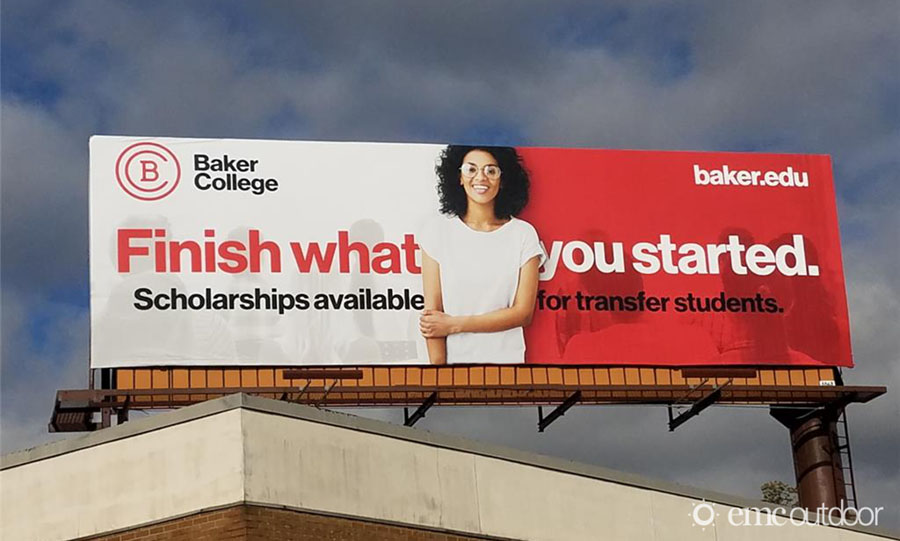 Build Brand Awareness By Reaching Prospective Students With Out of Home Media:
Higher education is a competitive marketplace, and it is essential for institutions to work on maintaining heightened brand awareness and mental availability; otherwise, when prospective students begin their search, the school starts at a deficit.
Large institutions may gain brand awareness from the visibility of sports programs or large alum networks. This is particularly important for smaller schools. Smaller colleges don't have that advantage and must work to make up ground and level the playing field.
These things point to using Out of Home media as a core part of the marketing mix. OOH can deliver massive reach cost-effectively and efficiently. It excels at driving brand awareness and can help institutions remain competitive. The physical nature of the media means that it is difficult to avoid – it can't be blocked or skipped. It is easily scalable across markets.
Higher education is also saturated with similar messaging, and Out of Home media can help brands stand out by capitalizing on a media channel often overlooked by rivals and using some of the unique OOH media types available to deliver intriguing creative.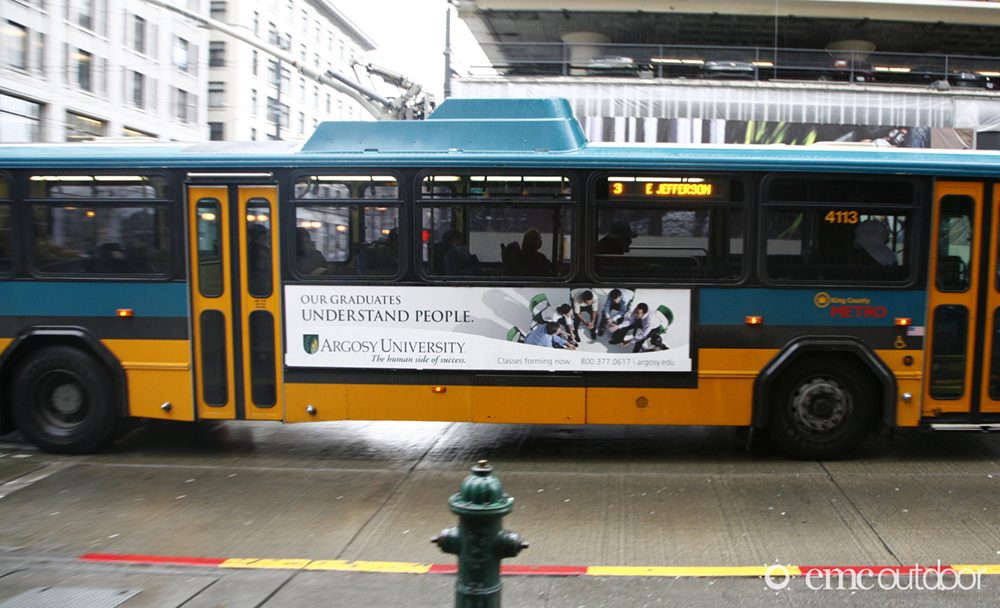 Focus Your Outreach With Highly Targeted Out of Home Media
Reaching the right prospects is critical for higher education. Targeting potential students who have no interest is a wasted investment. In recent years advancements in location data and targeting methodologies have helped OOH shift to an "audience first" media channel – identifying where the target audience is in the physical world and then choosing the media best suited to reach them. For higher education, that means a couple of things.
First, most institutions will have a long history of first-party data that identifies their ideal prospective students, their characteristics, and where they come from geographically. With that information, it is possible to build look-alike audiences that can be translated into real-world geographies, which can be used to target potential students in and around their communities. This helps maximize the potential budget by focusing the media on high-potential areas.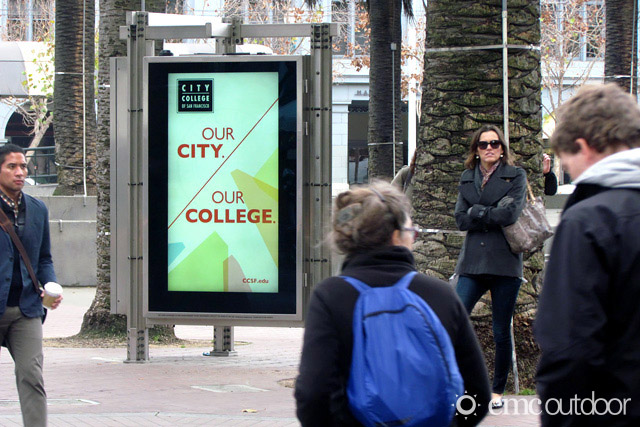 Additionally, OOH media allows institutions to reach new audiences in locations that are not traditional feeder areas but have a high index of potential applicants. This type of niche audience targeting helps the school expand its target areas and reach new communities to engage with a previously untapped pool of prospective students.
Finally, focused targeting allows the school to use different messaging for different audiences. A recent study by Question the Quo found that 72% of students said their top college worry is paying back student debt. While one set of students may be focused on price and scholarship opportunities, another group may be focused on the diversity of campus life or the graduate outcomes for a particular field. All these messages can be tailored to the audience with OOH.
Focused targeting will also allow the institution to manage its budgets to maximize frequency, which, it turns out, is also essential and efficiently executed when you reach prospective students with Out of Home media.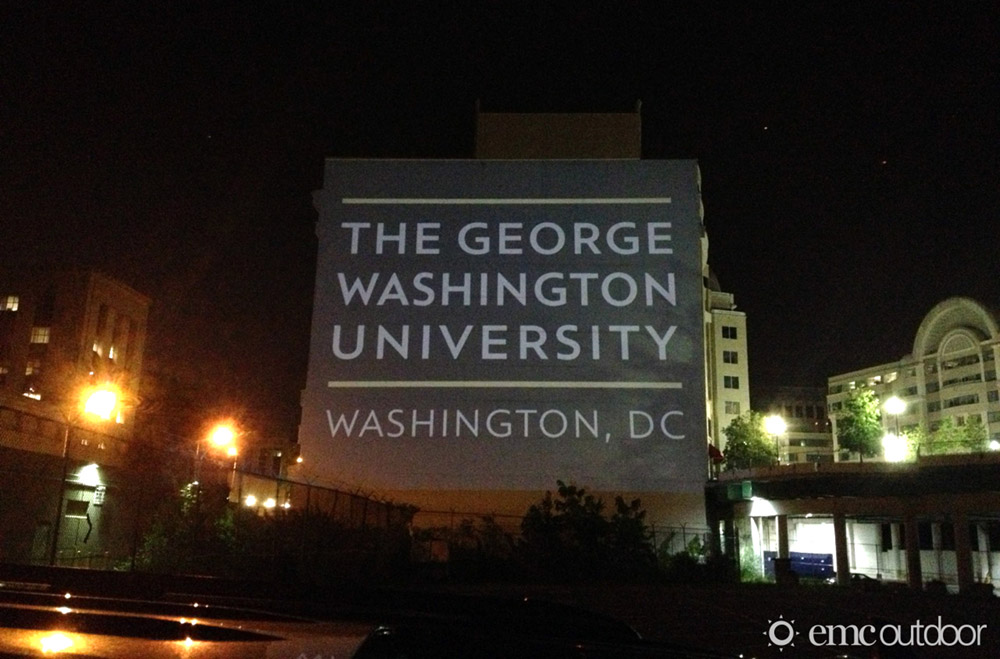 Maximize Frequency by Reaching Prospective Students with Out of Home Media
Choosing a school is a significant decision for any potential student, one that could impact the course of their life, so trust and comfort are a vital part of that decision-making process. Numerous psychological studies have shown that, as much as we might like to think, we make logical decisions, we don't. Mostly we decide on emotion, on our "gut," and then use logic to rationalize our emotional decision.
Prospective students are also in a "buy now" state of mind, and this is an ideal time to engage them with Out of Home media. They are weighing the options and trying to make a choice. While deciding which school may take a while, they have decided to attend and are now at the consideration stage of their journey.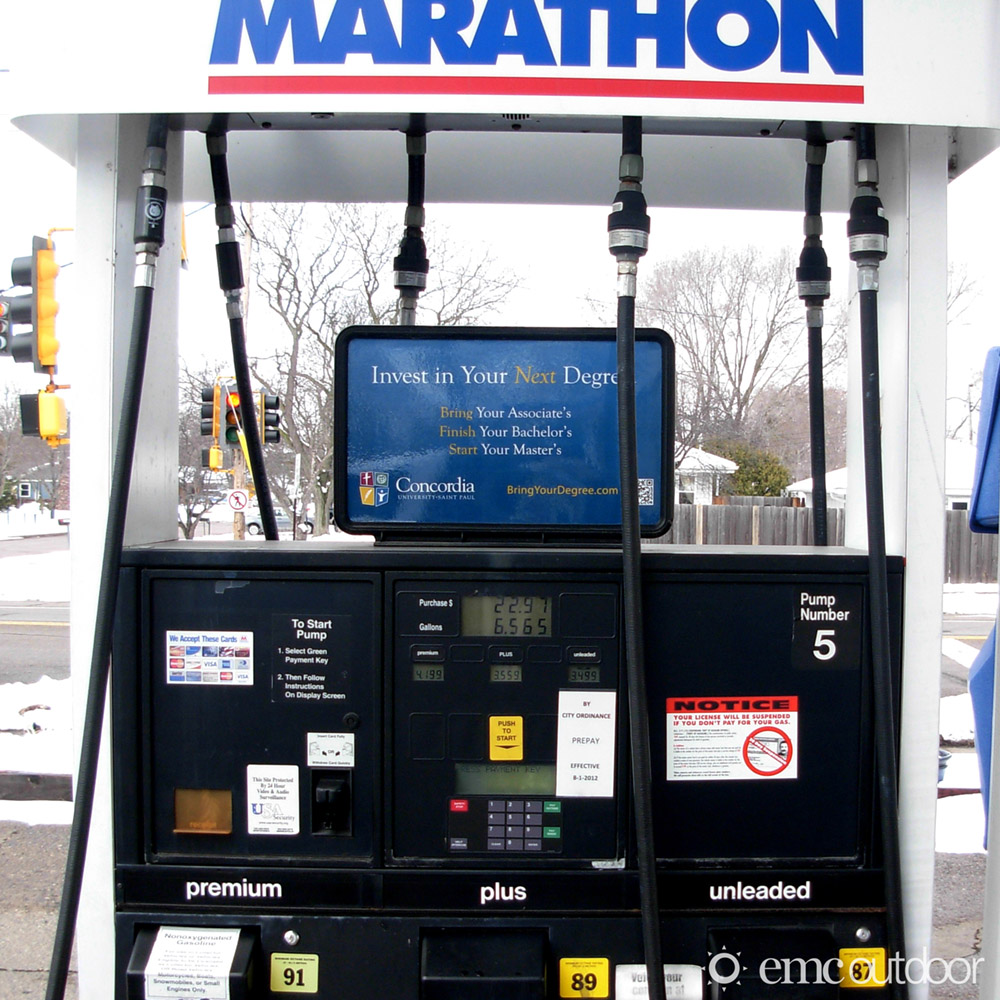 Both of these factors would lead us to try to maximize the frequency of exposures. Increased frequency helps to make the institution seem more familiar and thus more trustworthy and comfortable, increasing the likelihood of selection. It also taps into the Bader-Meinhof phenomenon where, when potential customers notice something new, they will subconsciously be looking for it. Increasing the frequency of ad exposure – particularly on different formats – will make the brand seem omnipresent.
There is, of course, much debate over the "right" frequency, but a recent WARC study showed that:
"Our findings reflected the 'wear in' and 'wear out' curve we were expecting," the authors report: up to nine exposures the participant favoured that particular ad; between nine to 12 exposures, the emotional response peaked and then began to decrease as the participant became used to it."
Use Out of Home To Drive Applicants To Your Digital Experience:
Pointing out that Gen Z is digitally native is like saying the sky is blue. Over 98% of Gen Z'ers own a smartphone, and nearly half of the generation spends more than 10 hours daily on their mobile devices. Many will not remember when they couldn't see the person they were talking to. So how does Out of Home media work for reaching a generation that is so digitally focused?
First, they are the most digitally fluent generation to date, which also means they are the most skeptical. 83% do not trust the intentions of most businesses. They are data and privacy savvy and feel comfortable and confident in finding what they need and getting things done online. For advertisers, that means using a truly omnichannel approach to driving traffic to their online environment (which better be optimized!).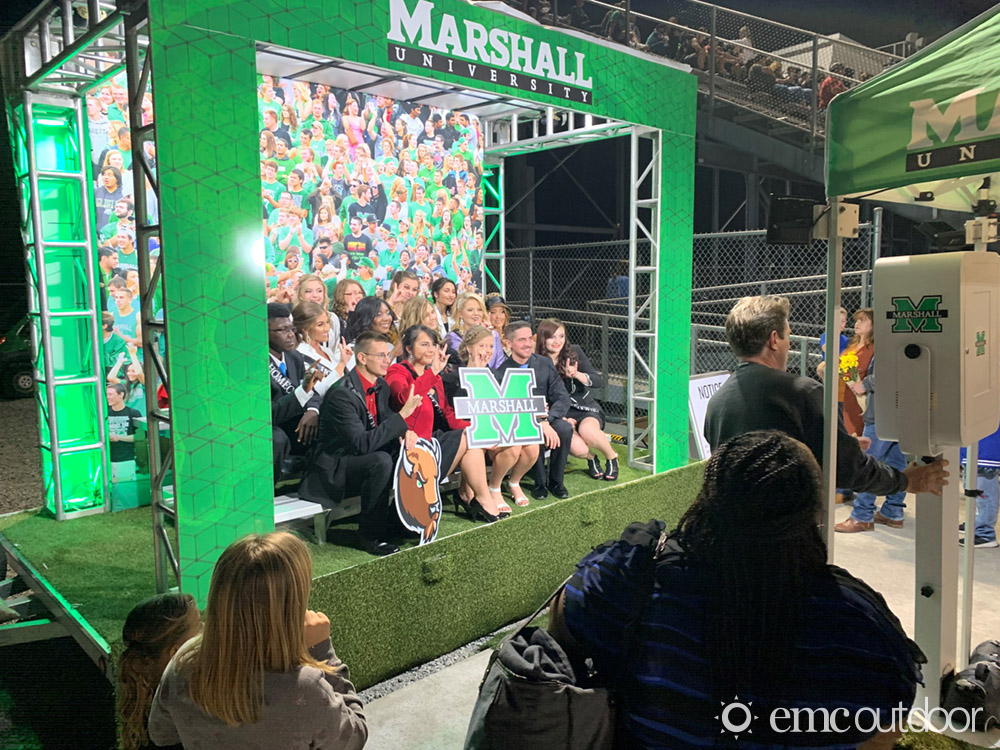 Data from numerous studies show that OOH drives digital activation at a higher rate than other media channels. A recent study by ComScore showed that 41% of people have searched for a brand after seeing an OOH advertisement. Another study by WARC/Posterscope showed that people were 53% more likely to search for a brand online after being exposed to the brand on OOH.
Out of Home Media Can Drive Down Cost Per Enrollment
Cost per enrollment is an important KPI for higher education institutions and anything that can drive that cost down while maintaining the quality of the applicants should be considered. With one of the lowest CPMs of any media channel, Out of Home excels at reaching an audience cost-effectively.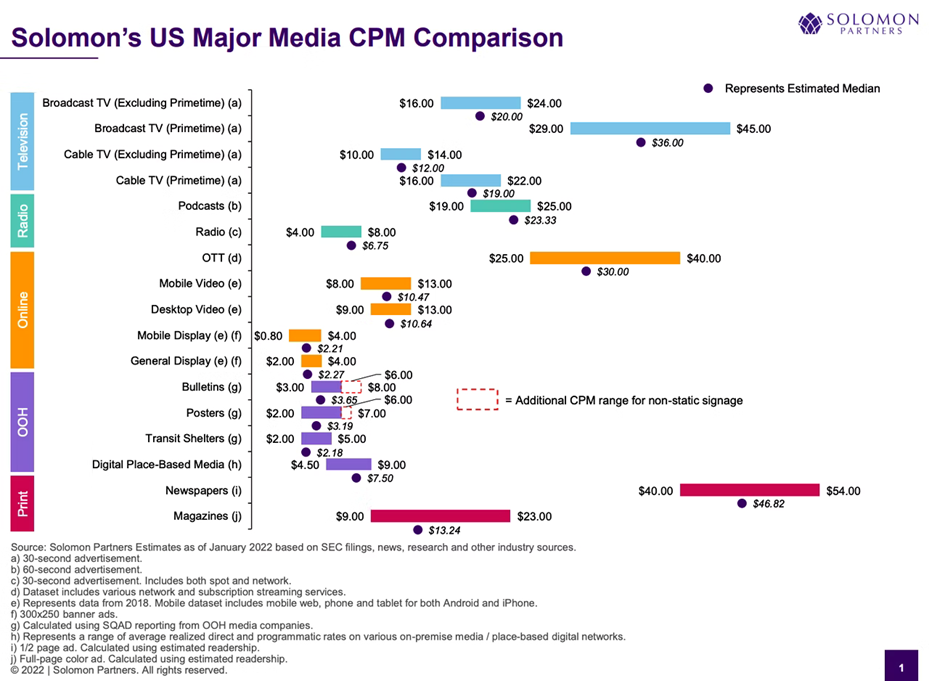 And when it comes to the performance of that budget, OOH consistently overperforms. The same ComScore study showed that while OOH accounted for 22% of the search engine action share, it was driven by only 4.1% of ad spend share. That means that OOH outperforms its budget by driving digital activation over 5 times the rate we would expect. For marketers, the budget spent on OOH makes their digital dollars much more effective.
When looking at budgets, it would be imprudent to ignore the amplifying effect Out of Home can have on digital media. The practical result is that by including OOH media in your mix, you can spend less on other media channels and still get the same results.
Reaching Prospective Students with Out of Home Media Will Help Optimize Your Enrollment Strategy
The simple fact is that higher education institutions face a dramatic shift in how they are viewed. Only 51% of Gen Z teens are interested in pursuing a four-year degree, down from 71 percent in May 2020. This requires colleges and universities to work even harder to recruit students, which means having a coordinated and cohesive marketing plan to reach them.