As we enter our 25th year in out of home, we thought it would be fun to take a look back at some of the campaigns that helped shape our agency. This is the first installment in a series of legacy campaigns that we will be sharing throughout the year to celebrate #EMC25years.
In July 2004, EMC Outdoor partnered with TM Advertising and Nationwide Insurance for the launch their new "Life Comes At You Fast" campaign. A national out of home campaign that involved groundbreaking media was called for, so we jumped in to assist.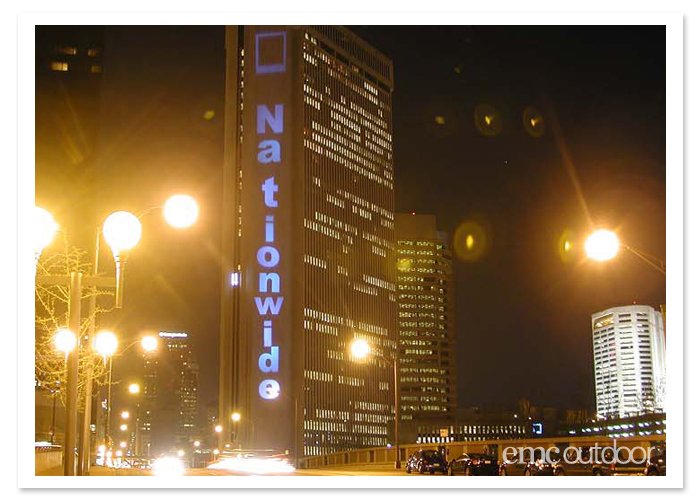 To kick off the new campaign Nationwide wanted to do something noteworthy at their world headquarters in Columbus, OH. EMC's answer was a spectacular, towering projection that lit up the Nationwide building and the Columbus skyline. EMC worked closely with TM and Nationwide to develop a plan for the logistics of implementation, as well as the execution's creative considerations. The projection was over 30 stories high and was displayed over a 2-week period! Thirty. Stories. High.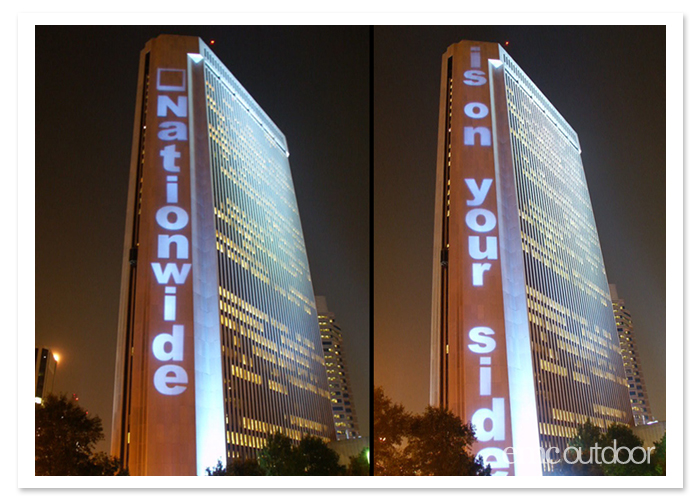 In addition to the illumination of their headquarters, Nationwide kicked off the campaign with another first – a national campaign of airport dioramas using lenticular displays. In the days before digital, the ability to have an image change on an out of home display was virtually unheard of.
These playful "flipping" images allowed Nationwide to bring the core creative concept of "change" to life as adorable children changed to surly teens, full heads of hair sadly vanished, and birthday cakes blossomed from two to dozens of candles before peoples' eyes.  EMC Outdoor researched and pioneered the first use of airport lenticulars, partnering with all the airports involved to conduct extensive product testing, physical and logistical evaluation of the existing displays, determining installation requirements, and establishing best practices for the creative execution.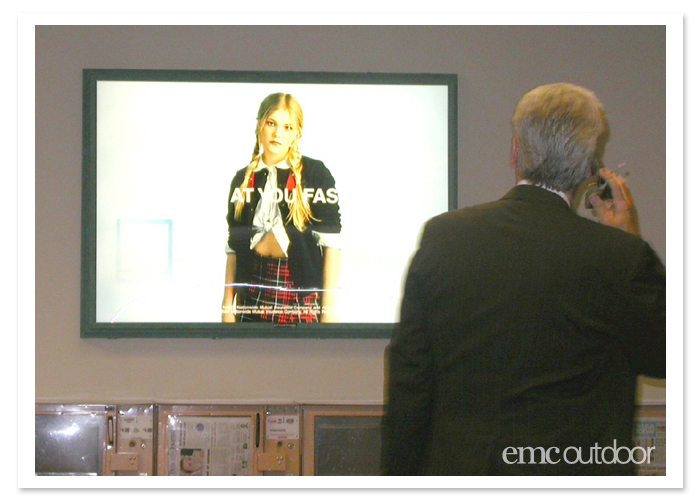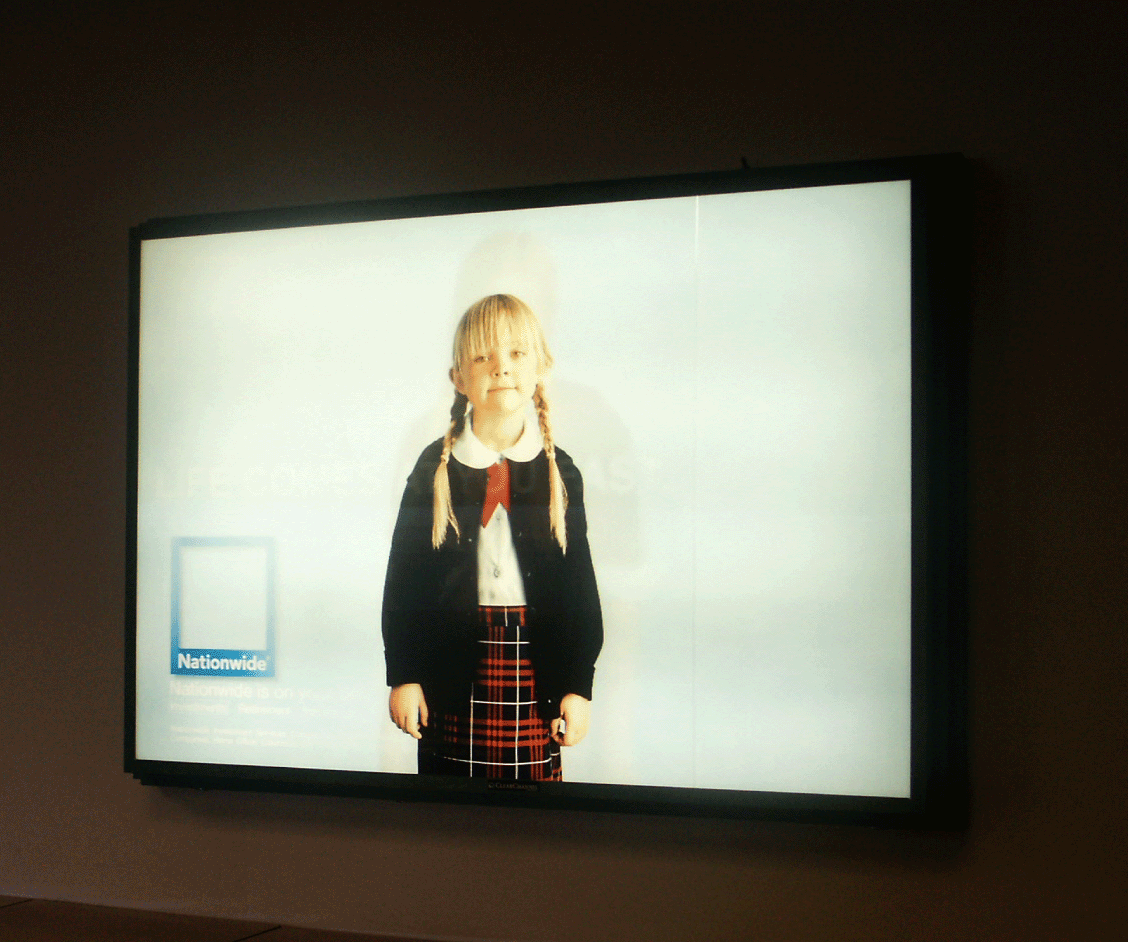 The launch campaign also included the rollout of 39 fully-wrapped buses, and additional transit in 14 key and highly competitive markets across the USA. This segment of the campaign also required extensive logistical management in execution from securing approvals from transit authorities, to organizing detailed physical templates for the various bus body types and managing the pre-inspections and installations to ensure seamless rollouts in all markets.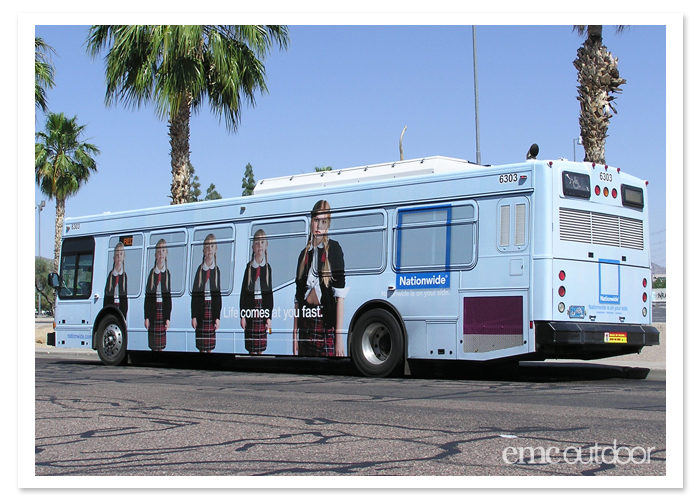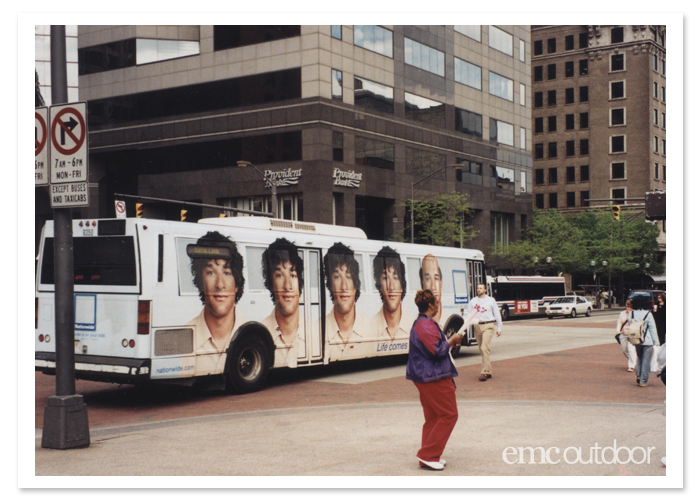 Following the launch period, Nationwide's subsequent transit campaigns with EMC grew to over 30 markets — a very strong testament to the effectiveness of the insurance company's out-of-home advertising!
We've been placing out of home for 25 years, working with every media available, and even helping to pioneer some new ones. Contact us to learn more about how we can help you turn your next campaign into a major event.