The COVID-19 pandemic severely affected lives around the globe. Isolation, contact restrictions, and economic shutdowns completely transformed individuals everywhere. Our most recent Out of Home activation for the Federal Emergency Management Agency (FEMA) utilized cause-based marketing to reach families affected by COVID-19 to provide funeral assistance. Cause-based marketing connects a company's products and services to social issues or causes. For FEMA, their goal was to raise awareness about their funeral assistance program for families who lost loved ones to COVID-19.
FEMA's funeral cost program "Are you covering the cost of a COVID-19 funeral?" gained immense attention locally and regionally. Many governors across the U.S. reminded their citizens to apply for federal aid funeral assistance through social channels.
With the use of Out of Home, FEMA and EMC's execution provided further awareness to reach individuals affected most by funeral costs in underserved and hard-to-reach areas. The primary target audience was African American and multi-cultural families who had lost loved ones to COVID-19.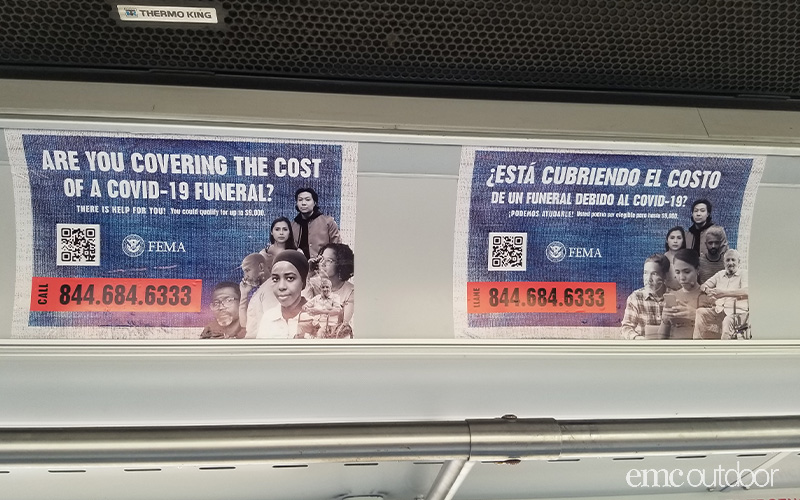 FEMA activated its campaign from April 28th – July 17th in four locations, Philadelphia, The Bronx, Hidalgo, and San Bernadino. FEMA utilized billboards, public transit bus wraps, street furniture, digital urban panels, and window clings. The addition of QR codes made it easier for those riding public transit to visit FEMA's website for additional information. These locations and media formats were strategically selected to reach those in underserved communities where individuals were unaware of the funeral assistance program.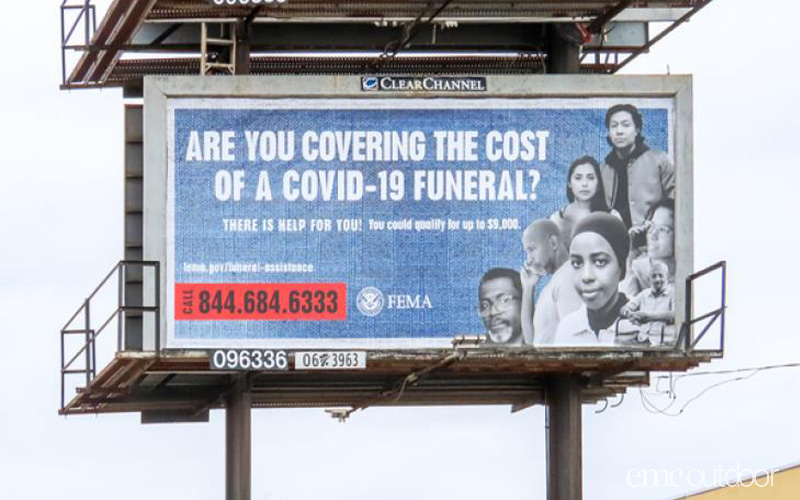 The imagery depicted families and individuals who had lost loved ones to COVID-19 and prompted families to reach out for help. The activation directed individuals to call FEMA to see if they could qualify for COVID-19 funeral assistance.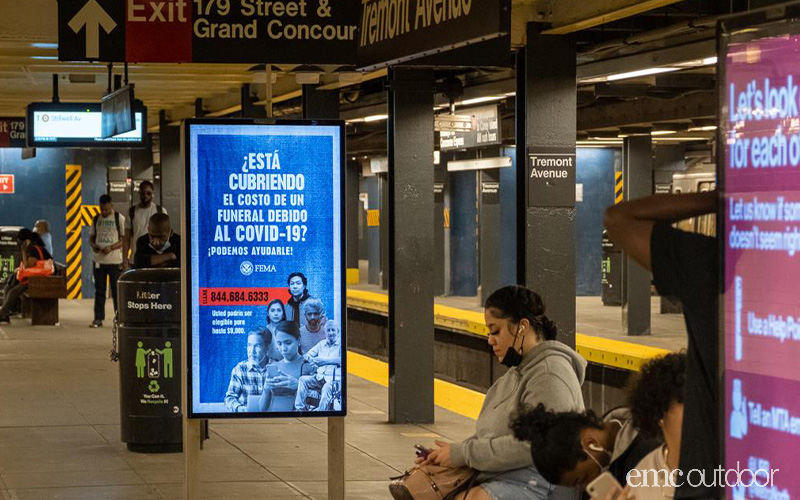 The informational messaging across each media format reached numerous families in each city. Before partnering with EMC, FEMA had provided $2 billion to 300,000 families. With the campaign's conclusion, as of July 5th, 2022, FEMA has provided over $2.6 billion to over 410,000 families to assist with COVID-19-related funeral costs. FEMA is still accepting applications and encourages you to apply if you've lost a loved one due to COVID-19. More information about the funeral assistance program can be found here: COVID-19 Funeral Assistance.