As we begin the long road to economic recovery an important aspect for business trying to return to normal will be staffing and recruitment. A large pool of potential employees coupled with a large number of returning positions will lead to a volatile market for recruiters. As they work through this period it will be important to remember that Out of Home media drives recruitment from a number of different angles.
Everyone is tired of talking and reading about COVID, I know I certainly am. However, we can't talk about recruitment & talent acquisition without at least acknowledging the huge effect the pandemic has had on employment and hiring. We're in uncharted waters here, and it's times like this that we must step back and ground ourselves, take stock of what we do, and how we do it.
As consumer confidence rises and the economy continues to bounce back, businesses will need to quickly ramp back up to pre-COVID levels of operation, while still weighing the risks of doing so with the lingering uncertainty of what 2021 will bring. Recruitment teams will be hard pressed to tackle this challenge, attracting talent and qualifying candidates.
"When COVID is mitigated and life can start returning to normal, businesses will need to quickly gear back up," Chait said. "If things go well, it's possible that more people will re-enter the workforce in 2021 than in any single year on record." – Daniel Chait, CEO Greenhouse
Out of Home media drives recruitment by providing a valuable tool for recruiters to reach the right audience, at the right place and time. With the wide variety of media choices and advanced targeting tactics available, coupled with its ability to drive digital engagement, Out of Home should be a key piece of any recruiter's media plan.
Out of Home Media drives recruitment with proximity targeting.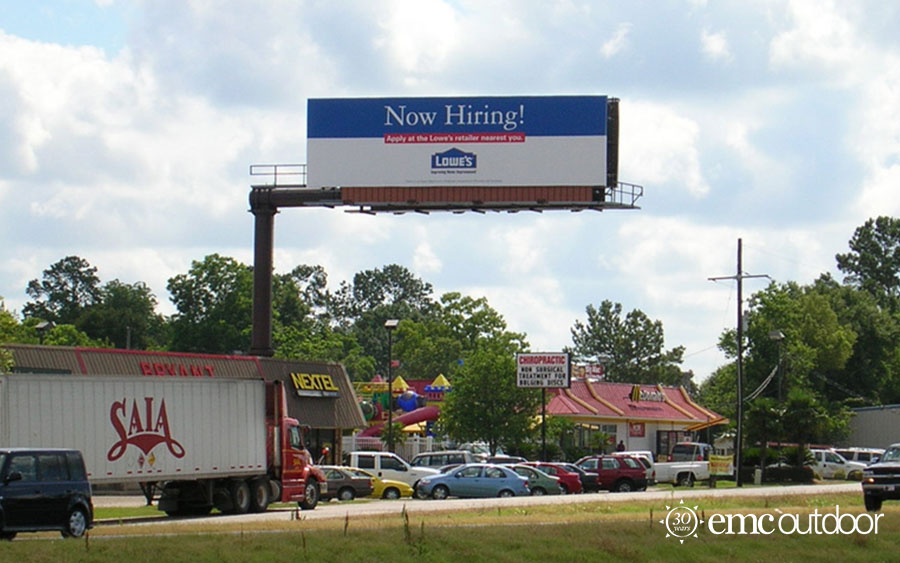 It's no secret that Out of Home Media drives recruitment and has historically been used as a recruitment tool, often seen on interstates targeting truck drivers. This plays to Out of Homes historical core strength – understanding who your audience is and where to reach them. Proximity has been, and still is, a very relevant approach especially for recruitment initiatives. Out of Home cannot be turned off, blocked or missed as it provides both reach and frequency. Using OOH's ability to target based on proximity to a location allows employers to focus their efforts in areas with the highest pool of potential employees, and therefore the highest likelihood of success.
Out of Home can also be used to target competitors to lure away more specialized positions. For example, skilled labor is often a challenging find considering the high demand for said workers. But those workers tend to be clustered in certain locations – namely the competitors business locations. These locations then provide a high value target, with a large concentration of prospective candidates, that can easily be targeted with Out of Home. Targeting skilled positions at competitor's job sites with large format OOH media will certainly get their attention.
Out of Home media drives recruitment by keeping the pipeline full.
For certain industries such as manufacturing/warehousing, construction, and retail, retention and turnover are 2 constant challenges. Blue collar work environments are oftentimes more physically demanding on the employee. Long hours on your feet, uncontrolled working environments, physical strain. Not everybody is cut out for these jobs and therefore it's important for hiring teams to maintain a full pipeline of candidates. Per the Seattle Times and Bureau of Labor Statistics, industry turnover in transportation, warehousing & utilities from March – August 2020 was roughly 33%. When looking at the cost to hire & train new employees, high rates of turnover can heavily impact a company's bottom line.
OOH can help alleviate those costs with competitive CPM's and targeted campaigns. The benefits of OOH play a similar role in recruitment campaigns as they do in branding; amplifying a campaign's reach & frequency by creating touchpoints at various times during a candidate's daily routine. Because frequency is another one of Out of Home's strengths, maintaining an active and consistent presence in the market can help employers stay top of mind for potential employees when they enter the job market.
Running recruitment or hiring initiatives on OOH media has a twofold effect – reaching potential employees currently seeking a new job, while also driving demand generation by tuning in those who may not be actively looking but are receptive to the message.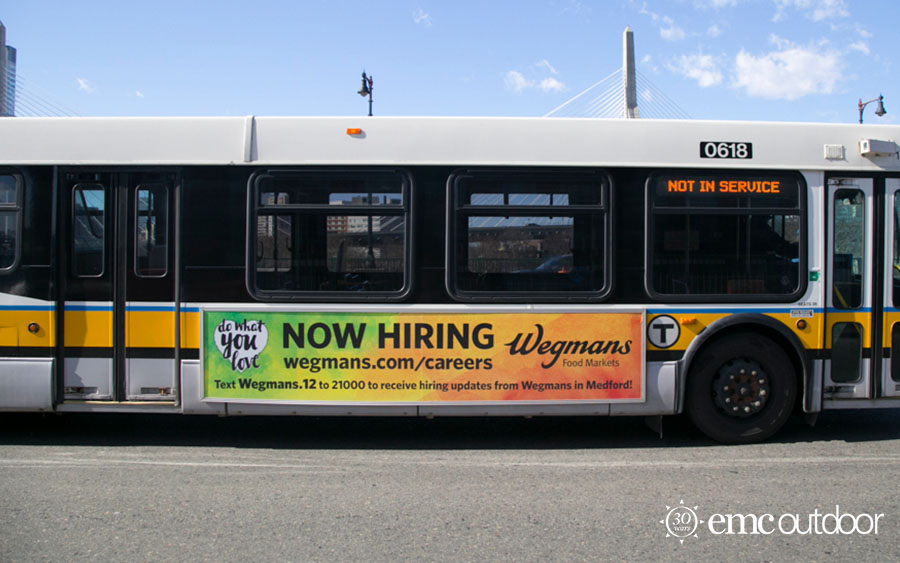 Out of Home media can reach potential employees in other markets.
Where physical proximity to a job site is not a driving factor, for example if remote work is an option, Out of Home can be used to target areas which have been identified as home to potential employees. In today's internet enabled job force many companies work with widely distributed staff located around the country, or even the world. Identifying areas that are rich in potential employees can serve as a way to amplify recruitment efforts beyond the local market, greatly expanding the pool of potential employees.
Tech is a great example. If a company is headquartered in Indianapolis and needs tech professionals, we can look to pull from growing tech hubs such as Austin, Denver, or Seattle. They can even use the proximity strategy of targeting competitor locations in those cities to create awareness among potential employees. With its scalability and cost efficiency Out of Home can expand an employer's reach well beyond their local area.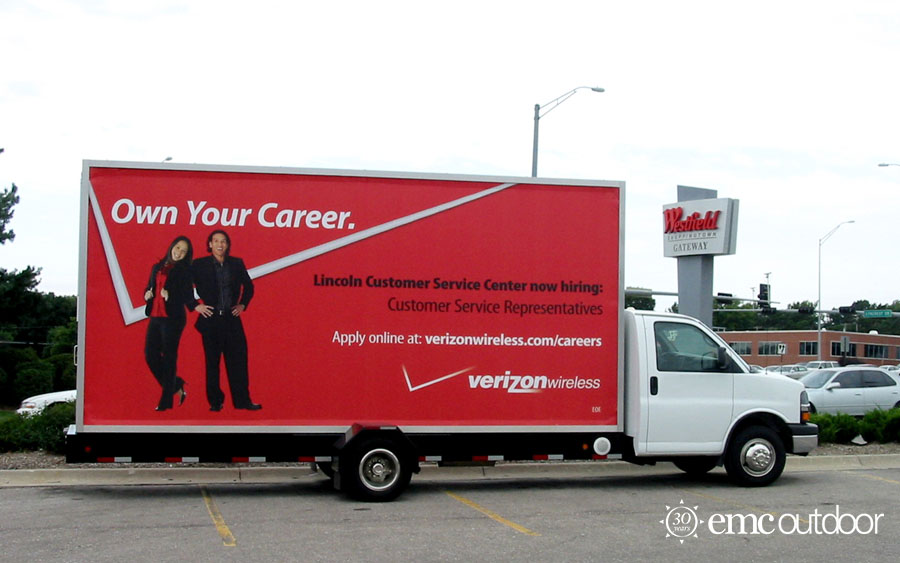 Out of Home can target potential employees by more than just location.
So far, we've focused on location based targeting strategies – media placements that are near the job site or a competitor, media placements that are in areas with a high concentration of similar industries. But recent advancements in Out of Home targeting mean that we can now reach audiences who fit a certain behavioral profile.
This goes beyond simple demographic targeting. The new methods for developing OOH targets can include behavioral information that focuses more on the person. Workers in any given industry may share a number of similar interests or activities. They may follow the same sports, engage in the same types of recreational activities, or eat at the same types of restaurants. All these types of behaviors are now within the sphere of OOH targeting and can be used to reach these audiences in pockets where they are concentrated, not just where they work.
Out of Home media drives recruitment by amplifying your digital media channels.
It's safe to assume that part of a recruiter's toolbox are job boards, Facebook ads, drip campaigns, and other tactics in the digital space. Considering OOH is an extremely effective driver of online engagement, why not boost the effectiveness of existing efforts in the digital space with an IRL (in-real-life) presence. A Nielsen study in 2017 found that Out of Home was the most effective offline driver of online activity, approximately 4X more so than other offline media channels.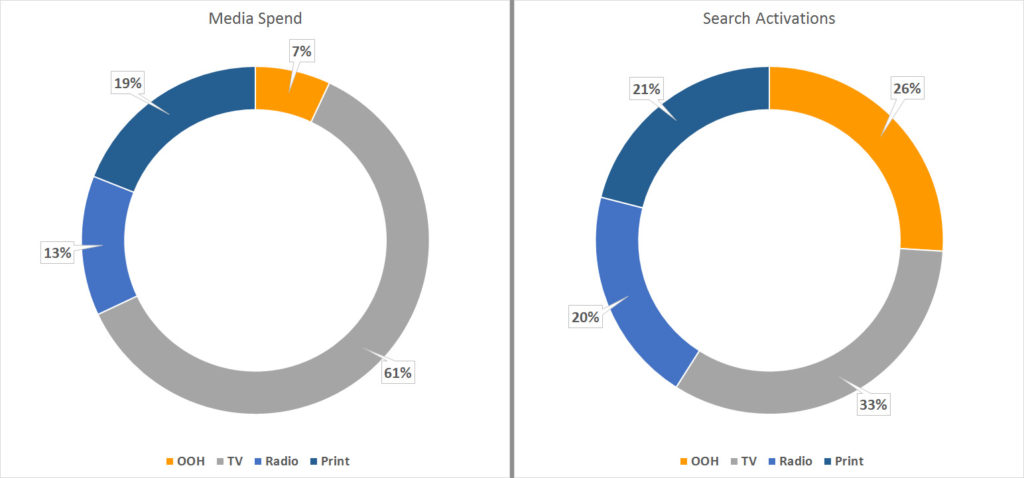 Out of Home media can also be geofenced to provide an audience that has already been exposed to the brands messaging and is more likely to engage. These audiences can be reached directly with mobile ads, or pulled into an omni channel ecosystem to be targeted with the full spectrum of digital media available.
Out of Home provides flexibility in messaging and creative.
Out of Home also provides recruiters with a high degree of flexibility in their messaging and creative. With the variety of different formats available in any given market recruiters can reach their target audience at different points in their daily lives.
Large format billboards, signage at essential venues, targeted displays with audio & video. Each format plays a different role within the recruitment funnel. A job seeker will see a billboard a few times each week, reinforcing your brand and building familiarity. While pumping gas they'll see your pump topper, taking advantage of the dwell time there.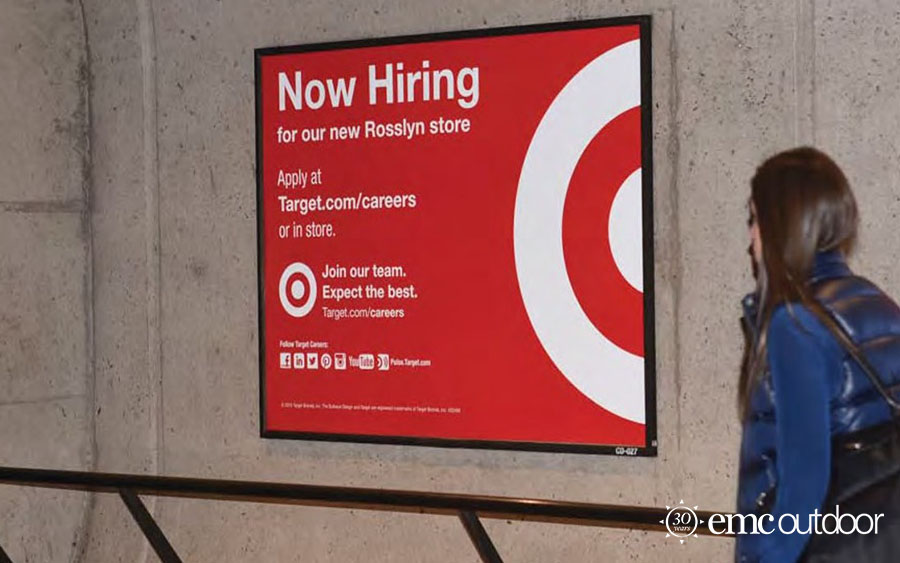 These different formats allow for different messaging and focus on different stages of the decision process. Media like billboards will help create top funnel awareness, while other media with longer reads can deliver more detailed messaging, like potential salary, benefits, or other incentives the employer may provide that differentiate them from the competition.
Out of Home media drives recruitment by supporting branding initiatives.
I can't go without mentioning the hybrid effect that OOH can deliver – filling the talent pipeline while also building the brand. An important trend in 2021 cited by many recruitment experts is the important of general branding as a part of recruitment efforts.
People have been through a lot and are justifiably concerned about employment security & stability. A strong OOH campaign projects an image of health and stability for an organization. Those tangible displays in the real world, reaching potential new hires along their daily journey, are what will inspire trust and confidence, drawing the best talent from the pool of available candidates.
At EMC we have a long history of helping clients fill their hiring pipeline through the execution of targeted and efficient Out of Home media buys. Contact us to learn more about how we can help you find the right candidates and get ahead of the growing recruitment surge.