When Boost Mobile needed to amplify their presence in key markets throughout the U.S. they turned to EMC to tap into the power of outdoor. Boost's target area was over 20 markets, as diverse as Flint MI, Boston MA, Nashville TN and Miami FL — each bringing its own unique set of challenges while providing the perfect setting to demonstrate the flexibility & range of outdoor.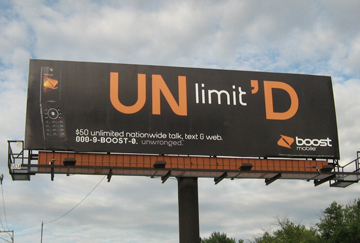 The range of media was as diverse as the markets that Boost needed to reach and included everything from traditional outdoor—like billboards, posters and transit media—to alternative media like truckside advertising, mobile billboards and wrapped vehicles.
EMC worked with Boost's regional marketing managers to carefully craft the right media mix for each market to maximize both impact and budget. Strategic placement of traditional OOH media made sure that Boost's message was front of mind and getting excellent repeated exposure across each DMA.
While the traditional media was used to generate market wide coverage, the non-traditional media played a different role. Mobile billboards and wrapped vehicles were called in to targeted events, concerts and sporting events where the roaming OOH could reach Boost's audience. Boost also took advantage of newer forms of "Lifestyle" media to reach directly into peoples lives through opportunities like pizza box ads.
[album id=2 template=extend]
 A campaign of this size, with such a wide variety of media and markets requires extensive coordination and detailed oversight of planning, production, posting and proof-of-performance. With thousands of individual pieces of copy being printed, shipped and installed over a rolling schedule, our client turned to us for the ease of executing this campaign through one trusted source. Contact us to learn more about how EMC can simplify your outdoor advertising campaigns.