When Nationwide Insurance needed to create some extra excitement at the annual BISA conference they turned to one of the coolest new out of home media to appear on the event marketing stage — Digital Display Apparel.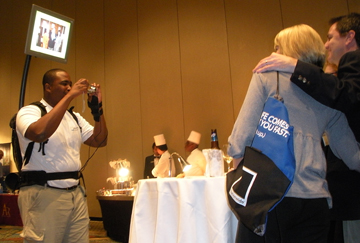 These displays are essentially "wearable" computers with the screen mounted above a brand ambassador's head. The display includes a keypad worn on the arm, and can also accept input from other digital devices, like the cameras used here by Nationwide.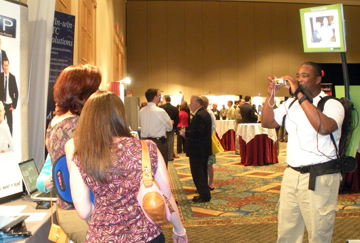 The teams were stationed throughout the conference, and a video message played, inviting attendees to have their picture taken. Pictures were then printed and distributed to attendees. The printed pictures offered a great opportunity for the ambassadors to direct the attendees towards the Nationwide booth.
Over the course of this important event the team was able to interact with every attendee at the conference.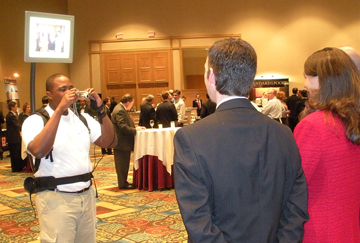 "(The Team) helped drive traffic to the booth, helped generate awareness of Nationwide's presence at the conference, and had our messaging and branding everywhere at the event — not just the booth."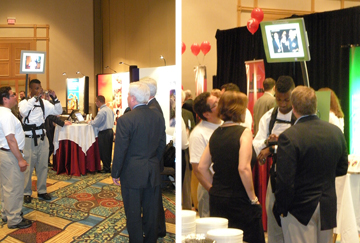 "People were walking up to them asking to be photographed and then coming to our booth looking for their photo. While we 'waited' for the photo to print, this was a good opportunity to talk to the visitor and get to know them."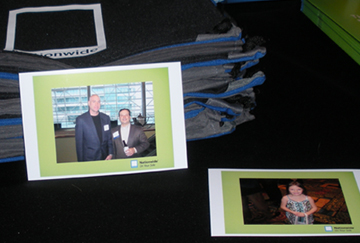 This new media is part of an emerging generation that is taking out of home to a whole new level, far beyond just traditional billboards. This campaign is also a great example of how outdoor advertising is continuing to evolve and incorporate new technology that can bridge the gap between the brand and its audience.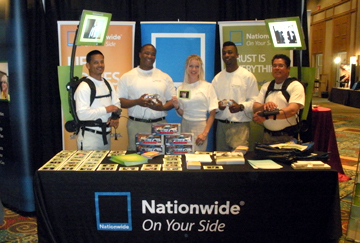 Contact us to learn more about the exciting new ways you can reach attendees at your next big event with the latest in OOH advertising.