When we look at Out of Home media, most campaigns are B2B and B2C and include tangible industries such as food, beverage, and fashion. However, our most recent OOH activation for Taipei Economic and Cultural Representative Office (TECO) invoked another side of OOH; cause-based marketing. This marketing style builds awareness about a topic and starts a discussion. For TECO, their goal was to raise awareness to help create a dialog for Taiwan's voice in the international community.
Prior to the campaign's activation, TECO shipped ten media boxes, containing hats, lanterns, press kits, a small print of the life-size mural, and wish cards. TECO media boxes were sent to the main New York Media outlets; New York Times, Wall Street Journal, and New York Post.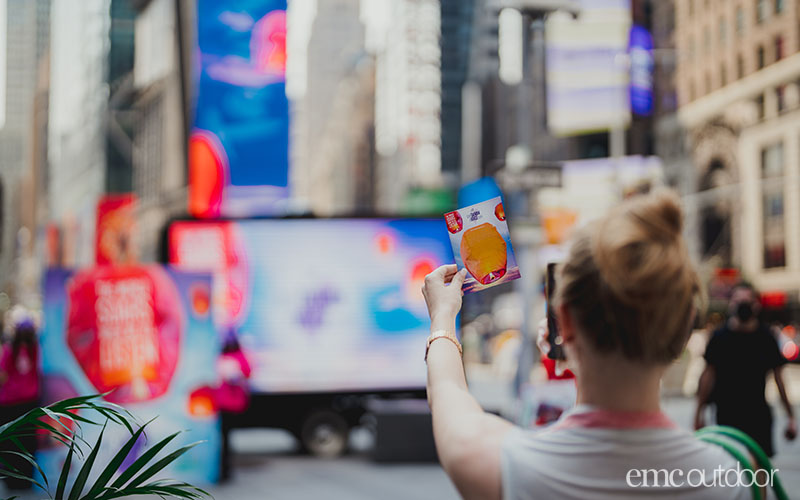 Connecting the Physical and Digital Campaign
TECO activated its campaign with tactical planning spanning the annual UN assembly from September 14-15th. The campaign was located in three prime locations, Times Square, Bryant Park, and Central Park. While examining sites in Times Square, EMC assisted TECO in securing the most prominent focal point in all of Times Square. TECO merged their physical and digital "lantern wish," initiative. This displayed lanterns flying in support of Taiwan on the immense vertical layout. Positioned directly below the New Year's Eve ball, this digital screen allowed TECO to command the attention of millions of tourists, alongside their street-level video mural.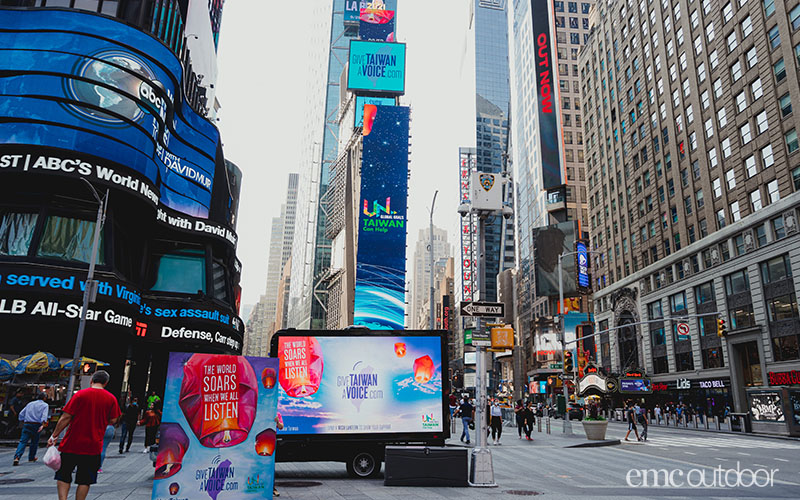 Bryant Park also featured the art mural and video truck to create buzz on both sides of the park. TECO deployed four brand ambassadors in the heavily trafficked Columbus Circle in Central Park with their vibrant art mural.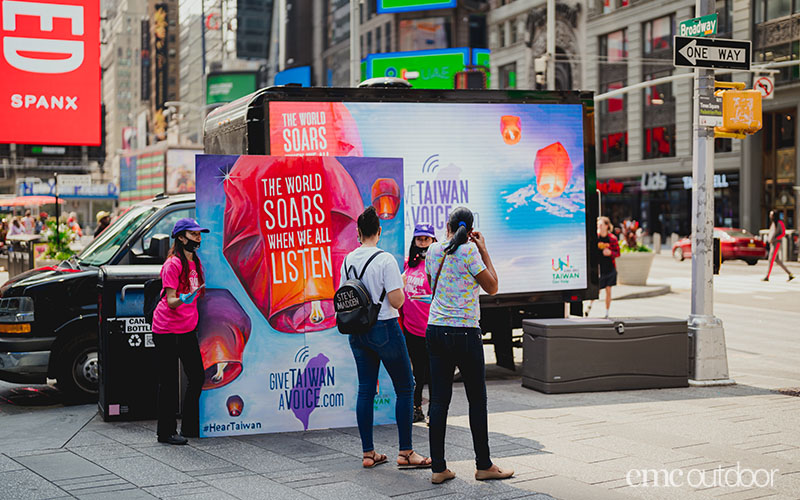 This campaign had a successful 230,000 impressions and over 32,000 engagements, averaging 500 per hour throughout these three locations in just two days. Additionally, there were 2,108 flyers passed out and over 150 photos taken. A great deal of the feedback from passing crowds on the street was positive and encouraging, supporting TECO's campaign.