Experiential Out of Home is not merely a cool gimmick to gain attention. It's a proven tactic that elicits a deeper connection with consumers and greater memorability with prospects – thus, the perfect enhancement to any out of home campaign.  A recent study by the Event Marketing Institute shows that "74% of the participants have a more positive opinion about the company, brand, product or service being promoted" after participating in an event. As the media landscape becomes more cluttered with multiple channels clamoring for attention, a live, interactive experience breaks through like nothing else to engage and, if done properly, delight the consumer.
While there is great logic to this and clients increase usage, measuring results can be a bit harder, simply because experiential marketing acts as a catalyst to rev up ALL aspects of a campaign's effectiveness, increasing social media buzz and prompting press coverage.  In our experience, this halo effect pumps ups the net effect of everything you do.  Don't fret, there are directly measurable effects — especially when our teams are responsible for online opt-ins, social media push, and sample distribution.
We've had the privilege of working with some great clients over our 24 years in business, taking brands to the third dimension and would like to share a few fun wins with you:
HANSEN's Natural
For over 75 years, Hansen's has been creating and distributing soft drinks from their Southern California outpost.  Initially focused on naturally produced fruit juices, Hansen's has evolved to include a wide range of beverages while still adhering to its 'made by nature…mixed by man' mission.  Yet with SO many brands on the shelf to choose from, Hansen's knew it needed more than traditional advertising to convert consumers to users while engaging their customers more deeply.
Queue up a mobile street team and a fun photo contest promoted via out of home media to get the job done. Driving a pair of wrapped Smart Cars and a Wrapped Van, Brand Ambassadors traveled through the San Francisco Bay area to popular locations where they could stop, set up shop, and start distributing free samples of Hansen's while promoting the contest, even taking pictures for people and uploading them directly.
During the campaign Hansen's distributed over 16,000 samples, gathered over 1000 Facebook and Twitter followers, and garnered over 2,000,000 online impressions leading up to the online contest win.  Now that's interaction!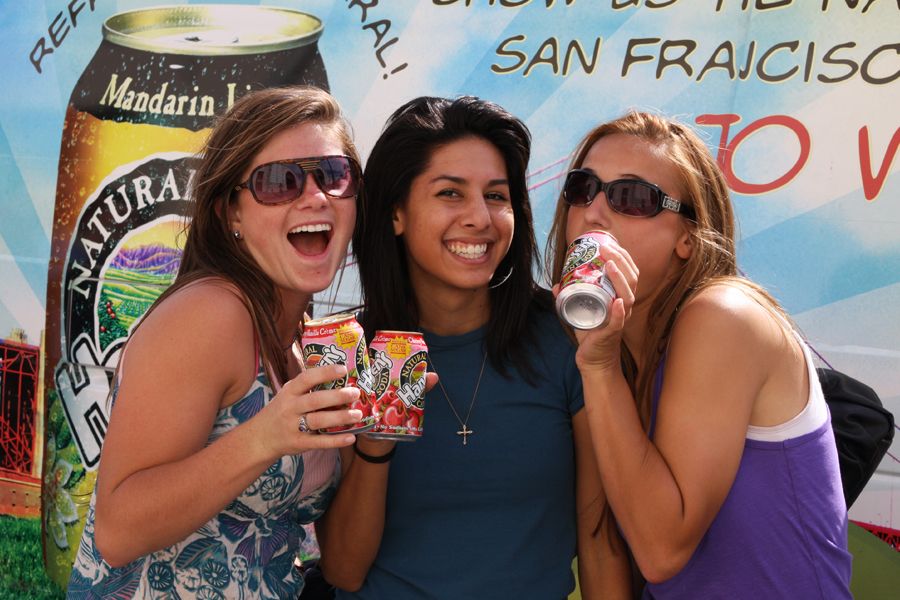 WEETABIX
Another long-standing grocery staple, breakfast cereal Weetabix was looking to spike awareness throughout the Maritime Provinces where very little OOH is available. What's an advertiser to do in that case? Through EMC Outdoor they opted to take the experiential route.  A custom glass display vehicle was created, displaying a 3-D Weetabix heart with milk and fruit window clings, staffed by brand ambassadors to distribute samples and coupons.
The truck was deployed to supermarkets, recreation areas, and local events, and even secured a spot in Coburg's Canada Day parade, increasing sales in the target area by 61%!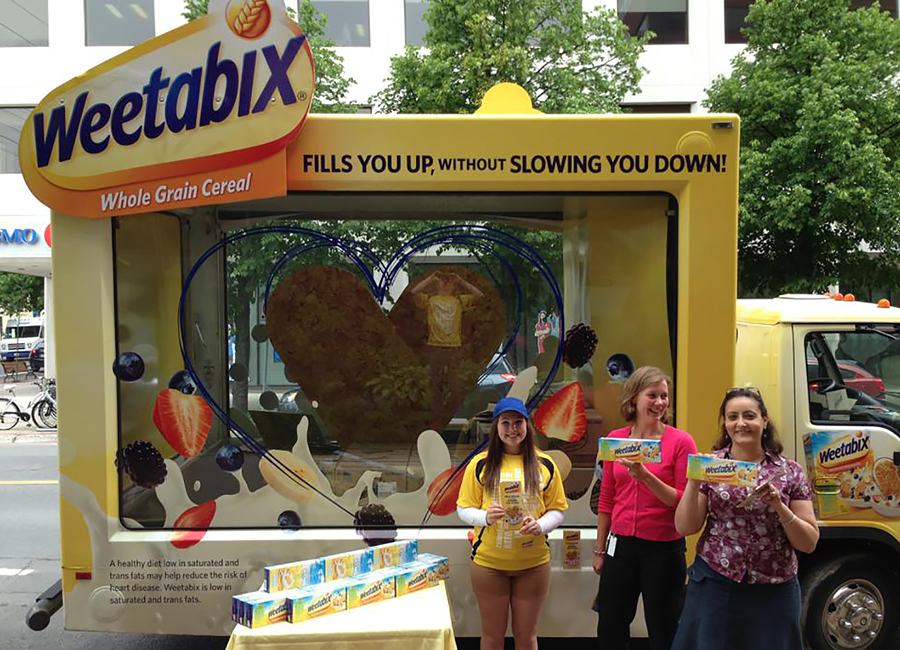 METROPCS
If you're in the cellular business, you must think outside the phone box, especially if you're not a major player, since the marketing noise levels are huge! (According to Kantar Media, 2013 spending for Telcom was $9.4 billion, 3rd in line after Automotive and Retail, with the highest percent growth over previous year in the top 10 category.)
MetroPCS took the cool course by using a digital display vehicle as both branding tool, and video game player, creating excitement and engagement and generating loads of photos.  The truck traveled around the Atlanta market, stopping at Metro PCS stores, as well as targeting events like Falcons games at the Georgia Dome and concerts at the Phillips Arena. This program was so popular (read "successful") for the local retail locations that what was initially planned as an 8 week campaign was extended for over a year.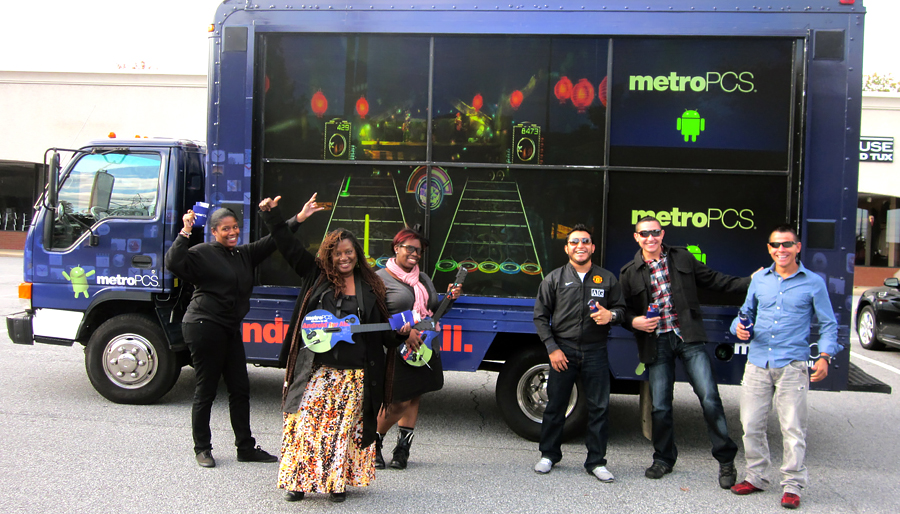 There are dozens more examples and ideas on our website, so pay us a visit or give us a call.  We love experiential media and think you will, too. It's an exciting way to bring your brand to life, one interaction at a time!