Now that the 2020 presidential election season is upon us and accelerating, we expect to see more and more political messaging and advertising leading all the way up to November's election day.
As specialists in out-of-home advertising, we are naturally attuned to campaigns using these tactics to reach constituents as they go about their daily lives. In this election cycle so far, however, we see little focus on out-of-home, concentrated mostly on the battleground states on a relatively small scale.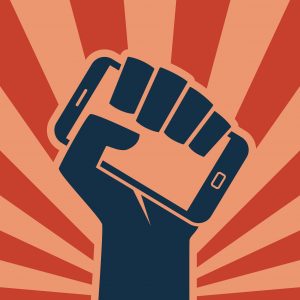 Most of the focus is on TV, digital, and social advertising. In fact, Statista reports a projection that candidates will spend more than double the budgets on digital and online as they had in 2016, at $2.90 billion.
There are strong reasons to consider out-of-home for political races, especially to reach audiences in highly competitive markets. So, let's address the gaps and opportunities in some of the candidates' tactics where the ultimate audience-first, location-based media is a winning strategy.
Borrow a Billionaire's Strategy
I was in Times Square this February as a massive depiction of Mike Bloomberg was towering over the chilly crowd. Regardless of your political position, and even with him now out of the race, from a communications standpoint, this Bloomberg billboard is well-placed based on context and environment: a New Yorker dominating one of NYC's most famous and crowded spots, as he's trying to gain traction and viability leading up to New York's April primary election. Coincidentally, it also demonstrates that he has deep enough pockets to fund any democratic nominee the voting public selects.
Diving deeper into the intelligence of this particular 200-foot-tall political message, on DOOH the creative is optimal for readability among the competing Times Square visual-noise. Bloomberg's messaging varies at different display times and, importantly, the creative asks viewers to engage with "Mike" via text and calls on hot-button topics. Through the audience engagement of this call-to-action, the campaign uses OOH to glean the public's insights on any variety of topics displayed on-screen. This builds a sort of added-value proprietary data point system for them provided by their out of home media.
Of course, in political races not everyone has a Bloomberg-size budget to dominate Times Square and any other market as they wish. It's important for less-funded campaigns to understand that digital and static OOH displays are available in less expensive and still competitive battleground markets across the country. There is no additional cost to apply a smart strategy to a smaller OOH budget, including borrowing some of the DOOH strategy deployed by Bloomberg in Times Square.
Complement Digital and TV
In a presidential race that is so focused on TV, video, digital and mobile, it will be interesting to see if other campaigns also begin to focus on OOH integrated with these other media staples. The integrated and incremental combination of OOH with other media (URL + IRL) can amplify messaging or act as a stand-alone tactic for reaching the voting public that is not reached by online or TV. Believe it or not, there are voters in 2020 that are not efficiently reached via campaigns' efforts to text or engage on social media or personal devices.
Any smart campaign strategy recognizes the value of connecting with all voters and capturing every vote possible. The inclusion of out-of-home in the media mix can allow a campaign to gain hard-to-reach incremental points they could have otherwise missed.
Target the Right Voter Demographics
In 2020, OOH is at a growth stage rich with data insights. The plethora of anonymized data gathered via personal devices has grown out-of-home into a hyper-targeted medium that can put a campaign's message directly in front of a preferred or competitor's audience.
In previous presidential campaigns, targeting meant broadly trying to reach urban, suburban, and rural markets, without any ability to further segment audiences. Today, OOH specialists can know very well the demographics and behaviors of those who are likely viewing the OOH placements they secure.
In addition, geofencing OOH can provide advertisers valuable attribution and effectiveness of media, as well as the ability to retarget the devices of voters who enter the proximity of the OOH media.
Under-served Markets = Incremental Points
In case it is not obvious, in elections, small incremental points can win races. So, covering areas that are typically underserved by political OOH messaging is a smart strategy. Political strategists should strongly consider the BIG and bold messaging that can swing areas ignored by a competitor.
In this strategy, urban, suburban and more-rural areas can offer more share of voice utilizing OOH. Not every voter is in Times Square or on major metropolitan highways. Reaching these under-considered areas can cause a dominating effect with smart planning, sometimes even allowing a candidate to own the market's OOH mindshare.
Go Beyond Traditional OOH
Out-of-home has many options to consider beyond the tried and true billboard. Understanding voters' lifestyles can suggest ways to engage with them as they are out in their world, living, working, playing and, yes, ignoring TV ads. The more you understand voter demographics and behaviors the better an OOH strategist can suggest a lifestyle-focused format to complement your other media strategies.
During the 2008 presidential race, then-presidential-hopeful and Democratic nominee, Barack Obama capitalized on non-traditional OOH media formats. The Obama for America campaign tapped EMC Outdoor to assist with messaging that would run on this media in a final push to get voters to the polls in key battleground states.
The out-of-home campaign activated in the eleventh hour in 13 states and 28 cities to help grow the Obama voter pool—obviously, with winning results. The strategy deployed media visible during the day and night, and adjusted and fine-tuned to maximize impact.
With EMC at the OOH dials, the Obama campaign communicated with us non-stop via email, text and phone communication. The result was a choreographed final push leading up to the Presidential win.
The learnings from current and historic political campaigns can inform smart strategies lead by out-of-home advertising as a means to drive voters to the polls. OOH is especially effective in battleground markets, and both major and under-served critical areas. This is important even if the growth is incremental as votes are the currency of these campaigns and, these days, political battles are won by smaller and smaller percentages. Instead of a focus on outspending competitors in the typical TV and digital-driven media, candidates ought to consider the value OOH can bring for reaching their audience, dominating markets, and building a bridge to those voters who are on the fence or seemingly out-of-reach.
Contact Us to learn more.