Adding Out of Home media sponsorships to your event can create significant benefits for both exhibitors and event organizations. Sponsorship opportunities are a critical part of any major conference or trade show. For the exhibitors, they offer essential ways to elevate their profile and drive booth traffic. For event organizations, they are critical revenue generators that help the organization continue to serve its membership. When built strategically, sponsorships can help to create non-dues revenue streams to help support the event financially while also benefitting exhibitors.
Sponsorships work so well, mainly because they support the shared overall objective of exhibitors and organizations hosting the event. While the event host benefits from the additional revenue, the sponsors can rely on increased brand awareness in an environment filled with decision-makers. They may be one of the exhibitors' most important lead-generating events of the year. In other words, the right sponsorship is right specifically because it's a win-win scenario.
However, simply offering the standard menu of sponsorships and hoping for the best may not be enough. Exhibitors are always looking for new and different ways to stand out. Unfortunately, many event organizations don't include out-of-home media as a significant part of their sponsorship offerings. As a result, they're missing out on a potentially valuable opportunity for their exhibitors and their organization. Consider these benefits of adding Out of Home media sponsorships to your event.
1. Out of Home Media Sponsorships Provide New and Different Options
Most events follow similar sponsorship patterns, from trade shows to industry leadership conferences. And yes, traditional options, like swag bags and wi-fi, will always remain popular for sponsors. But at the same time, exhibitors want to see new and different options.
Adding Out of Home media sponsorships to your event helps to maintain the interest and engagement of exhibitors, particularly those who want to set themselves apart from competitors who might be sponsoring the same event. It also helps the event look and feel fresh to attendees, who likely attend multiple similar events during a given year.
Regularly adding new sponsorship options helps improve your event's image while increasing the anticipation for the next meeting. Even regular attendees will be more excited when the offering isn't identical every year. At the same time, exhibitors can become more strategic in how they spend their sponsorship budget to build brand awareness most effectively.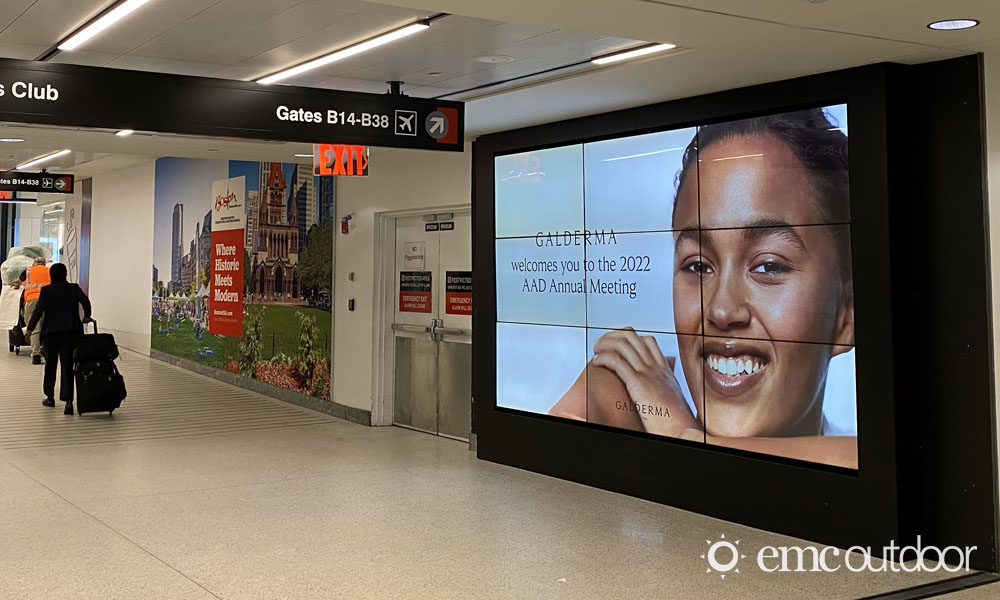 2. Out of Home Media Sponsorships Help Exhibitors Stand Out
At any trade show, the exhibit floor tends to be extraordinarily crowded and busy, with countless booths and exhibitors yearning for attendee attention. As a result, exhibitors may feel lost in the shuffle, and many need help to reach their audience effectively. This is particularly true for smaller exhibitors that may not have the budget or influence to secure the most prominent booth space or to build out an unforgettable booth experience.
Out of Home media sponsorships will help exhibitors stand out from the crowd. They stand out not only because they differ from traditional sponsorship options but also because they live in a strategic location outside the visually-packed conference center from which both exhibitors and guests can benefit.
This can result in a strong feeling of exclusivity, which is very attractive to exhibitors. The Out of Home media options that become part of the sponsorship package are relatively "alone," with few competing messaging to distract from their impact. Exhibitors are willing and able to place a premium to achieve this feeling of exclusivity and to gain access to this prime spot.
3. Out of Home Media Sponsorships Bring a Variety of Different Choices
We are always compelled to remind advertisers that OOH is much more than just billboards. It's essential to convey this message to exhibitors as well. Don't think of out-of-home sponsorships as a single tactic. Instead, OOH media provide exhibitors with a wide array of choices that can become part of a sponsorship package, providing event organizers a broader palette of options to offer and include.
Variety is the spice of life, and the same is valid for media plans. A broader range of options allows exhibitors to reach attendees more effectively at different points in their journey. Traditional billboards at or near the event entrance are undoubtedly effective, but when you look at how attendees move through a market and then consider all the Out of Home options available to intersect with that physical journey, it becomes clear that there is a significant opportunity to broaden the conversation. And for the event organizations, the broader your OOH options at different scale and budget levels, the more likely you'll find exhibitors who want to take advantage of the opportunities.
That statement becomes even more true if your event moves from one city to another yearly. For events that move around, each year will bring a new set of options for exhibitors. Adding Out of Home media sponsorships to your event helps maintain interest and engagement in participating with sponsorships.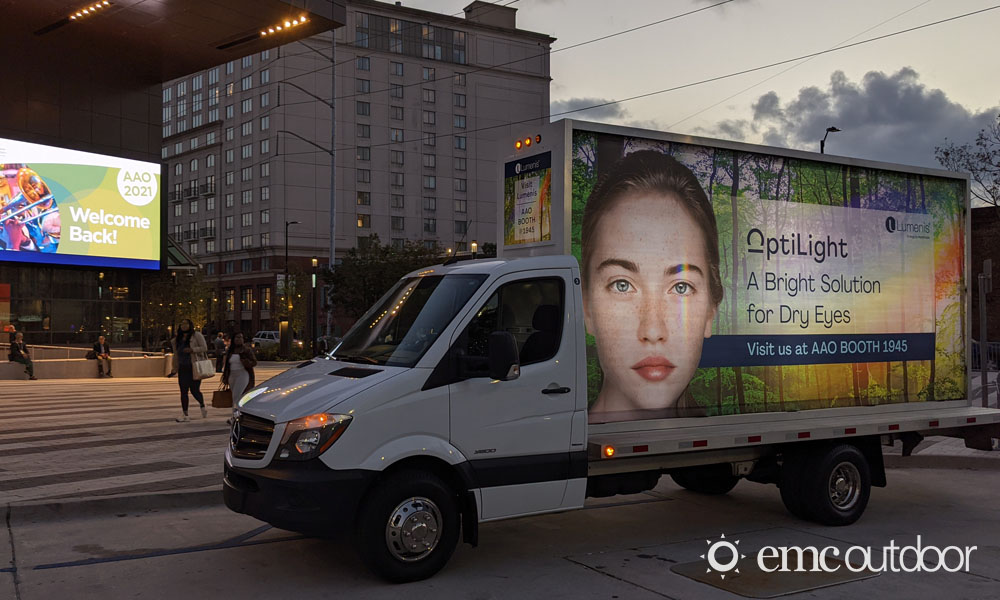 4. Out of Home Media Sponsorships Provide Cost-Effective Options
Exhibiting at any event can be a costly undertaking. The costs add up even for large organizations, from booth space and construction to collateral and staffing to travel, hotels, and meals. When it comes time to consider sponsorship opportunities, many exhibitors will have already spent a large portion of their budget. Regardless of the industry, you'll have many exhibitors who want to take advantage of sponsorships but are priced out.
Again, Out of Home can build that extra flexibility for both your sponsorship packages and your exhibitors. OOH, options can come at various price points, from very affordable to premium, and can be easily scaled. That makes more sponsorships available to more exhibitors, increasing access and availability.
In other words, adding Out of Home media sponsorships to your offering levels the playing field for your exhibitors. That, in turn, helps to improve the perception of the event organization, building significant goodwill across the spectrum. Improved perception, of course, ultimately also improves revenue through more exhibitors being willing to support your event with a sponsorship.
5. Out of Home Media Sponsorships Can Add Significant Value to Your Revenue Stream
Across the event marketing landscape, Out of Home options are in high demand by exhibitors. Companies who participate in industry events consistently look to the Out of Home space to improve their market presence. The sponsorships will almost always sell well, particularly for companies launching new products or offerings.
Each convention market, by its nature, offers a number of high-profile, premium OOH options. Including these options in your sponsorship package can significantly increase the revenue opportunities for the organization, building event profitability and helping secure future financial security in the process.
That's especially the case considering the perceived exclusivity that comes with many OOH options. While every exhibitor could provide swag bags, there is a finite amount of OOH inventory in relevant proximity to the event venue. That, in turn, allows the organization hosting the event to charge premium rates, further enhancing revenue opportunities.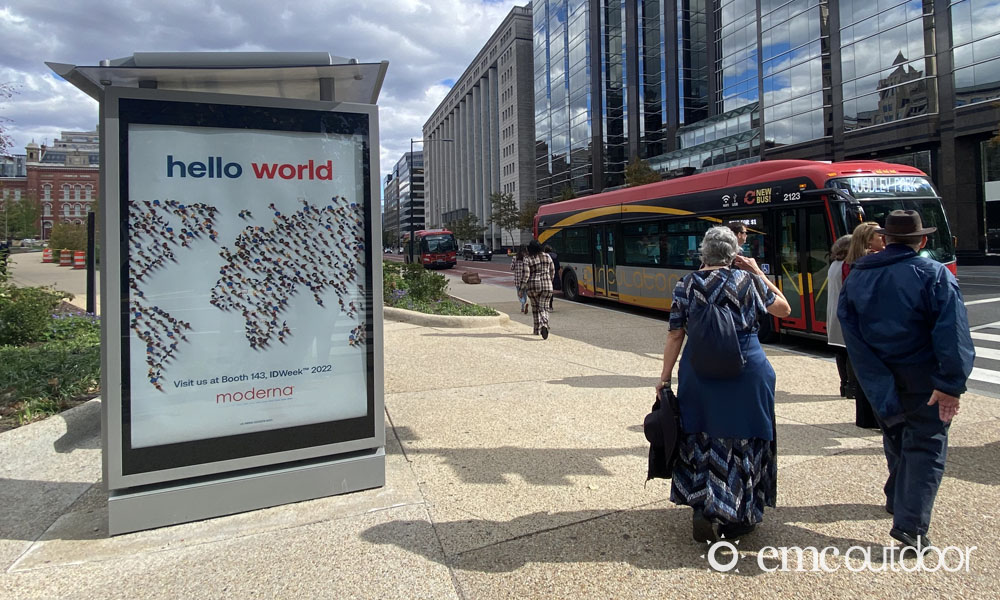 Enhance Your Sponsorship Offering Through Out of Home Media Opportunities
Planning for industry events and conferences is complex, and it's tempting to go with what's worked in the past. But especially when considering the sponsorship packages you offer, that might mean missing out on OOH, which could be a significant missed opportunity.
Implemented the right way, Out of Home media sponsorship options will be well-received by your exhibitors and your audience, with the potential to bring in significant extra revenue. As you plan your next event, be sure to include out-of-home options for exhibitors looking to spread the word about their brand, services, and products.
EMC has over 30 years of experience in the conference marketing space, and we have conducted thousands of Out of Home media campaigns for exhibitors. We also work with numerous event organizations as their OOH sponsorship provider. Contact us to learn more about how we can help you easily add new options to your sponsorship packages with an experienced, expert partner.