At EMC, we understand how critical trade shows and conventions can be, and how important it is to make a great impression in an event's small and very busy window of time.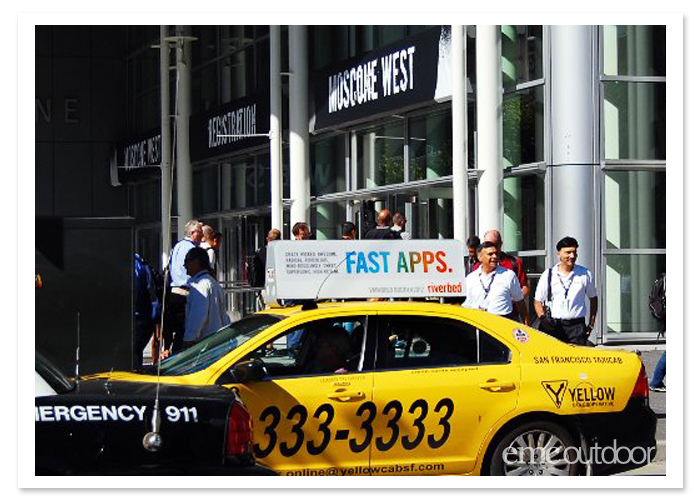 Attendees at conventions and professional conferences have busy schedules during their stay in the host city.  Finding your opportunities to reach them away from the trade show floor in a personal, meaningful way is a key strategy for driving traffic to your booth.  Enter out of home event media.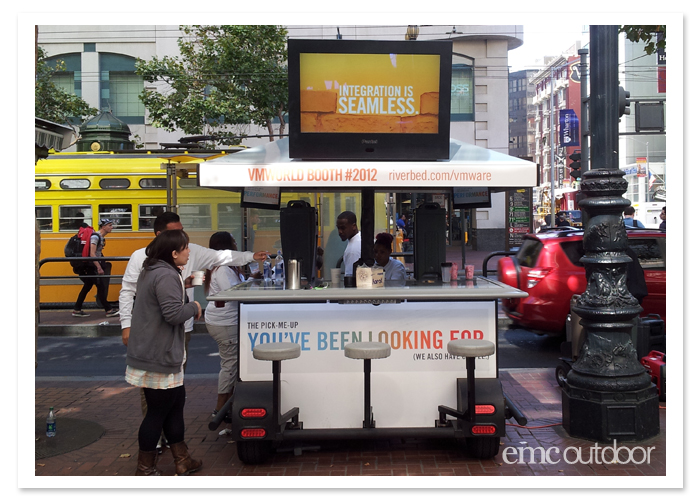 When Riverbed wanted to reach tech professionals at VM World in San Francisco our strategy was a multimedia saturation of the area around the convention center, with media including taxi tops, street-level newsrack panels, and a branded interactive coffee cart.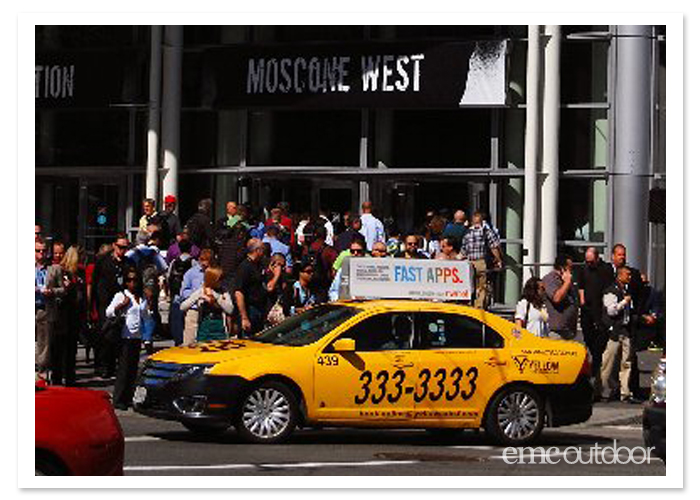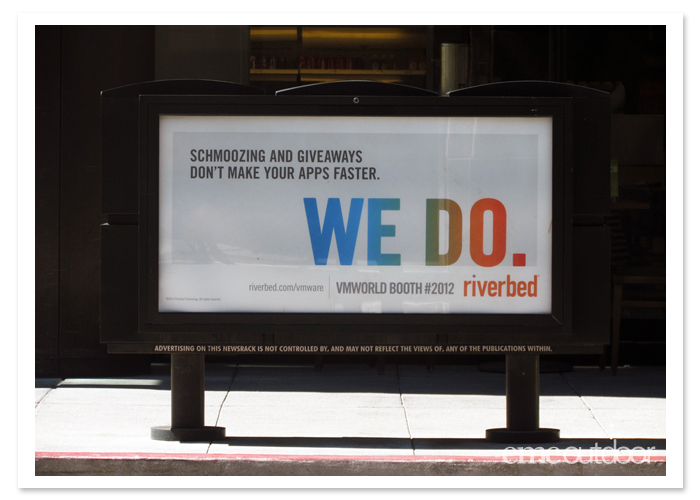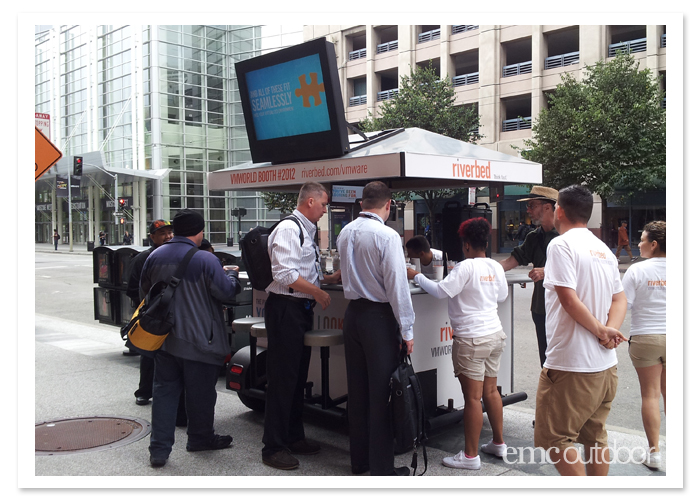 Newsracks were strategically selected along pedestrian routes between the convention center and the key hotels.  Taxis were selected because they circulate throughout the event area, and are frequently used by attendees.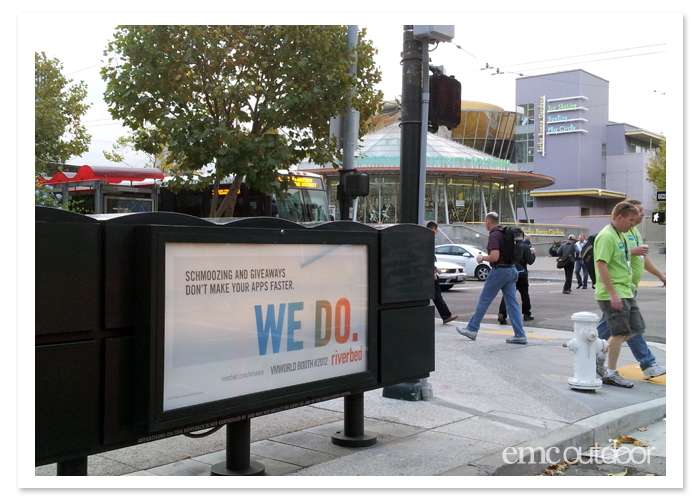 Our branded / interactive coffee cart was equipped with everything necessary to distribute coffee to attendees on their way to the convention, with brand ambassadors ready to help serve java while promoting Riverbed at the event.  The high-tech cart also came with charging stations for attendees' mobile devices, and multiple video monitors displaying Riverbed's ad loop — providing both branding, caffeine (for people and devices) and a much appreciated level of customer service.
Strategy: Use OOH media to reach attendees at the VM World Conference in San Francisco.
Tactics: Multiple forms of out of home media, including taxis, newsracks and a branded interactive mobile coffee cart were stationed near the conference, and along routes to the convention center that many attendees would walk each morning. Brand ambassadors were stationed with the coffee cart to dispense free java to attendees, while the cart displayed Riverbed's video loop on multiple monitors.
Results: Riverbed had nearly 1,400 individual interactions and cups of coffee distributed in just 2 days! The cart also delivered even more valuable impressions to the additional attendees who passed by several times each day.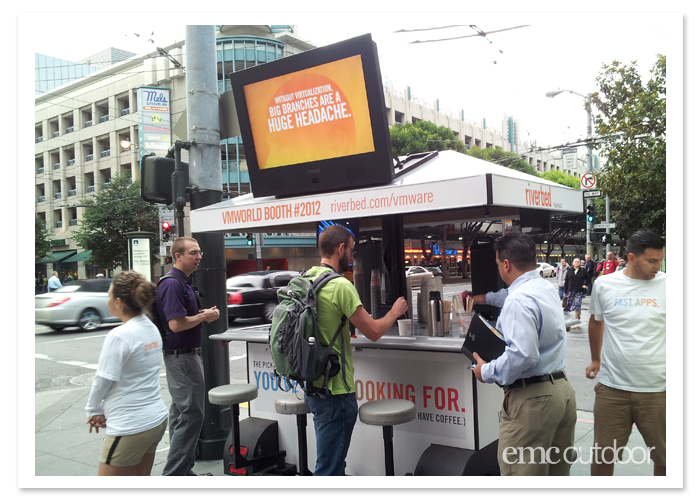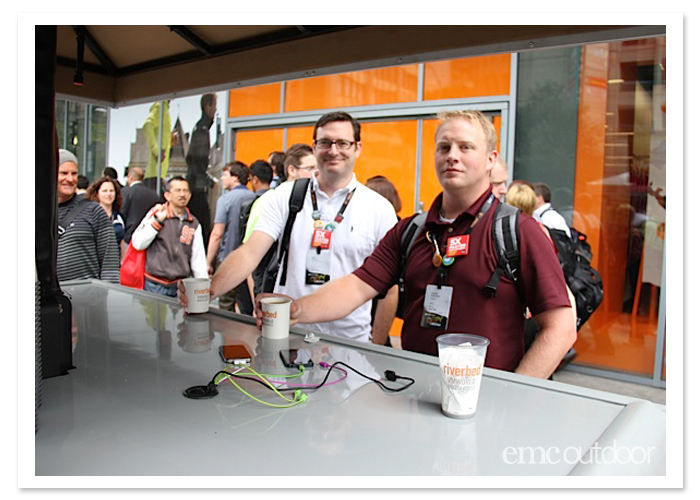 Contact us to learn more about how out of home media can provide a wide array of media to reach event attendees!