As one of West Virginia's oldest public universities, Marshall University's roots run deep. The commonly used hashtag #MarshallUFamily and catch phrase, "Sons and Daughters of Marshall", speaks to the university's welcoming community and legacy of strong leaders.
Marshall University wanted to raise awareness and recruit local high school, graduate and transfer students as well as parents, alumni, and adults in their mid-career. Over the course of four years, we helped them achieve this using a mix of traditional media and experiential marketing. Our strategic media placements and experiential approach increased awareness and created a strong sense of camaraderie among community members in the university's home market of Huntington, West Virginia and surrounding cities.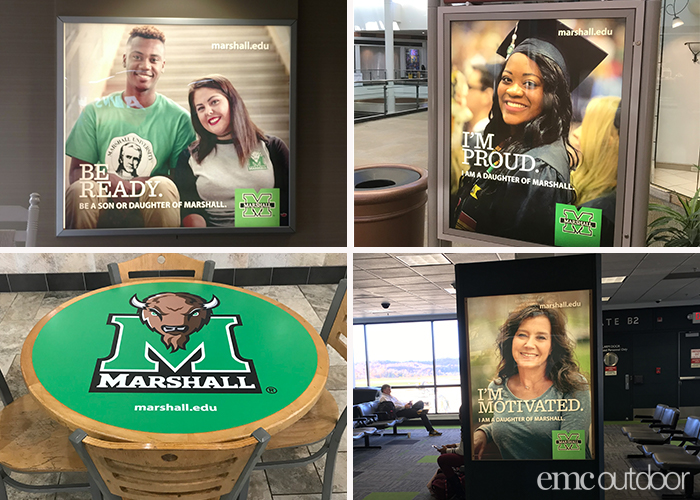 Airport media was placed in the Huntington Tri-State and Yeager Airports to catch people as they were traveling to and from the area. Mall media, including table top clings and wrapped escalators were used to reach high school students and parents as they shopped in the Charleston Town Center. In addition, bulletins were strategically placed in high traffic areas throughout the market to reach their target audience on their daily commute. One of these bulletins was placed in Charleston, West Virginia to congratulate Marshall alum, Randy Moss for his selection to the NFL Hall of Fame, as this was his hometown.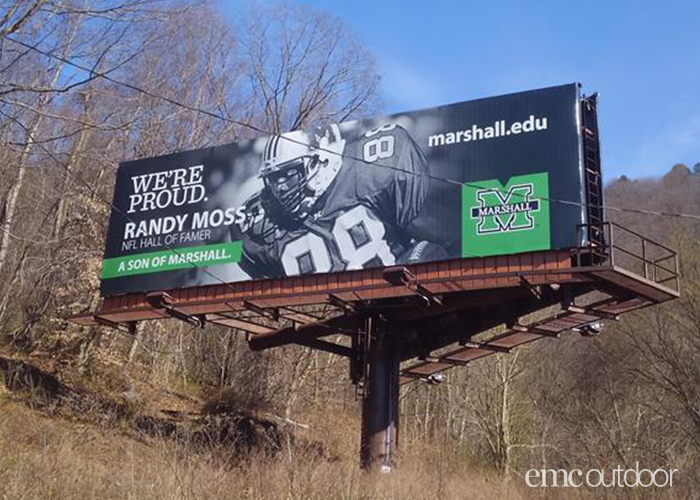 The experiential activation was perhaps the most exciting component. We visited twelve different high school football games and two local community events in West Virginia. Brand ambassadors cruised around in adbranded mobile photo booth that mirrored Marshall University's football stadium. Attendees has the opportunity take pictures in front of the photo booth holding branded props and were encouraged to post on social media using #MarshallUFamily. A touch screen developed specifically for this campaign was also used to instantly share photos and collect prospective students' contact information.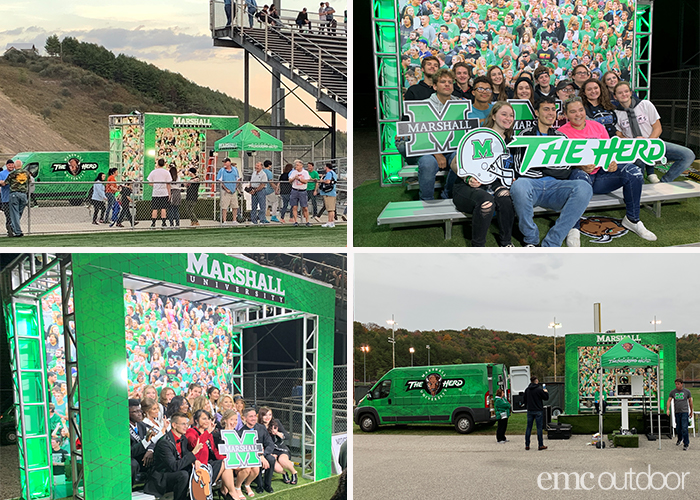 Ultimately, our strategic media placements increased brand awareness for Marshall University while the experiential activation created a memorable experience for past, present and prospective students and their families. Over 600 students and family members participated in the experiential component and posted to social media using #MarshallUFamily. The use of traditional media and experiential marketing helped Marshall University become a well known name in their home market of Huntington, West Virginia and surrounding cities.
Let our team of Out of Home strategists help your brand reach the right audience, in the right place, at the right time. Contact us today!