Summer is a time when you're sure to see people outside, looking for things to do and open to fun marketing initiatives.  Experiential marketing is the smartest way to reach your target audience during the summer to create positive lasting impressions, promote new items, boost sales and make your brand stand out.  After the event 74% of the participants have a more positive opinion about the company, brand, product or service being promoted. (EventTrack 2016)  Budgets of all sizes can participate from footprints at large music festivals to local community farmer's markets or high traffic area beaches.  Your consumer is outside so you should be too!
Know the audience you want to reach
Knowing your consumer is key in deciding the best place to reach them outside at summer events.  If you want to reach millennials, music festivals are a sure fit.  Below is Nielsen's Audience Insights Report on Music Festivals posted in 2016.  It's a pretty interesting snapshot that shows not all festival audiences are created equal and some are better suited for certain types of products.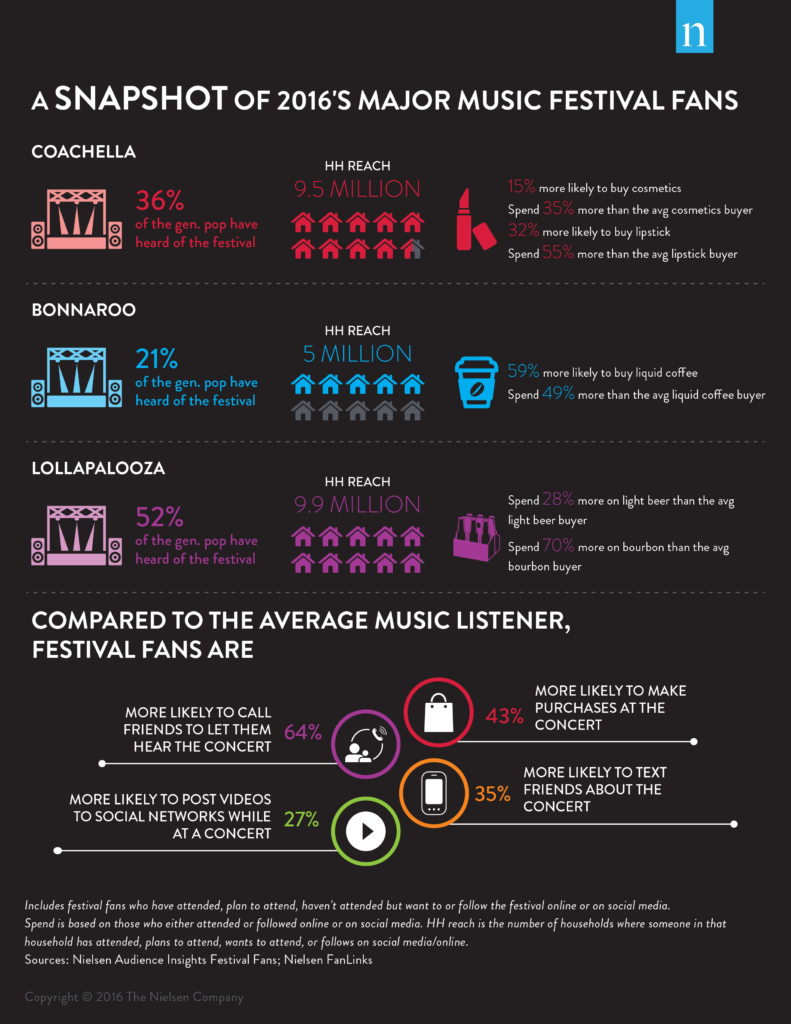 For example, if you have a luxury beauty or lipstick brand, Coachella is a great fit to host a makeup salon.  Conversely, if you're a beer or spirits brand, Lollapalooza fans would love a sampling lounge. Whatever your product, research your target demographic and what they'll be doing during the summer months.
Know your budget and what it can get you
Do you have champagne dreams but a beer budget?  Make the most of it!  Don't spend all of your money on a sponsorship to a blockbuster event and have nothing left for the activation, you won't get the cred for being there if the experience isn't memorable. Instead, pick a location that makes sense within the budget to reach the target audience without a killer price tag.  Use those extra dollars wisely to extend activations days, make the event mobile and visit multiple locations, produce valuable swag, or enhance the on-site experience.  72% percent of consumers say they positively view brands that provide great experiences. (EventTrack 2016)
Be social!
Tie in social media! Hashtags, photo experience uploaded to social media sites, contests tied to Instagram, Facebook or Twitter posts. It's all good! 98% of consumers create digital or social content at events or experiences (EventTrack 2016).
This social engagement skyrockets an event's impressions through online sharing and something as simple as creating a specific event hashtag can help your brand track impressions and see all the interaction online. A big experience with social sharing can be worth way more than being tied to a big name.
Bring your brand to life in a way that makes sense
There's a creative and fun way to bring any brand to life, here's some initial thought starters that can be tailored to reach the right demographic at the right budget.
Beauty Brand – create a mobile salon for consumers to try out the products first hand! Professional makeup or hair stylists will talk about the brand, give individualized tips for best usage and each person will walk away looking and feeling great courtesy of your brand!  The mobile tour can visit retail locations, fairs/festivals, malls and beaches.
Food Brand – everyone gets hangry from time to time and your brand can be there to save the day! Use a social media vending machine to collect consumer data and dispense delicious treats.  A video team can capture exciting moments and a highlight sizzle reel can help the campaign go viral.
Telecommunications – keep your customers and target demographic charged up while they're on the go this summer. Use market available vehicles like pedicabs and gem cars, add a charging station and recharge consumers as they take a break from walking.
Whatever your brand, contact us to brainstorm that special idea that will enhance your customer's summer and keep your product or service top of mind. If you're interested in our experiential marketing, take a look at our most recent work here.
Contact Us: