Estimated reading time: 7 minutes
When we conducted our recent study – Beyond the Booth: A Report on Exhibitors' Viewpoints and Attitudes Toward Sponsorship Opportunities – it surfaced some fascinating insights into the struggling trade show exhibitors experience and their relationship with event sponsorships.
We discovered that there were three main attitudinal segments within the group which we categorized as Enthusiastic, Struggling, and Discriminating. One of the most surprising findings of the study was that the Struggling group made up the largest segment at 38%. It was shocking to find that such a large percentage of exhibitors were struggling with their conference experience in such important and what would seem fundamental ways. This segment is the least likely (by about 25 percentage points) to say that their company consistently sees benefits from participating in conferences and trade shows.
The challenges for this group go beyond just sponsorships to include the entire event experience, which makes them a high-potential audience for event organizers. If events could convert even a portion of the almost 40% of their exhibitors who are struggling to one of the other groups, it could yield significant benefits to the organization. Let's take a look at struggling trade show exhibitors and see what's going on.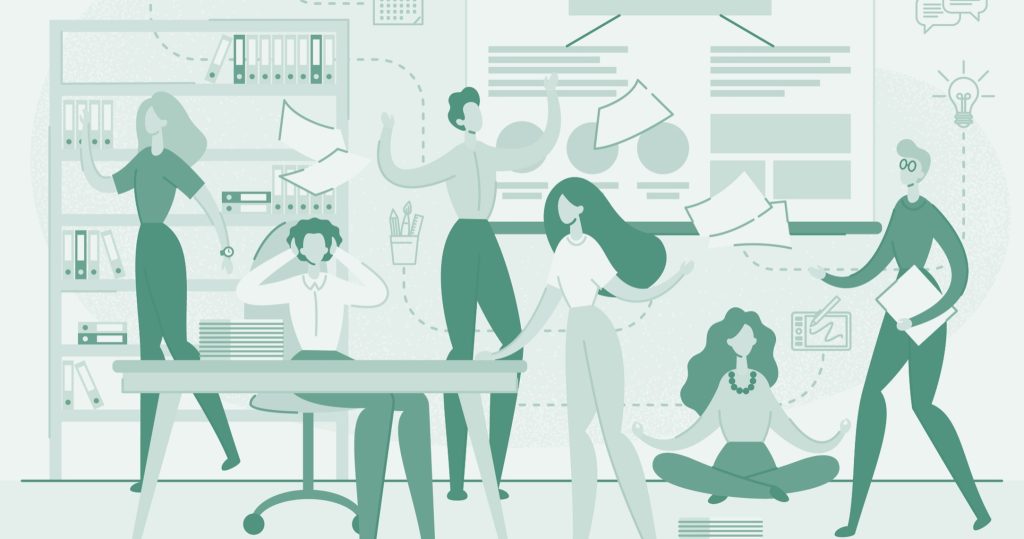 What Problems Do Struggling Trade Show Exhibitors Face?
So, what exactly is this group finding so difficult about the conference experience? Well, in a nutshell…almost everything.
64% of the Struggling segment say that making an impact on prospects at conferences and trade shows is harder than ever. This is more than twice the other groups (27%).
This group is almost twice as likely as the others to say that their company struggles with deciding which events to attend. They also seem to lack clear criteria on which to base that decision, and consistently score what's valuable lower than other groups. Only 45% of the Struggling segment cited exposure to attendees as a key factor when considering sponsorships vs. 73% of the other segments.
While the Struggling group is distributed evenly across company size and revenue – meaning, it's not just smaller companies – they are much more likely to cite budget as being an important challenge. Almost 60% say that having the budget to participate is one of their main challenges, vs. 41% of the other groups.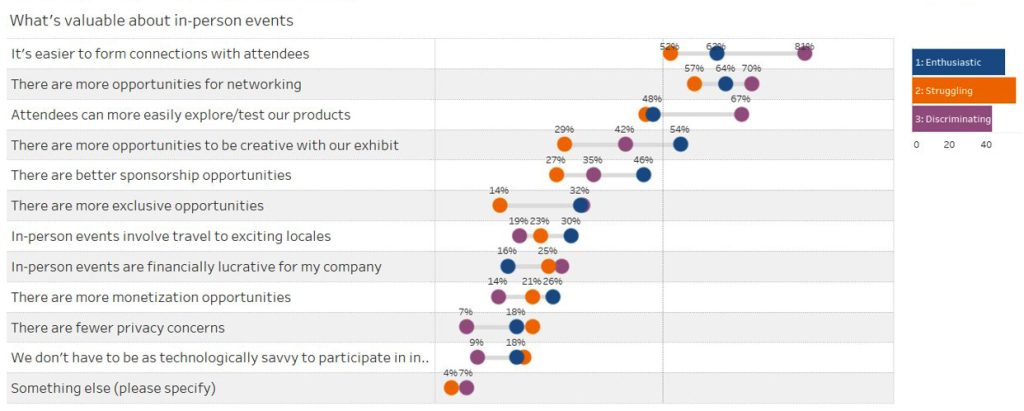 While budget is a major concern, struggling trade show exhibitors also cite standing out from competitors. This group also tends to feel overshadowed by what they perceive as preferential treatment for larger exhibitors. They say these organizations play favorites when working with exhibitors and sponsors. As a result, it's hard for them to get a fair shot at events because larger companies dominate the space. They also say host organizations do not understand the needs of companies like theirs. 45% say that organizations that host conferences and trade shows don't understand the needs of companies like mine.
The Struggling group also has difficulty with measuring and assessing the value of event participation. While 71% say there is a lot of pressure from leadership to demonstrate a return on investment from events, 44% say their company is unable to demonstrate a clear return on investment from events, and a full 30% have no method in place to measure ROI or sponsorships.

How can Event Organizations Help Struggling Trade Show Exhibitors?
Given the size of this segment, and the wide scope of the challenges they are experiencing, they represent a significant opportunity for event organizations. If they could help this group to alleviate some of their problems, they could see a number of benefits. So what can organizations do to help?
The first step is probably education. Since this group is struggling with so many aspects providing them with some training and insights on how they can improve the experience would go a long way. Organizations can tap into their expert partners to provide educational content, which will help everyone in the end, and not tap the organization's limited resources.
Consider webinars on event planning to help them put an internal process together to manage their experience better. Bring in experts on booth design and staffing to educate them on the possibilities and how to make the most of the budget they have or justify more budget to their team. Consider training on how to determine KPIs for the event that are relevant for the exhibitor and ways to collect meaningful data and measure those. 44% say my company could generate more business from conferences and trade shows if we exhibited differently – event organizations should take the opportunity to teach them how that is possible.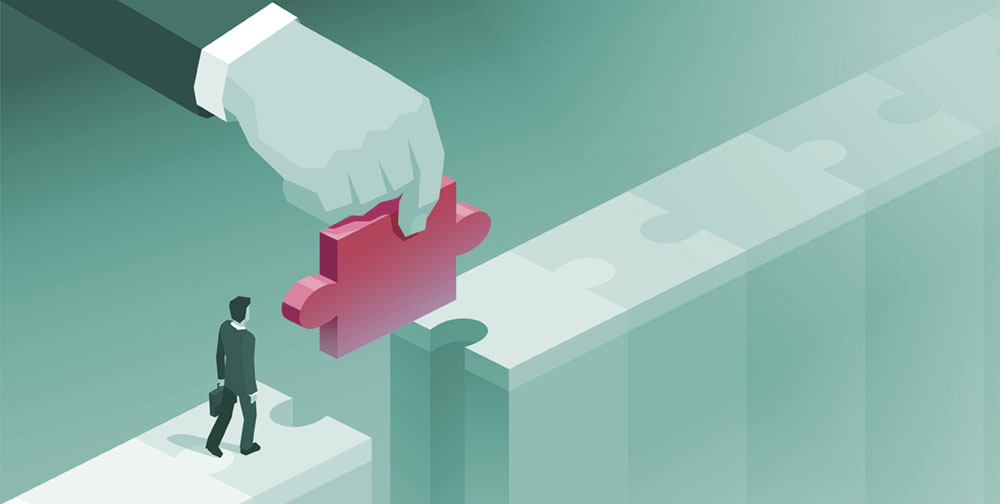 Another way the Organizations can help is by offering a wider range of sponsorship opportunities and presenting them at a wider range of price points. Since struggling trade show exhibitors are very budget conscious, offering them some more affordable sponsorships that can still deliver value would help them feel better about the experience and yield better results. Across all respondents, 60% say their company is willing to try new ways of exhibiting. The Struggling segment just needs some help figuring out what that means.
Finally – place an emphasis, in both education and opportunities, on lead generation, lead capture, and measurement. Both of the other segments in the study place a high emphasis on lead generation. How many? What is the quality? What is the revenue generated from those leads? By helping the Struggling segment understand the importance of leads, providing sponsorship opportunities that can help drive that, and guiding them on how to implement systems of measurement, event organizations can improve the experience for a large portion of their exhibitors.
What Are The Benefits?
The Struggling segment may be the one with the most potential for organizations to increase their sponsorship. Only 34% of the Struggling segment say that their company consistently sees benefits from our participation in conferences and trade shows vs. 60% for the other segments. So what outcomes could result from helping this group address their challenges?
The biggest and most obvious benefit for event organizations is an increase in non-dues revenue. If they can help exhibitors have a better conference experience and, most importantly, see the value of that experience in ways that are clear, concrete, and measurable, then the exhibitors will be more likely to invest more in future conferences. When they can see the value that sponsorship opportunities bring, by raising awareness, building relationships, providing a competitive advantage, driving lead generation, and creating opportunities, they can make the internal case to invest in more and larger sponsorships.
This also leads to greater general satisfaction with the overall event experience. Right now, the Struggling segment feels like they are on the outside looking in. With a more rewarding experience, they are likely to be more active and engaged members, leading to a larger and more active community within the organization. It also helps improve the public image of the event – having a vibrant, active organizational community helps to contribute to the long-term health of the organization.
Where To Go From Here?
Despite their difficulties and challenges the Struggling segment may represent the biggest potential opportunity for event organizations. With almost 40% falling into this category, being able to shift the perceptions and behaviors of even a portion of this group could yield significant results for the event.
This requires an adjustment in thinking for some event organizations. It means breaking free from their standard "tried and true" formats to introduce new possibilities. It also means working with their exhibitors in potentially new ways, to help educate and inform them, and help them develop internal processes to better cope with the rigors of exhibiting.
However organizations choose to deal with this group, the fact remains that there is a large amount of untapped, non-dues revenue that could be capitalized around their events by focusing on this group of exhibitors.
Learn More:
At EMC we specialize in helping event organizations provide a whole new range of sponsorship opportunities for their exhibitors, using Out of Home media. Contact us to learn more about how we can help your organization add new revenue streams, without adding work to your team.